Posted by
Fuzzy Slippers
Saturday, May 30, 2020 at 1:00pm
| 5/30/2020 - 1:00pm
Mayors and others are complaining about organized outside agitators exploiting the community protests.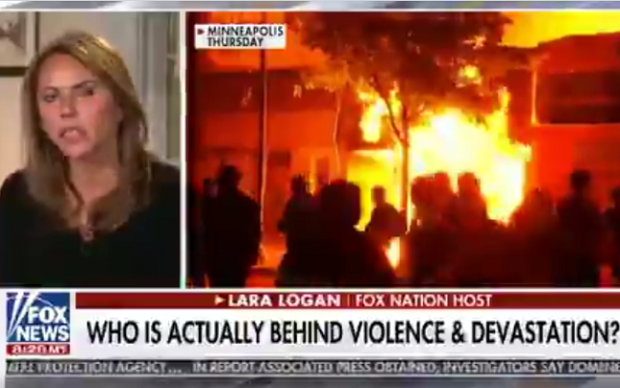 The four officers allegedly involved in the death of George Floyd lost their jobs, while the one seen in the video kneeling on Floyd's neck has been arrested and charged with third-degree murder.  The system, in other words, is working.
The video is incredibly difficult to watch, heart-wrenching and stomach-churning to the untrained eye, and it sparked protests against the police in Minneapolis.  The protests, however, quickly turned into riots, and these quickly spread out across the nation.
The state of Minnesota has requested an additional 1,200 National Guard soldiers be deployed after rioting broke out once again Friday night following the death of George Floyd earlier in the week.

. . . . Minneapolis police said gunshots were fired at police officers near the city's Fifth Precinct on Friday night, one night after rioters broke into and torched the Third Precinct, FOX 9 reported.

. . . . Meantime, all across the nation came reports of arson fires, looting and smashed windows and vehicles. From some cities came reports of gunfire against police officers.

In Portland, Ore., a crowd smashed windows and sparked a fire inside the city's Justice Center, FOX 12 of Oregon reported.

. . . . In San Jose, police officers fired on an SUV that struck at least two people, according to the Mercury News.

. . . . In Oakland, Calif., police said several officers were injured by projectiles, FOX 2 of the Bay Area reported.

Bystanders also reported being injured.

"I got punched in the face and my cell phone was taken," one motorist told FOX 2.

In Detroit, Michigan, one man was killed and dozens more arrested. The shooting occurred near a large protest at Cadillac Square when someone in a gray Dodge Durango fired shots into the crowd, hitting a 19-year-old, according to police, per The Detroit News.

In New York, rioters torched a police van and NYPD officers reported hundreds of arrests, The New York Post reported.
1. The way the media initially treated the riots (& in many cases still are) as "peaceful protests," when it was clear they were violent/dangerous, was beyond irresponsible

2. The Dem mayors who turned their backs on their communities & allowed their cities to burn should resign https://t.co/4ZcNLw2Bzp

— Andrew Surabian (@Surabees) May 30, 2020
A very tough night for downtown Atlanta. This is the College Football Hall of Fame. #AtlantaProtest pic.twitter.com/K7vt95n8lV

— Blayne Alexander (@ReporterBlayne) May 30, 2020
As the riots spread across the country, it is becoming increasingly clear that they are being orchestrated and organized.
It's ANTIFA and the Radical Left. Don't lay the blame on others!

— Donald J. Trump (@realDonaldTrump) May 30, 2020
These are "Organized Groups" that have nothing to do with George Floyd. Sad!

— Donald J. Trump (@realDonaldTrump) May 30, 2020
.@IngrahamAngle asks @laralogan about Antifa operations taking place now, and their strategies.

Professional agitators swoop in, trigger destruction, and leave the locals to deal with aftermath.@realDonaldTrump, it's time to declare #Antifa agents to be #UnlawfulCombatants. pic.twitter.com/Eas9X2KUtR

— TruthHammer⭐️⭐️⭐️ (@TruthHammer888) May 30, 2020
Pallets of bricks are appearing in the riot zones, and there are reports of professional agitators, including antifa, showing up in cities across the nation.
BREAKING: tonight's Dallas riot was pre-planned

Organizers were directing the crowd where to go

They had pallets of 100 bricks ready for rioters

They were yelling to the crowd "go left, there are 100 bricks on the corner over there"

This wasn't random chaos

More info to come

— ELIJAH SCHAFFER (@ElijahSchaffer) May 30, 2020
I'm here and the city of Atlanta is under attack! These people starting the fires and looting are not from here! They don't even know their way around!!!! ANTIFA!!! #Atlanta #GeorgeFloyd

— Angela Stanton King ?? (@theangiestanton) May 30, 2020
The riots across America are the work of the fascist/anarchist group Antifa that has been ignored as a domestic terror group for too long

— Bill Gertz (@BillGertz) May 30, 2020
I refuse to allow a bunch of ANTIFA affiliated thugs to come to my beloved city of Atlanta and burn it to the ground, under the guise of #BlackLivesMatter.

They don't give a damn about black lives. They only care about DESTRUCTION.

— Vernon Jones (@RepVernonJones) May 30, 2020
Here we have a protester telling an white antifa bro to stop destroying property.

What a lot of people don't realize is that these antifa bros are the source of a lot of these issues. They infiltrate these protests and cause chaos. pic.twitter.com/AiSPqBmaj6

— Caleb Hull (@CalebJHull) May 30, 2020
Looting still happening with impunity in downtown Portland. They clear the businesses of goods and then someone goes in with a chemical agent to start a fire. #antifa #BlackLivesMatter pic.twitter.com/uFFT168Csa

— Andy Ngô (@MrAndyNgo) May 30, 2020
The Mayor of Louisville is on TV saying there are significant numbers of professional rioters who traveled to Louisville. Said they do it around the country. Yet – none of them were stopped or arrested.

— Scott Jennings (@ScottJenningsKY) May 30, 2020
Ever notice how "systemic racism" is always complained about in cities where Democrats have run said system for decades?

— Tim Young (@TimRunsHisMouth) May 30, 2020
Minnesota Governor Walz saying straight up riots are organized efforts to cause destruction have nothing to do with tragic murder of George Floyd, saying protestors being feed by professional anarchists teaching tactics of urban warfare.

That's true but name these anarchists.

— Charles V Payne (@cvpayne) May 30, 2020
Thankful that these business owners have a 2nd Amendment so they can protect themselves and their businesses from these violent looters. https://t.co/RfbthQgg7O

— Donald Trump Jr. (@DonaldJTrumpJr) May 30, 2020
The media seems uncertain how to respond to the "peaceful protests" they seemed to support initially.
A CNN anchor just said on live TV that the riots in MN were "entirely peaceful" and a "merry caravan" and then seconds later someone throws a bottle directly at him.

You can't make this stuff up. pic.twitter.com/CtsYvBVzCH

— Andrew Surabian (@Surabees) May 30, 2020
Oh, NOW it's "violent"? https://t.co/8NH8wvKjUP

— Michael Berry (@MichaelBerrySho) May 30, 2020
Atlanta Mayor is literally going "CNN is on our side please stop attacking their building"

— Will Chamberlain (@willchamberlain) May 30, 2020
Just a few weeks ago, 75 or so protestors at the Michigan capitol were going to get everyone killed; now hundreds of often tightly packed protestors gather in cities around the country and no one even mentions social distancing anymore https://t.co/yN7cp1iD6L

— Rich Lowry (@RichLowry) May 30, 2020