Posted by
William A. Jacobson
Sunday, March 29, 2020 at 6:15pm
| 3/29/2020 - 6:15pm
Adds almost 30 days to the current 15 days, which was about to end.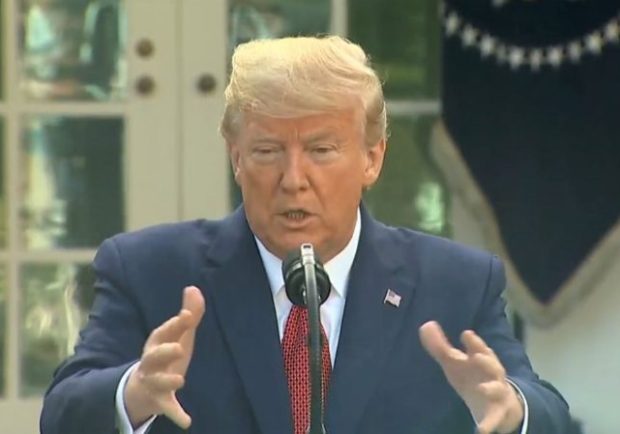 Donald Trump just announced that the CDC guidelines on social distancing and other measures to fight the Wuhan coronavirus are extended to April 30. They were to end in two days.
Trump also signaled June 1 as the date by which he hoped recovery would begin.
"The peak in death rate is likely to hit in two weeks… nothing would be worse than declaring victory before the victory is won…therefore, we will be extending our guidelines to April 30 to slow the spread…. We can expect by June 1, we will be way on our way to recovery."
The extension of the CDC guidelines, in itself, doesn't stop the economy. It all depends on what Governors do and the restrictions placed on commerce.
Flashback to my March 19 post, Ghost Towns USA:
You can't just stop an economy, and expect it not to tear at the seams that hold society together.

I don't know when the end comes. I think we're okay for the current 15-day "social distancing" period. Maybe another 15 days after that. But not for several months.

The approaching cash stimulus to people and business assistance will buy a little time. But not indefinite. The government cannot bail out an entire economy.

At some point, we're going to have to weigh the risk of a virus against the risk of ripping our societal bonds. I think the economic shutdown inflection point comes sometime in May, June at the latest. Beyond that, the center will not hold.
President Trump: "The peak in death rate is likely to hit in two weeks…nothing would be worse than declaring victory before the victory is won…therefore, we will be extending our guidelines to April 30 to slow the spread."

Watch full video here: https://t.co/YvbjhSR9SS pic.twitter.com/j3eqXk6eu6

— CSPAN (@cspan) March 29, 2020
"At the risk of offending my modeling colleagues," Fauci says, "models are good, but models often generate the kind of anxious question that you asked, which is 'how bad could this possibly get.'"

— Philip Wegmann (@PhilipWegmann) March 29, 2020
Reminder: 99+% of healthy + non elderly are making full recovery from COVID-19. The cure is much worse than the disease. The ramifications on American society and economy will be exponentially worse than COVID-19.

— Jordan Schachtel (@JordanSchachtel) March 29, 2020
"I don't want high approval ratings for [coronavirus]. I wish we could have our old life back." – President Trump pic.twitter.com/zdYH4z05ZE

— Francis Brennan (Text TRUMP to 88022) (@FrancisBrennan) March 29, 2020