Posted by
William A. Jacobson
Sunday, March 1, 2020 at 6:29pm
| 3/1/2020 - 6:29pm
Trump: "Pete Buttigieg is OUT. All of his SuperTuesday votes will go to Sleepy Joe Biden. Great timing. This is the REAL beginning of the Dems taking Bernie out of play – NO NOMINATION, AGAIN!"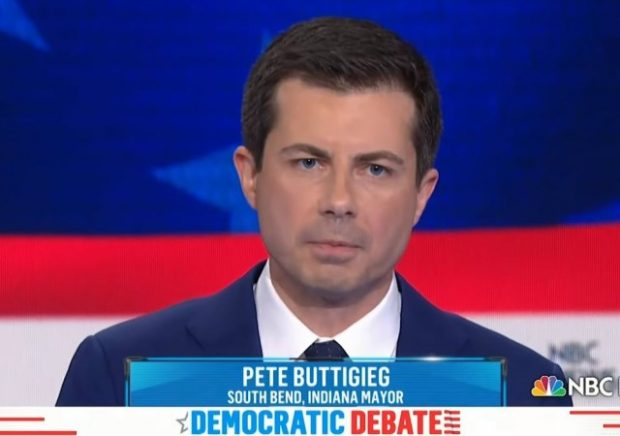 "Mayor" Pete Buttigieg is dropping out the the Democratic primary race.
Did we ever figure out if he's a robot?
We'll always have this to remember his campaign.
If imitation is the sincerest form of flattery, then @PeteButtigieg must really be trying butter up @BarackObama. pic.twitter.com/zqcxiccs1i

— John Heilemann (@jheil) February 25, 2020
MORE REACTIONS
Pete Buttigieg is OUT. All of his SuperTuesday votes will go to Sleepy Joe Biden. Great timing. This is the REAL beginning of the Dems taking Bernie out of play – NO NOMINATION, AGAIN!

— Donald J. Trump (@realDonaldTrump) March 1, 2020
Trump campaign on @PeteButtigieg suspending his campaign:

"Apparently insufferable condescension just wasn't what voters were looking for."—@TimMurtaugh to @ABC News https://t.co/m0g7xaNwR1

— Will Steakin (@wsteaks) March 1, 2020
May we all bid a fond farewell to Alfred E. Neuman pic.twitter.com/yfqCU0ygu9

— Daily Caller (@DailyCaller) March 1, 2020
Just a word to the wise for candidates like Pete Buttigieg, who might be dropping out because they were promised something from Joe Biden… He ain't gonna remember what he promised you.

— Tim Young (@TimRunsHisMouth) March 1, 2020
Will this help Sleepy Joe?
Doesn't look like it, at best the Buttigieg supporters split.
Buttigieg's supporters second choice:

Biden 26%
Sanders 26%
Warren 18%
Bloomberg 15%
Klobuchar 8%
Gabbard 3%@SurveyUSA (2/25-26) https://t.co/MpPCWmz6bM

— Political Polls (@PpollingNumbers) March 1, 2020
Buttigieg's Supporters Second Choice:

Klobuchar 26%
Warren 26%
Biden 19%
Sanders 11%
Bloomberg 9%

According to leatest @QuinnipiacPoll https://t.co/MpPCWmz6bM

— Political Polls (@PpollingNumbers) March 1, 2020
Buttigieg's Supporters Second Choice:

Sanders 21%
Biden 19%
Warren 19%
Bloomberg 17%

According to @MorningConsult National Poll https://t.co/MpPCWmz6bM

— Political Polls (@PpollingNumbers) March 1, 2020
Please Clap
No campaign could ever recover from this pic.twitter.com/AYm6CPsS1B

— Barstool News Network (@BarstoolNewsN) March 2, 2020