Posted by
Mike LaChance
Saturday, March 21, 2020 at 2:30pm
| 3/21/2020 - 2:30pm
"spent more than $500 million on television advertising alone, as well as more than $100 million on digital ads"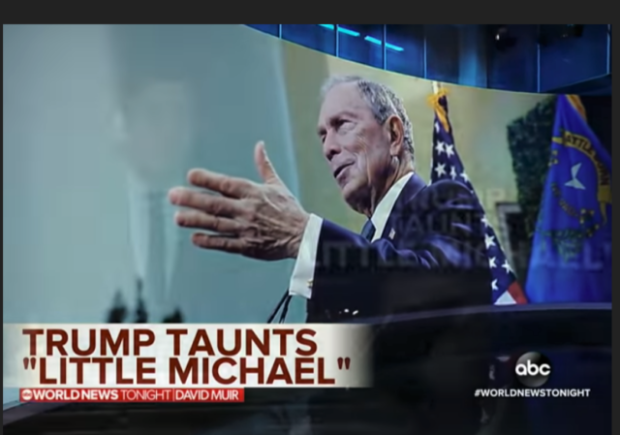 It was initially reported that former New York City Mayor Michael Bloomberg spent upwards of $500 million on his short lived presidential campaign. It has now been revealed that the final figure is much higher.
Bloomberg spent almost a billion dollars.
Tal Axelrod writes at The Hill:
Bloomberg spent over $900M on presidential campaign

Former New York City Mayor Michael Bloomberg dropped more than $900 million on his presidential campaign, an eye-popping figure for a White House bid that lasted a little more than three months.

New filings with the Federal Election Commission (FEC) showed that Bloomberg, a billionaire who personally bankrolled his bid, spent $875,369,840.07 through the end of February. The campaign accrued debts of an additional $31,661,136.33.

Bloomberg's campaign, which was launched in November to try to settle nerves of moderates who feared a surging progressive Sen. Bernie Sanders (I-Vt.), relied on an intense advertising blitz to close the gap on candidates who had been campaigning for months.

The filings show that the Bloomberg campaign spent more than $500 million on television advertising alone, as well as more than $100 million on digital ads. It also dropped more than $15 million on polling.
Shane Goldmacher of the New York Times breaks it down:
NEW: Mike Bloomberg's campaign spent far more than we previously knew — more than $900 million, according to his new FEC filing.

— Shane Goldmacher (@ShaneGoldmacher) March 20, 2020
The filing is online here:

If you need some help interpreting:

He spent $875,369,840.07 through end of February.

He had accrued debts of an additional $31,661,136.33 in debts, which is just an accounting issue for him.

This doesn't include March 1-3.https://t.co/9GXHRhpDuw

— Shane Goldmacher (@ShaneGoldmacher) March 20, 2020
Quick and *rough* breakdown

$504 million TV ads
$103 million digital advertising
$30 million direct mail
$14.2 million polling

(I am likely undercounting some of this but this is baed on his campaign's categorization)

— Shane Goldmacher (@ShaneGoldmacher) March 20, 2020
Mike Bloomberg won 64 delegates and zero states.

He did carry American Samoa.https://t.co/UzAZOKOOUO

— Shane Goldmacher (@ShaneGoldmacher) March 20, 2020
Story: https://t.co/owuCDoRLmM

— Shane Goldmacher (@ShaneGoldmacher) March 20, 2020
As I mentioned in another post this week, this is the same guy who let his staff go, despite their claims they were told they would be employed through November, no matter what. Politico reports:
Bloomberg lays off hundreds as coronavirus bears down

Mike Bloomberg's defunct presidential campaign laid off hundreds more staffers Friday as he announced that that he's folding his massive battleground operation into the Democratic National Committee.

Many of the Bloomberg aides — including those purged in an initial round of dismissals—were holding out hope he would deliver on a promise to keep them on his payroll through November, particularly with the coronavirus baring down. But those hopes were also dashed Friday when the staffers were told in frank conference calls that Bloomberg would not move ahead with his planned super PAC, and instead would cede his state operation to the DNC, including an $18 million infusion to help presumptive nominee Joe Biden.

The staffers, who said they were lured to the late-starting campaign with yearlong guarantees of competitive pay and health benefit packages, were invited to apply for jobs with the DNC as part of a "competitive process."
So he won't pay his staffers, but he has millions to give to the Democratic Party?
From NPR:
Bloomberg Decides Against Super PAC, Transfers $18 Million To Democratic Party

Former New York Mayor Mike Bloomberg has decided against creating a super PAC that was expected to spend unlimited sums to take on President Trump and instead is transferring $18 million to the Democratic National Committee.

"While we considered creating our own independent entity to support the nominee and hold the president accountable, this race is too important to have many competing groups with good intentions but that are not coordinated and united in strategy and execution," Bloomberg's team wrote in a memo to Tom Perez, the chairman of the DNC.
At least he is giving some cash to help fight coronavirus in New York.
Forbes reports:
Michael Bloomberg, Jon Stryker Donate To $75 Million COVID-19 Fund For New York City Nonprofits

On Friday the New York Community Trust, a community foundation, announced a $75 million fund to support New York City-based social services and cultural nonprofit organizations affected by the coronavirus pandemic. The fund's donors include a host of billionaires such as media titan Michael Bloomberg, medical equipment company heir Jon Stryker and hedge fund founder Ken Griffin.