Posted by
Kemberlee Kaye
Thursday, March 5, 2020 at 1:00pm
| 3/5/2020 - 1:00pm
"Every time Democrats try to threaten sitting judges, we are reminded exactly—exactly—why the Framers gave them life tenure and salary protection."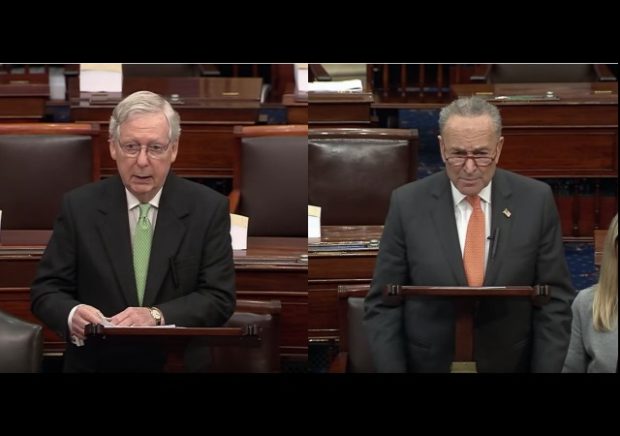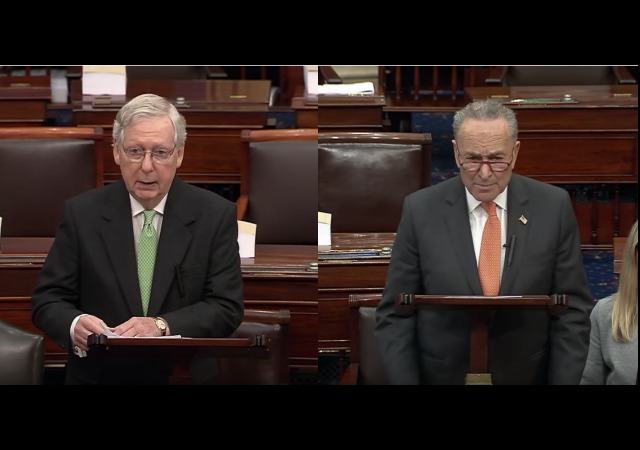 Is anyone buying Schumer's nonpology?
During a pro-abortion rally, Senate Majority Leader Schumer threatened Supreme Court Justices Gorsuch and Kavanaugh.

When Chief Justice Roberts responded, a Schumer spokesman doubled down, accusing Roberts of colluding with the "right wing."
Thursday, McConnell rebuked Schumer's remarks from the Senate floor. Schumer addressed the chamber after McConnell and claimed he didn't mean to be quite so harsh and that he was addressing Republican lawmakers and not justices Gorsuch and Kavanaugh. Also, that he's from Brooklyn.
McConnell didn't hold back —

"As long as this majority holds the gavel, we will never let the minority leader's dangerous views become policy," McConnell said. "This majority will ensure the only casualties of this recklessness are the reputations of those who engage in it."

— Andrew Desiderio (@AndrewDesiderio) March 5, 2020
McConnell isn't buying it:
Contrary to what the Democratic Leader has tried to claim, he very clearly was not addressing Republican lawmakers. The minority leader of the United States Senate threatened two associate justices of the U.S. Supreme Court. Period. pic.twitter.com/DZJb5qW7yO

— Leader McConnell (@senatemajldr) March 5, 2020
And neither do I. Schumer's spox doubled down on the remarks and lashed out at Chief Justice Roberts, so spare me the "harsh language" nonsense.
Schumer's recantation (sort of):
"Now, I should not have used the words I used yesterday. They didn't come out the way I intended to. My point was that there would be political consequences, political consequences, for President Trump and Senate Republicans if the Supreme Court, with the newly confirmed justices, stripped away a woman's right to choose.

Of course I didn't intend to suggest anything other than political and public opinion consequences for the Supreme Court, and it is a gross distortion to imply otherwise. I'm from Brooklyn. We speak in strong language. I shouldn't have used the words I did, but in no way was I making a threat. I never, never would do such a thing. And Leader McConnell knows that, and Republicans who are busy manufacturing outrage over these comments know that, too.

Now, what will remain long after the clamor over my comments dies down is the issue at hand: A woman's constitutional right to choose and Republican attempts to invalidate it. The fact that my Republican colleagues have worked systematically over the course of decades to install the judicial infrastructure to take down Roe v. Wade and do very real damage to the country and to the American way of life, that is the issue that will remain. And we owe, I owe, an obligation to the women of America to fight for their constitutional rights. I yield the floor."
Watch:
NEW: Sen. Chuck Schumer says he was warning of "political consequences" in comments about Supreme Court justices: "I should not have used the words I used yesterday. They didn't come out the way I intended…In no way was I making a threat." https://t.co/fVHaJgb9hN pic.twitter.com/JOSNAUUTyF

— ABC News (@ABC) March 5, 2020