Posted by
Mike LaChance
Friday, March 6, 2020 at 3:00pm
| 3/6/2020 - 3:00pm
"The majority of people in this city are law abiding," Robinson told council members, "and they follow the law and they want their constitutional right to bear arms."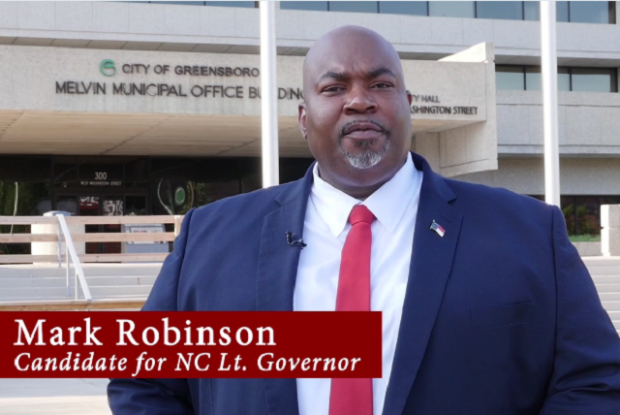 Mark Robinson became a sensation when a video of him defending the rights of law-abiding gun owners at the Greensboro, North Carolina city council meeting went viral in 2018.
He just won the Republican nomination for Lieutenant Governor in the state.
Once Robinson decided to run for office, he became a hit with grassroots conservatives. That support translated at the polls last week.
The Associated Press reports, via the Greensboro News and Record:
Political newcomer Mark Robinson of Greensboro wins GOP nomination for lieutenant governor

A former factory worker and day care operator whose gun rights speech before the Greensboro City Council in 2018 vaulted him to prominence among conservatives won the Republican nomination for North Carolina's lieutenant governor on Tuesday in a crowded field.

First-time candidate Mark Robinson also exceeded the 30% threshold needed to win outright and avoid a runoff…

Robinson's 2018 recorded speech before the Greensboro council went viral, making him a nationwide speaker.

"The majority of people in this city are law abiding," Robinson told council members, "and they follow the law and they want their constitutional right to bear arms.

"I am the majority! A law-abiding citizen who's never shot anybody, never committed a serious crime, never committed a felony!

"I've never done anything like that, but it seems like every time we have one of these shootings, nobody wants to put the blame where it goes, which is at the shooter's feet. You want to put it at my feet!"
Robinson has said that he didn't know exactly what he was going to say when he attended the city council meeting that night, which makes this all the more amazing. I have watched this repeatedly. If you have never seen it, watch the whole thing now. You won't be disappointed:
Robinson was eventually invited to speak at the NRA-ILA convention. Last year, I posted a clip of his speech to Twitter. Watch this to the very end. Trust me:
Dear NC conservatives: While you're celebrating #NC09 you may want to throw some support to @markrobinsonNC for Lt. Governor in 2020. Wow. pic.twitter.com/PyleVjSqMb

— Mike LaChance (@MikeLaChance33) September 11, 2019
If you want to get to know Mark better, visit his website here.
Democrats have not yet settled on a candidate, but the race between Mark and that person will be decided on November 3rd.