Posted by
Mary Chastain
Sunday, March 8, 2020 at 4:00pm
| 3/8/2020 - 4:00pm
THEN: "it was hurtful to hear you talk about the reputations of two United States senators who built their reputations and career on the segregation of race in this country." NOW: "He is kind and endlessly caring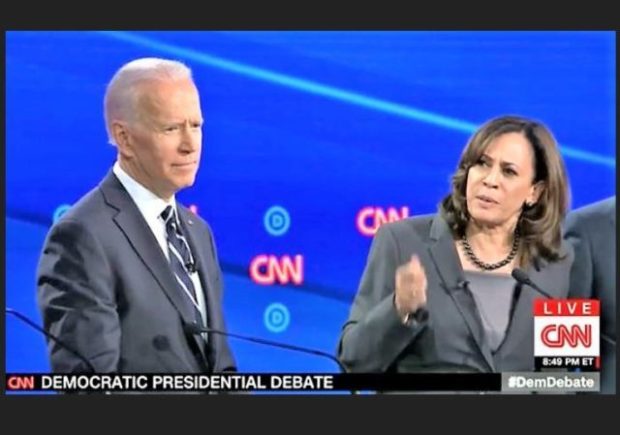 Former 2020 Democratic presidential hopeful Sen. Kamala Harris (D-CA) endorsed former Vice President Joe Biden for president even though she fiercely went after him in the summer debates.
From The Washington Examiner:
Harris, on Sunday, talked up Biden as the best candidate to beat President Trump in November.

"There is no one better prepared than Joe to steer our nation through these turbulent times, and restore truth, honor, and decency to the Oval Office," Harris said in a statement. "He is kind and endlessly caring, and he truly listens to the American people. You can see in his eyes how he takes to heart the experiences of mothers and fathers working to make ends meet and worrying about whether their children can be safe in their classroom, or young people who fight tirelessly to tackle climate change as they ask for a fair shot at the future in front of them."
.@JoeBiden has served our country with dignity and we need him now more than ever. I will do everything in my power to help elect him the next President of the United States. pic.twitter.com/DbB2fGWpaa

— Kamala Harris (@KamalaHarris) March 8, 2020
Harris went after Biden in the June debate over his work with segregationists on school busing. She tried to say she didn't think Biden himself is a racist, but her words and facial expression said otherwise.
I do not believe you are a racist. And I agree with you when you commit yourself to the importance of finding common ground, but I also believe, and it's personal and I actually was very — it was hurtful to hear you talk about the reputations of two United States senators who built their reputations and career on the segregation of race in this country. And it was not only that but you also worked with them to oppose busing and, you know, there was a little girl in California who was part of the second class to integrate her public schools and she was bussed to school every day, and that little girl was me.
WATCH: Harris says she doesn't think Biden is a racist, but she talks directly to Biden about his having worked with segregationists on the issue of school busing. #DemDebate2 pic.twitter.com/Ytb2xvOhux

— NBC News (@NBCNews) June 28, 2019
Stacey Matthews wrote about Biden's apology and Harris saying she accepted it. Stacey noted that Harris's "demeanor, facial expressions, and posture give off the impression that she still feels she's in the right on this issue, and that Biden hasn't walked back his statements enough."
But her strong attack on Biden did not help her. Stacey also wrote a blog about how Harris does not even know where she stands on busing.
Harris suspended her presidential campaign in December. Biden picked up 13 of her former supporters a few weeks later.
Biden has also consistently said he would consider Harris for his administration, including vice president.
Biden surged to the top after Super Tuesday. He received support from former rivals former South Bend Mayor Pete Buttigieg, former Rep. Robert O'Rourke (D-TX), and Sen. Amy Klobuchar (D-MN).