Posted by
Mike LaChance
Friday, February 28, 2020 at 12:00pm
| 2/28/2020 - 12:00pm
"No justice! No peace! No racist police!"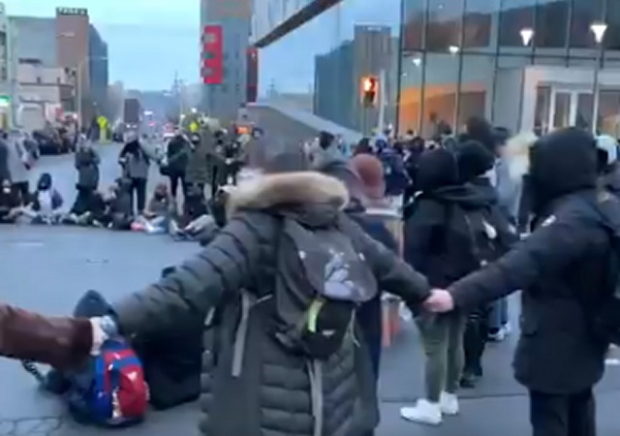 These students recently said they are in fear for their lives yet now they're blocking traffic.
Campus Reform reports:
Caught on video: Black-masked Syracuse protesters 'blocking traffic'

Leftist protesters at Syracuse University blocked off at least two city blocks Wednesday night in what is the latest development in the months-long standoff between the school administration and protesters who have named their movement "Not Again SU," a reference to a string of reported racist and anti-semitic incidents on campus.

Syracuse.com reported Wednesday that 100 students, faculty, and other leftists protesters took to the streets of Syracuse, New York, near the university campus, and staged a sit-in, blocking and holding up traffic for at least two city blocks. Protesters chanted, some of whom wore black masks, chanted, "No justice! No peace! No racist police!" and "SU puts the 'S' in White Supremacy."
Watch below:
Protestors at @SyracuseU blocking the intersection of Waverly and Crouse chanting phrases like "SU puts the 'S' in White Supremacy." @CNYCentral pic.twitter.com/YHhzcu9UAd

— Tony Black (@tonyblacknews) February 26, 2020
Featured image via Twitter video.