Posted by
Mary Chastain
Thursday, February 27, 2020 at 3:00pm
| 2/27/2020 - 3:00pm
They demanded "a semester-long class focused on diversity, and a new multicultural center that will feature meeting spaces for marginalized students, common areas, study rooms and a Popeyes restaurant."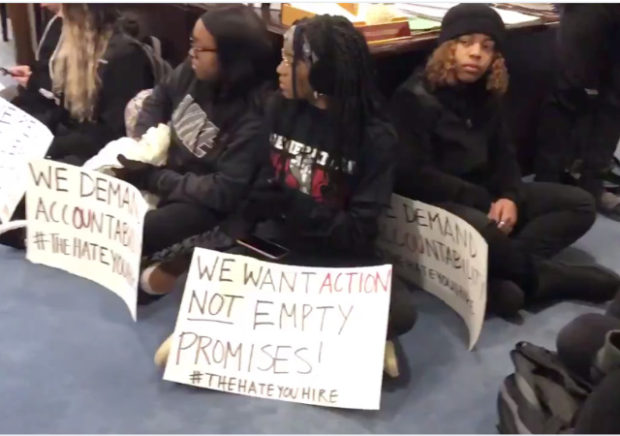 Protesters from the Black Emergency Response Team (BERT) at the University of Oklahoma have staged sit-ins at interim President Joseph Harroz's office in Evans Hall to demand the resignation of Provost (senior administrative official) Kyle Harper.
The protesters claim Harper "allows racism to fester on campus" after two professors used the n-word in classrooms, the College Fix reports.
The two incidents:
Earlier this week, Kathleen Brosnan, an OU faculty member in the history department, said the n-word multiple times while reading from a 1920's U.S. Senate document.

Peter Gade, director of graduate studies for the Gaylord College of Journalism and Mass Communication and Gaylord Family endowed chair, used the N-word while comparing its usage to the phrase "OK, boomer."
In all honesty, was it necessary to actually say the word or even hint at it? I hate being politically correct, but there are some words I will not use or tolerate being said in my presence. That is one of the few.
Brosnan apologized. She also gave a "trigger warning" before she read the word, but still. Didn't have to actually say it.
Gade apologized and stepped down for the semester. He promised to "attend racial sensitivity courses."
We. Are. Here. #TheHateYouHire pic.twitter.com/pZwMM80bmB

— BERT (@BERT_OU) February 26, 2020
BERT wants more than Harper's resignation. They demand "a semester-long class focused on diversity, and a new multicultural center that will feature meeting spaces for marginalized students, common areas, study rooms and a Popeyes restaurant."
I have NO idea what a Popeye's has to do with racism on the OU campus, but okay.
However, the updated version of demands does not include Popeye's. It seems BERT deleted the tweet with the original picture that listed the demands.
— BERT (@BERT_OU) February 26, 2020
Day 2. Still here. pic.twitter.com/VZvXVA5iwj

— BERT (@BERT_OU) February 27, 2020
University of Oklahoma students, staff and members of the @BERT_OU are peacefully sitting in the Office of Provost Kyle Harper. Some are on a hunger strike demanding Harper's resignation. | @koconews pic.twitter.com/KDuBtKbFHp

— Christine Stanwood (@KOCOChristine) February 26, 2020
Outside Evans, protesters are hanging a banner with the hashtag #HarperHasToGo on the statue in front of the building.

Photo from @WillCoPro pic.twitter.com/cFYd4KGKiw

— Scott Kirker (@scott_kirker) February 27, 2020
Harroz promised the "faculty, staff and administrators will be required to complete a new diversity, equity, and inclusion training regimen."
Students already take part in this training, but it will be the first time the higher-ups will have to do it.
OU kept security at Evans Hall. They told the students they can stay after it closes at 5 p.m., but no one can come in or come back in after that time.