Posted by
Fuzzy Slippers
Sunday, February 9, 2020 at 7:00pm
| 2/9/2020 - 7:00pm
There were no injuries reported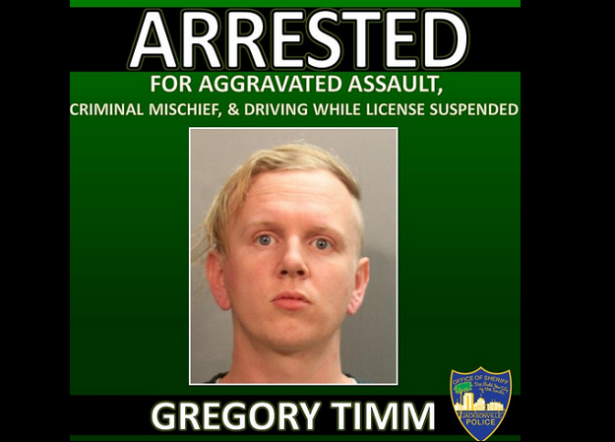 Gregory William Loel Timm, 27,has been arrested in Jacksonville, Florida as a suspect involved in an incident in a Walmart parking lot.  According to reports, the suspect is believed to be the person who plowed into a Republican voter registration tent in which volunteers were registering people to vote.
Hours after a van plowed through a Republican Party tent where volunteers were registering voters, Jacksonville police arrested a 27-year-old man on two counts of aggravated assault on a person over 65 years old, criminal mischief and driving without a license.

The Jacksonville Sheriff's Office identified Gregory William Loel Timm as the person behind the wheel of the van that struck the tent set up the parking lot of a Walmart Superstore at the corner of Atlantic and Kernan boulevards about 3:50 p.m. Saturday.

Timm is accused of pulling up, driving through the tent and striking their tables.

"It happened so quickly," said Nina Williams, a volunteer. "I just barely got out of the way."

Lt. Larry Gayle said after driving through the tent, the driver, now identified as Timm, stopped, took a video and "flipped off" the people who were inside the tent before driving away. Investigators have been monitoring social media to see if the video shows up.

No injuries were reported. One of the volunteers provided photos of the older brown Chevrolet driving away.

"We don't know if this is politically motivated," Gayle said.
#JSO has arrested the suspect who drove through the voter registration tent in the area of 11900 Atlantic Boulevard.

Gregory Timm has been charged with Aggravated Assault, Criminal Mischief, and Driving While Driver's License Suspended. pic.twitter.com/zGKbR2VTg0

— Jax Sheriff's Office (@JSOPIO) February 9, 2020
While the motive is as yet unclear and little is known about the suspect, the Duval County GOP believes it to have been politically motivated.
Today in Jacksonville, Florida six Trump Campaign volunteers were intentionally targeted while registering voters. pic.twitter.com/0wzaCYh5ut

— Duval County GOP (@DuvalGOP) February 8, 2020
As do others in the Republican Party, up to and including President Trump.
Thanking God that no one was injured in today's politically motivated attack against @DuvalGOP volunteers today. https://t.co/qKaJ8takNB

— Marco Rubio (@marcorubio) February 8, 2020
This appears to be a politically-motivated attack on hard-working volunteers in Duval County. Thankful that no one was hurt. @DuvalGOP will not be silenced or intimidated. They will redouble their efforts to support strong Republicans in NE Florida and around the state! https://t.co/F4Qi7hk7CR

— Rick Scott (@ScottforFlorida) February 8, 2020
Law Enforcement has been notified. Be careful tough guys who you play with! https://t.co/1Pq0hOrzy2

— Donald J. Trump (@realDonaldTrump) February 9, 2020