Posted by
Fuzzy Slippers
Thursday, January 2, 2020 at 12:00pm
| 1/2/2020 - 12:00pm
"Sanders' campaign said he raised $34.5 million, an increase of more than $9 million over his third-quarter haul"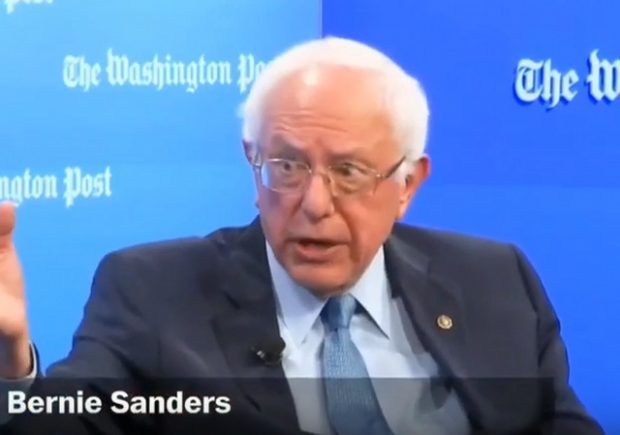 Democrat insiders sounded the alarm last week that Bernie was back and may even win the nomination.  Fourth quarter fundraising suggests they are right to be alarmed. He raised a whopping $34.5 million.
He still lags behind President Trump, who raised $46 million, however.
Former mayor of South Bend, Indiana, Pete Buttigieg raised $24.7 million, and Andrew Yang raised $16.5 million.
Sen. Bernie Sanders, I-Vt., and businessman Andrew Yang each bested their previous 2020 campaign fundraising records in the fourth quarter, their campaigns said Thursday.

Sanders' campaign said he raised $34.5 million, an increase of more than $9 million over his third-quarter haul and nearly double what he raised during the second quarter of last year.

. . . . Meanwhile, Yang's campaign said Thursday that he raised more than $16.5 million during the 4th quarter, topping his previous best of $10 million in the third quarter. The campaign said its highest single-day haul came on Tuesday, with donors contributing more than $1.3 million.

. . . . The campaign for another contender for the Democratic nomination, Pete Buttigieg, said Wednesday that it brought in $24.7 million in donations in the last quarter of 2019, just missing his high mark of $24.8 million during the second quarter of the year.
Meanwhile, Trump not only out-raised the individual Democrat candidates who've thus far released their fourth quarters hauls, but he is also sitting on a $103 million war chest.
President Trump's campaign raked in a whopping $46 million in the fourth quarter of 2019, fueled in part by a backlash from his base against House Democrats' impeachment efforts and blowing past any of his would-be Democratic rivals.

The incumbent now starts the election year sitting on a nearly $103 million war chest.

Trump's reelection campaign touted their fundraising efforts Thursday, noting that the fourth quarter marked the best fundraising quarter for the campaign in the 2020 cycle.
UPDATE:
Tulsi Gabbard raised $3.4 million.
Rep. Tulsi Gabbard (D-Hawaii) raised $3.4 million in the final quarter of 2019, a slight improvement over her third quarter numbers that nevertheless leaves her well behind the Democratic primary's fundraising leaders.

. . . . Gabbard raised about $1.2 million for her run in the month of December. She raised $3 million in the third quarter of 2019, which had been her best quarter.
UPDATE:
Joe Biden raised $22.7 million in the fourth quarter:
Biden's haul follows a lackluster third quarter. His campaign took in only $15.7 million in individual contributions during the period and ended September with about $9 million in the bank.

Both figures lagged his top rivals for the nomination, Sanders, Sen. Elizabeth Warren, D-Mass., and Buttigieg.

Biden and Buttigieg have taken a different approach to raising cash than Sanders and Warren, who have sworn off big-dollar fundraisers in favor of smaller donations. The campaign fundraising events with wealthier donors have sparked backlash for both Biden and Buttigieg.
I'm excited to share that we raised $22.7 million this last quarter — our biggest quarter so far this campaign! Thank you to everyone who chipped in what you could — your support means the world to me. You truly are the heart of our campaign. pic.twitter.com/L53z9YbLsX

— Joe Biden (@JoeBiden) January 2, 2020