Posted by
Mary Chastain
Thursday, December 19, 2019 at 11:38am
| 12/19/2019 - 11:38am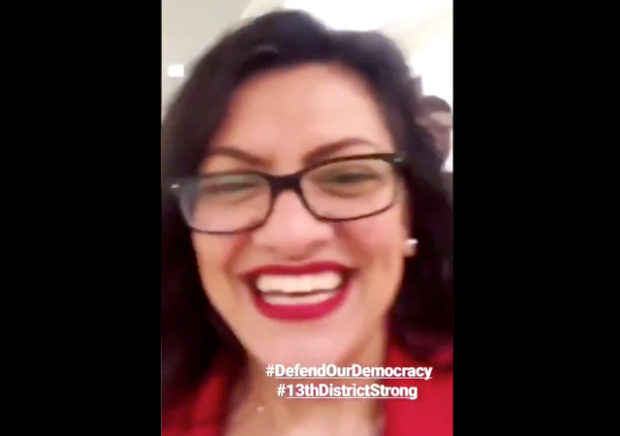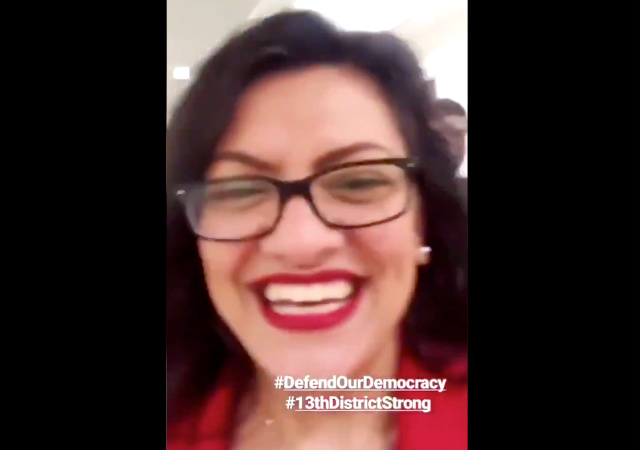 Speaker of the House Nancy Pelosi declared Wednesday a solemn day and even wore black as the House voted to impeach President Donald Trump. She told the Democrats to behave and not celebrate the impeachment.
Many Democratic representatives refused to toe the line. House Intelligence Committee Chairman Adam Schiff and others had a celebratory dinner the night before. Rep. Rashida Tlaib, who screamed "impeach the mother f*cker" after her swearing-in, posted a happy and gleeful video on her way to vote.
Tlaib
Schiff and House Intel Dems drank and cheered at fancy dc restaurant last night.

Rashida 'Impeach that MF' Tlaib posted this giddy video on Instagram today.

But Pelosi had the audacity to say on live TV today that this is a 'somber day' and no one wanted this.

Sick people! pic.twitter.com/XMYb1bCqj1

— Alex Bruesewitz (@alexbruesewitz) December 19, 2019
With a huge smile, Tlaib said, "Hi, everyone! I'm on my way to the United States House floor to impeach Donald Trump on behalf of my incredible district!" Her staffers laughed as they followed her down the hall.
She used the hashtags #DefendOurDemocracy #13thDistrictStrong.
Remember this video? It took place on January 3, 2019, six months before the July call with the Ukrainian president.
Newly elected Democratic Congresswoman @RashidaTlaib to supporters earlier tonight: "We're going to go in there, we're gonna impeach the motherf****r."

If you really don't like Trump, you shouldn't like this video, because this does the opposite of hurting him. pic.twitter.com/NLTKyOWbZZ

— Reagan Battalion (@ReaganBattalion) January 4, 2019
Trump responded:
This is what the Dems are dealing with. Does anyone think this is good for the USA! https://t.co/rvY3mDo69r

— Donald J. Trump (@realDonaldTrump) December 19, 2019
Adam Schiff
On Tuesday night, Schiff and the rest of the Democrats on the Intelligence enjoyed. Alex said they cheered on impeachment, but the video does not show it. However, it wouldn't shock me if they did.
Hosting my holiday dinner at Charlie Palmer tonight.

Adam Schiff & House members thought that they would also come to one of the most expensive places in DC to celebrate their impeachment sham.

So in touch with the American people!

I lost my appetite because of these scum bags pic.twitter.com/jKKPUzgJzy

— Alex Bruesewitz (@alexbruesewitz) December 18, 2019
Adam Schiff and the entire democratic house intel committee were at a fancy restaurant last night drinking and cheering about the 'impeachment.'

Now they'll be on TV today saying what a somber and sad day in history this is…

These people disgust me.pic.twitter.com/jKKPUzgJzy

— Alex Bruesewitz (@alexbruesewitz) December 18, 2019