Posted by
Mary Chastain
Wednesday, October 9, 2019 at 7:00am
| 10/9/2019 - 7:00am
The IG "did not identify the Democratic candidate with whom the whistleblower had a connection."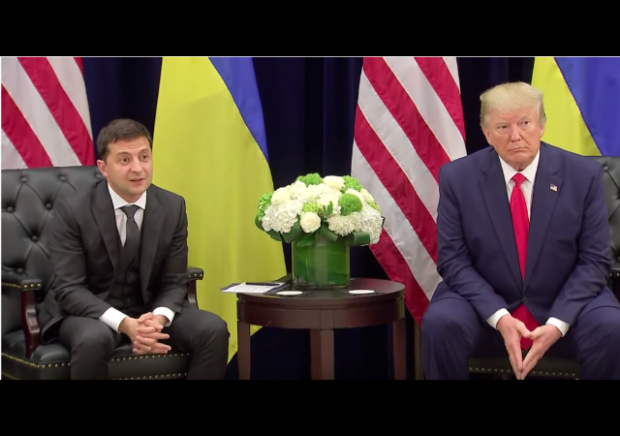 The Intelligence Community Inspector General Michael Atkinson discovered the whistleblower behind the phone call between President Donald Trump and Ukrainian President Volodymyr Zelensky worked for a 2020 Democratic candidate.
Atkinson wrote the whistleblower "showed 'some indicia of an arguable political bias…in favor of a rival political candidate.'"
The whistleblower claimed through hearsay that Trump threatened to withhold aid from Ukraine if Zelensky did not investigate Vice President Joe Biden.
Supposedly Biden forced then-Ukrainian President Petro Poroshenko to fire the prosecutor general Viktor Shokin for not stopping an investigation into Burisma Holdings. Biden's son Hunter sat on the company's board.
Biden has bragged he helped get Shokin fired by threatening to withhold aid from Ukraine. He has always claimed he did it because of the corruption around Shokin. Shokin himself said otherwise.
The complaint set off a firestorm between the Democrats and Trump. The House Democrats used the complaint without looking at a phone call transcript to begin an impeachment inquiry.
The transcript showed no threats towards Ukraine. Zelensky declared no one ever threatened him to begin an investigation into the Bidens.
Reports have said that the whistleblower showed bias due to his registration as a Democrat. It goes deeper than that (emphasis mine):
Under questioning from Republicans during last Friday's impeachment inquiry interview with Atkinson, the inspector general revealed that the whistleblower's possible bias was not that he was simply a registered Democrat. It was that he had a significant tie to one of the Democratic presidential candidates currently vying to challenge President Trump in next year's election.

"The IG said [the whistleblower] worked or had some type of professional relationship with one of the Democratic candidates," said one person with knowledge of what was said.

"The IG said the whistleblower had a professional relationship with one of the 2020 candidates," said another person with knowledge of what was said.

"What [Atkinson] said was that the whistleblower self-disclosed that he was a registered Democrat and that he had a prior working relationship with a current 2020 Democratic presidential candidate," said a third person with knowledge of what was said.

All three sources said Atkinson did not identify the Democratic candidate with whom the whistleblower had a connection. It is unclear what the working or professional relationship between the two was.
While Atkinson found "evidence of possible bias," it did not change his mind "that the complaint relating to the urgent concern 'appears credible,' particularly given the other information the ICIG obtained during its preliminary review."