Posted by
Fuzzy Slippers
Wednesday, October 30, 2019 at 1:00pm
| 10/30/2019 - 1:00pm
"She was aware of his spiraling depression and suicidal thoughts brought on by her abuse, yet she persisted, continuing to encourage him to take his own life"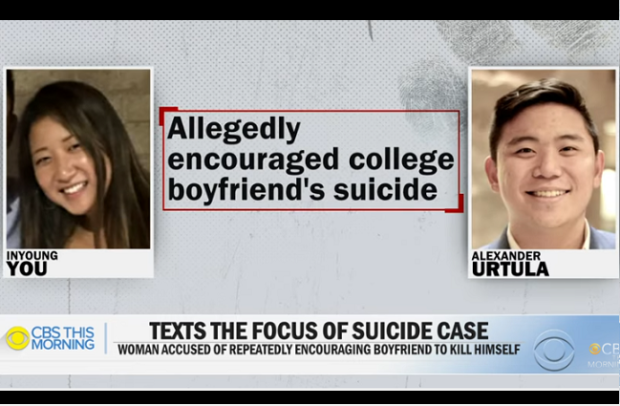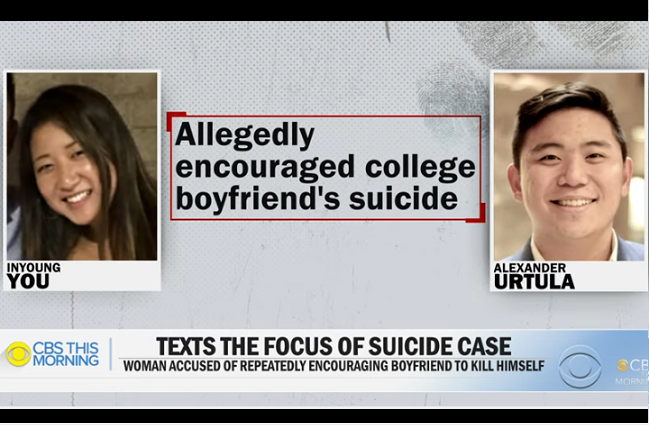 Alexander Urtula, 22, committed suicide on May 20, 2019, just hours before he was to graduate from Boston College.  His girlfriend—Inyoung You, 21, of South Korea—has been indicted for involuntary manslaughter in his death.
You allegedly sent Urtula 47,000 text messages in the months prior to his death and often included sentiments like "go die" and "go kill yourself."
A former Boston College student who police say sent her boyfriend more than 780 text messages a day — many telling him to "go die" and "go kill" himself — has been charged with manslaughter after 22-year-old Alexander Urtula committed suicide just two hours before he was set to graduate from BC.

Suffolk District Attorney Rachael Rollins said Monday that Inyoung You, 21, of South Korea, is charged with involuntary manslaughter for her role in Urtula's death. The biology major from New Jersey jumped from the top of the Renaissance parking garage in Roxbury on May 20.

"You's behavior was wanton and reckless and resulted in overwhelming Mr. Urtula's will to live," Rollins said in a press conference.

Police determined You was "physically, verbally and psychologically abusive" toward Urtula after an investigation of his phone following his death, Rollins said. The couple exchanged more than 75,000 text messages — 47,000 from You — in the two months leading up to the suicide where You allegedly told her boyfriend to "go die" and to "kill himself" thousands of times, Rollins said.

. . . . You would frequently track Urtula's location using her cell phone and stalked him to the parking garage on the morning of his death, Rollins said. She was there that morning when Urtula leapt from the top of the parking structure.
Not only was she allegedly present when Urtula leapt to his death, but she is accused of manipulating him because she reportedly knew he suffered from "spiraling depression."  She reportedly told him that she, his family, and the world would be better off with him.
Rollins said the abuse was witnessed by family and classmates of both parties and was also documented in the victim's journal entries.

Text messages between the couple also documented the imbalance in the couple's power dynamic, with You understanding she had "complete and total control over Mr. Urtula, both mentally and emotionally," Rollins said. The defendant used threats of self-harm and manipulation to control the victim.

In the 75,000 text messages between the couple in the months before his death — more than 47,000 of those from You — the defendant repeatedly told Urtula to "go die" or to "go kill himself," Rollins said. The texts said that she, his family and the world would be better off without him.

"She was aware of his spiraling depression and suicidal thoughts brought on by her abuse, yet she persisted, continuing to encourage him to take his own life," Rollins said.

In addition to the demeaning words, You allegedly isolated Urtula from his loved ones and frequently tracked his location on her phone.
You returned to South Korea, and an arraignment has been scheduled.
You, who was an economics major set to graduate from Boston College next May, withdrew from classes in August, the college confirmed.

You returned to South Korea following Urtula's death and authorities said they are "cautiously optimistic" that she will willingly return to the U.S. to face charges. Rollins said her office is also prepared to pursue extradition.

An arraignment had not been scheduled.
Watch the report: