Posted by
Mike LaChance
Saturday, October 5, 2019 at 12:00pm
| 10/5/2019 - 12:00pm
"one of the most epic bombs in political publishing over the past decade"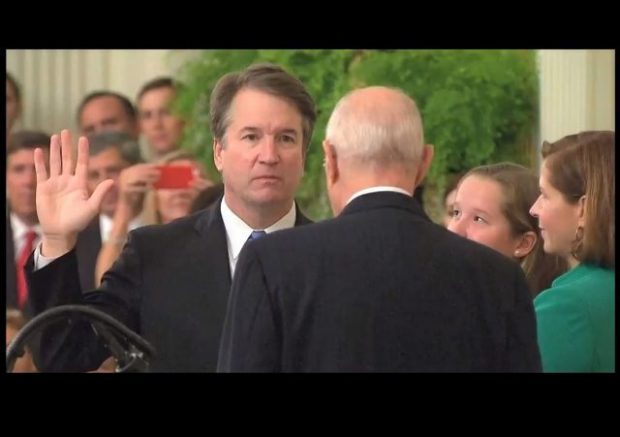 The new book intended to smear Justice Brett Kavanaugh certainly got plenty of promotion by the New York Times. Unfortunately for the authors, that publicity backfired, and the proof is in the book's dismal opening sales numbers.
Paul Bedard reports at the Washington Examiner:
New York Times Kavanaugh book bombs, just 3,120 sold, Amazon rank #6,795

The latest book on Associate Justice Brett Kavanaugh, a critical biography from two New York Times reporters that made new sexual assault charges that were immediately undermined, has suffered an epic sales crash, according to publishing insiders.

Expected to sell at least 10,000-12,000 in the first two weeks and propel The Education of Brett Kavanaugh: An Investigation onto the newspaper's bestseller hardcover list, it has sold about a third of that in the first two weeks.

A publishing source provided the latest BookScan numbers, which can account for about 80% of sales. That number is 3,120. "If you add in ebooks — they may have sold a total of 4,000. That's one of the most epic bombs in political publishing over the past decade," said the source.

By comparison, another Kavanaugh book, Justice on Trial: The Kavanaugh Confirmation and the Future of the Supreme Court, which details the Democratic war on the Trump nominee, has sold 60,000 books and a total of 100,000 copies since its July 9 debut. It was written by Mollie Hemingway and Carrie Severino and published by Regnery.
The book was so obviously meant to fuel Democrat efforts to impeach and remove Kavanaugh from the Supreme Court, but no one is buying it. What a shame.
NYT Kavanaugh book bombs, just 3,120 sold, Amazon rank #6,795 https://t.co/olYYkcG9mA pic.twitter.com/4NlLA75y72

— Paul Bedard (@SecretsBedard) October 4, 2019
Many people used this opportunity to praise Mollie Hemingway's successful book.
"By comparison, another Kavanaugh book, #JusticeOnTrial: The Kavanaugh Confirmation and the Future of the Supreme Court, which details the Democratic war on the Trump nominee, has sold 60,000 books and a total of 100,000 copies since its July 9 debut." @MZHemingway @JCNSeverino https://t.co/DtpXpHnZtC

— Regnery Publishing (@Regnery) October 4, 2019
If a smear falls in the forest https://t.co/r7TCluVE9Z

— Phil Kerpen (@kerpen) October 4, 2019
Perhaps the NYT and WP will now deign to recognize the existence of, much less review, a book on the subject which is not only better-reported but an actual best-seller? @MZHemingway https://t.co/qaXjhbM132

— Jeremy Senderowicz (@jsende) October 4, 2019
If anyone is interested in learning more about Mollie Hemingway's book, here you go:
EXCITING NEWS: I've written a book on the Kavanaugh confirmation with the inimitable @JCNSeverino. We interviewed more than 100 key players to get the behind-the-scenes look at the nomination and battle over the Supreme Court. Buy it now! https://t.co/yK36nTGtA4 pic.twitter.com/3rIstwxzZP

— Mollie (@MZHemingway) July 7, 2019