Posted by
Fuzzy Slippers
Sunday, October 6, 2019 at 6:00pm
| 10/6/2019 - 6:00pm
In January 2018, David Campbell was "charged with assault for strangulation, possession of a weapon, assault of a police officer, resisting arrest and loitering"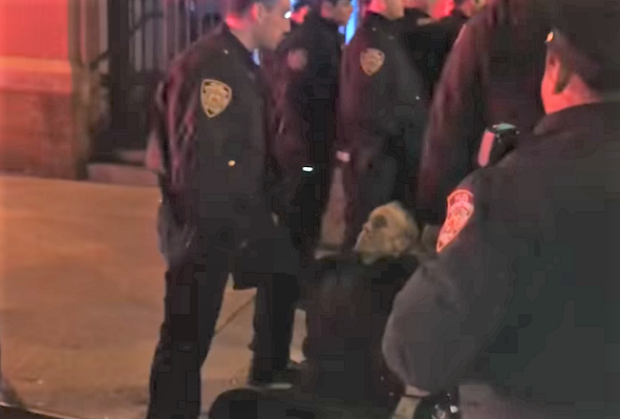 Back in January of 2018, a "Night for Freedom" event organized by Mike Cernovich erupted into violence when antifa mobs showed up to protest in their own special way.
Ultimately, a 56-year-old man was rushed to the hospital and the then 30-year-old suspect, David Campbell, was arrested on a host of charges.
The New York Daily News reported at the time:
Violence erupted outside an alt-right gala in Midtown Saturday when a black-clad protester punched and choked a partygoer, cops said.

Far-right provocateur Mike Cernovich was inside the event at the FREQNYC nightclub on W. 50th St. when the fisticuffs broke out about 10:30 p.m.

"I saw him hit the old man," said witness Ali Thomas, 24. "One hit. He swung hard. He hit him hard. The old man's head hit the curb."

The 911 caller said initially that the 56-year-old was in cardiac arrest after the fight, according to fire officials. He was taken to Bellevue Hospital in stable condition, officials noted.

Cops arrested the alleged assailant, David Campbell of Crown Heights, Brooklyn, authorities said.

Campbell, 30, was charged with assault for strangulation, possession of a weapon, assault of a police officer, resisting arrest and loitering, police said Sunday morning.
Earlier this week, Campbell pleaded guilty to two charges of felony assault and may be sentenced to jail time.
According to Breitbart the specific charges to which he pled are "second-degree attempted gang assault, and second-degree assault with intent to cause physical injury to a police officer."
An "Antifa" street thug can now look forward to continuing his fight — from jail.

David Campbell, 32, copped a plea for his role in a 2018 beatdown outside the Night for Freedom party in Manhattan organized by right-wing activist Mike Cernovich.

Campbell pleaded guilty to two counts of felony assault and will be sentenced on Oct. 23 to 18 months in the slammer, reps for Manhattan District Attorney Cy Vance Jr. told The Post.

Campbell was arrested near the venue, a nightclub at West 50th Street and 12th Avenue on Jan. 20 2018, after he punched and choked a 56-year-old man he had followed out of the event, police said. He was one of about 80 Antifa agitators protesting the gathering.
[Featured image via YouTube]