Posted by
Mary Chastain
Tuesday, September 17, 2019 at 9:00am
| 9/17/2019 - 9:00am
When the NY Times ran its correction adding the information, it didn't disclose that the Editors had removed the disclosure, allowing the authors to take the heat.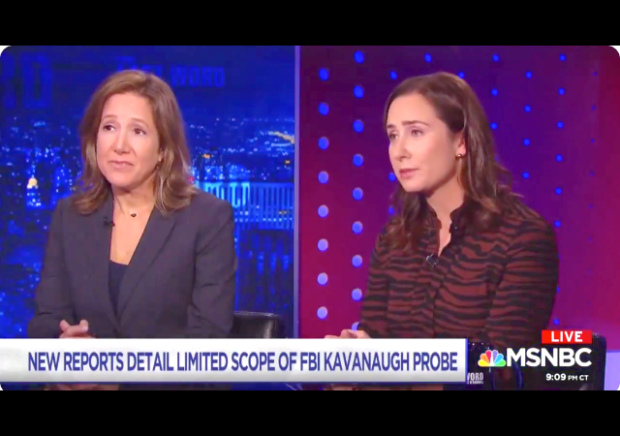 On Monday, Mollie Hemingway at The Federalist noted that The New York Times quietly added an important correction to its hit piece on Supreme Court Justice Brett Kavanaugh. The publication admitted it did not mention "that the female student declined to be interviewed and friends say she does not recall the incident."
Authors Robin Pogrebin and Kate Kelly told MSNBC that they added the woman's name and information to their piece.
They claim the editors took out the information.
The New York Times reporters who wrote the smear article on Supreme Court Justice Brett Kavanaugh say that they included the information that the woman did not remember the incident ever happening in their article but that the editors removed it pic.twitter.com/s8bwGzrrdd

— Ryan Saavedra (@RealSaavedra) September 17, 2019
My God.According to authors, @nytimes editors removed fact that alleged victim had no memory of incident with Kavanaugh. Why? Passage included her name & "the Times doesn't usually include the names of victims." So why didn't authors insist fact be mentioned without the name? https://t.co/sHzSBFGfym

— Christina Sommers (@CHSommers) September 17, 2019
From Fox News:
"In your draft of the article, did it include those words that have since been added to the article?" MSNBC host Lawrence O'Donnell asked.

"It did," both Pogrebin and Kelly responded.

"So somewhere in the editing process, those words were trimmed," O'Donnell said in clarification.

Pogrebin then explained that The Times doesn't usually include names of victims and that she believed that when the editors removed the name, the crucial information that she didn't remember was also removed.

"So I think it was just sort of an editing, you know, done in the haste in the editing process," Pogrebin added.

"Were you involved in the decision to amend this and do the correction- the addition online to the piece?" O'Donnell followed.

"We discussed it," Pogrebin said. "We felt like there was so much heat, there's so much- everyone has been has been seizing on various aspects of this that we certainly didn't want it to be an issue anymore and we certainly never intended to mislead in any way. We wanted to give as full of a story as possible."
Kelly admitted she was "not sure" when O'Donnell asked them if they thought the editors should have mentioned the fact that the authors included the information in the correction note:
"But I think the desire you see was to get the information out there to the readers, not to focus too much on the process," she added. "Because obviously there had been an error of judgment that was being addressed, and just to move on to give people the information they needed, but also to remind people that this is an adaptation of a much longer work that's forthcoming."