Posted by
Mike LaChance
Saturday, September 14, 2019 at 10:00am
| 9/14/2019 - 10:00am
"I spent every second on last night's debate stage fighting for you — and now I'm being viciously attacked for it"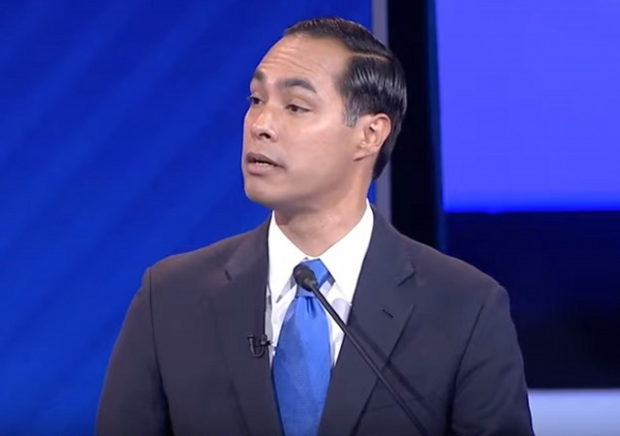 Joe Biden is running for the Democratic nomination and that means he is fair game for his opponents. That does not mean, however, that no one is allowed to notice the nasty way Julian Castro went after him in the last debate on Thursday night.
In case you missed it, Castro basically tried to catch Joe Biden in a "gotcha" about his ability to remember something he had said minutes before. It was obviously a planned attack, and it came off as dirty. The audience gasped loudly in surprise.
Watch:
Lots of people on the left are calling Castro out for this. He was slammed by the ladies of 'The View.'
John Gage writes at the Washington Examiner:
'Put a fork in it, the campaign is over': The View slams Julián Castro's 'ageism'

The View hosts took aim at Julián Castro after he attacked Joe Biden's age during the third Democratic presidential debate.

"Put a fork in it, the campaign is over," host Meghan McCain said Friday on the show, calling Castro's attack on Biden a "Trump tactic."

Joy Behar, who is the same age as Biden at 76, said she and people her age could turn on Castro over his ageism. "I have to question Castro's intelligence," Behar said.

"I personally found it cringeworthy," Abby Huntsman said. "I would say that was probably the nail in the coffin for Castro. I think this is one of the last times you're going to see him on a debate stage."

Host Sunny Hostin called the comment "very, very tone-deaf."
See the segment below:
Castro is responding to criticism like this by playing the victim and trying to fundraise off of it.
Caleb Ecarma reports at Mediaite:
Castro Fundraises Off Biden Spat: 'I'm Being Viciously Attacked'

Presidential candidate Julián Castro is trying to fundraise off his controversial spat with former Vice President Joe Biden, whose memory he insulted during Thursday's Democratic primary debate in Houston.

"I spent every second on last night's debate stage fighting for you — and now I'm being viciously attacked for it," Castro said in an email blast to donors and supporters on Friday…

"This is the biggest challenge my campaign has ever faced. I've never needed you to have my back with $5 more than I do in this defining moment," Castro's fundraising letter said. "I could either play it safe and give Vice President Biden a free pass like everyone else. Or I could speak up, challenge the conversation, and demand answers for you and your family. I'm not in this race to play it safe."
New @JulianCastro fundraising email says he's being "viciously attacked" after debate.

"I could either play it safe and give Vice President Biden a free pass like everyone else. Or I could speak up…" pic.twitter.com/phcJeG3taD

— Patrick Svitek (@PatrickSvitek) September 13, 2019
It's hilarious to see Castro claim that he is being "viciously attacked" after trying to plunge a political knife into Biden's back on national television.
He thought he was going to get a viral moment out of this and instead it revealed his own lack of character.
The ladies of 'The View' could be right, and he may be finished.
Good riddance.
Featured image via YouTube.