Posted by
Mary Chastain
Wednesday, July 10, 2019 at 9:00am
| 7/10/2019 - 9:00am
"Although my posting is not due to end until the end of this year, I believe in the current circumstances the responsible course is to allow the appointment of a new ambassador."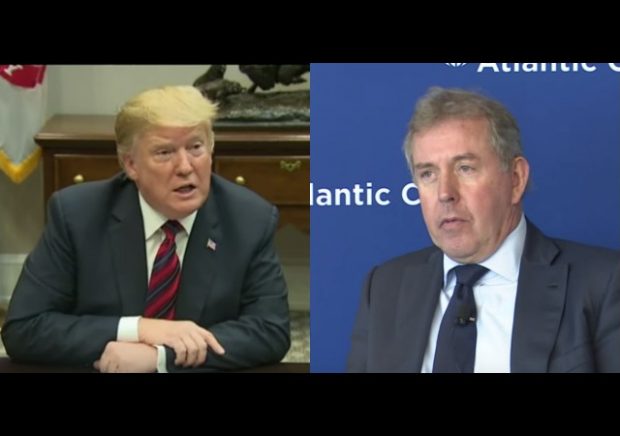 United Kingdom Ambassador to the United States Kim Darroch resigned on Monday after a war of words with President Donald Trump over remarks in leaked cables.
These cables showed Darroch describing Trump's administration as "diplomatically clumsy and inept" while he believed it would not become "substantially more normal."
Trump returned fire by saying his administration "will no longer deal" with the ambassador.
The Daily Mail published snippets of the cables on Sunday:
Describes bitter conflicts within Trump's White House – verified by his own sources – as 'knife fights';
Warns that Trump could have been indebted to 'dodgy Russians';
Claims the President's economic policies could wreck the world trade system;
Says the scandal-hit Presidency could 'crash and burn' and that 'we could be at the beginning of a downward spiral… that leads to disgrace and downfall';
Voices fears that Trump could still attack Iran.

In one of the most sensitive documents, Sir Kim writes: 'We don't really believe this Administration is going to become substantially more normal; less dysfunctional; less unpredictable; less faction riven; less diplomatically clumsy and inept.'

He also says that he doesn't think Trump's White House will 'ever look competent'.

In reference to Trump's ability to shrug off controversies in a life which has been 'mired in scandal', he says that the President may nonetheless 'emerge from the flames, battered but intact, like [Arnold] Schwarzenegger in the final scenes of The Terminator'.
The cables infuriated Trump, who used Twitter to express his frustrations. He not only criticized Darroch but also Prime Minister Theresa May over Brexit.
….thought of within the U.S. We will no longer deal with him. The good news for the wonderful United Kingdom is that they will soon have a new Prime Minister. While I thoroughly enjoyed the magnificent State Visit last month, it was the Queen who I was most impressed with!

— Donald J. Trump (@realDonaldTrump) July 8, 2019
Downing Street tried to smooth out the tension by reminding everyone of the special relationship between the UK and the US. The prime minister's office noted that they "have made clear to the US how unfortunate this leak is" and "[T]he selective extracts leaked do not reflect the closeness of, and the esteem" they have for our relationship.
May insisted Darroch has her support, but that was not enough since he resigned this morning. From Fox News:
In a resignation letter on Wednesday, Darroch said "the current situation is making it impossible for me to carry out my role as I would like."

"Although my posting is not due to end until the end of this year, I believe in the current circumstances the responsible course is to allow the appointment of a new ambassador," he wrote, noting the situation "has brought home to me the depth of friendship and close ties between our two countries."

Darroch said he is "grateful to all those in the U.K. and the U.S., who have offered their support during this difficult few days."
It is not unusual for ambassadors to use such frank language when sending cables to their home countries "so political trends and possible threats" so leaders in said countries can gauge their interests.