Posted by
Mike LaChance
Sunday, June 23, 2019 at 10:00am
| 6/23/2019 - 10:00am
"You [are] running for president and you want black people to vote for you — that's not going to happen."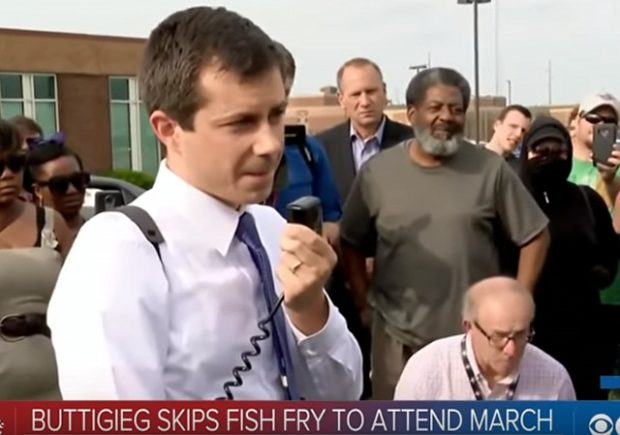 While most of the Democrats running in 2020 were visiting South Carolina this weekend, Pete Buttigieg returned to South Bend, Indiana, after a black man was shot and killed by police in the city. Mayor Buttigieg found himself in a confrontation with Black Lives Matter activists and angry residents.
Tal Axelrod writes at The Hill:
Buttigieg confronted by protesters after fatal police shooting

South Bend, Ind., Mayor Pete Buttigieg (D) was confronted by protesters Friday night as the presidential hopeful and his city continue to grapple with the fallout from a fatal police shooting of a black man.

About 150 protesters approached Buttigieg and Police Chief Scott Ruszkowski with a litany of demands, from firing police officers to requiring more training programs for officers, according to the South Bend Tribune.

The rally was just one of several events that have been held since last Sunday, when Sgt. Ryan O'Neill shot and killed Eric Logan, 54. O'Neill has said Logan approached him with a knife, but he did not have his body camera on at the time of the shooting.

"I'm mad because my brother died," said Tyree Bonds, Logan's brother, according to the newspaper. "People are getting tired of you letting your officers do whatever they want to do."

"I have been here all my life, and you have not done a damn thing about me or my son or none of these people out here," Shirley Newbill, Logan's mother, told Buttigieg. "It's time for you to do something."
Those comments highlight a recurring criticism of Buttigieg's job performance as mayor of the Indiana city. They also reinforce Buttigieg's poor polling among black voters.
Caroline Linton of CBS News has more on the protests:
Pete Buttigieg faces South Bend protesters: "You want black people to vote for you — that's not going to happen"

2020 Democratic hopeful and South Bend, Indiana, Mayor Pete Buttigieg told protesters in his city on Friday that there will be a review of the police department after a white officer shot and killed a black man without his bodycam on. "I'm not asking for your vote," Buttigieg told one protester, who responded "you're not going to get it."

The protester told Buttigieg "You are truly running for president and you want black people to vote for you. You [are] running for president and you want black people to vote for you — that's not going to happen. That's not going to happen. That's not going to happen."…

Another protester asked Buttigieg "Do you believe that black lives matter?" Buttigieg responded "Did you just ask me if black lives matter? Of course black lives matter."
Here's the video:
The optics of this situation are terrible for Buttigieg. One week before the first 2020 Democrat presidential debates, he's not only facing criticism from the black community in his own city, but his responses are a reminder of his youth and inexperience.
Featured image via YouTube.