Posted by
Leslie Eastman
Sunday, May 5, 2019 at 3:30pm
| 5/5/2019 - 3:30pm
Head of UNC ROTC Program: "As a soldier, we understand what it means to make the ultimate sacrifice."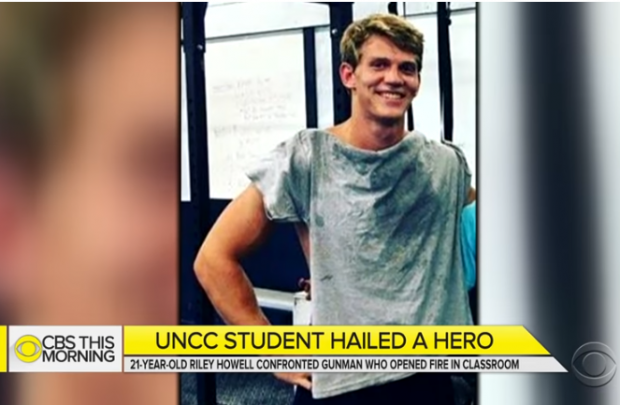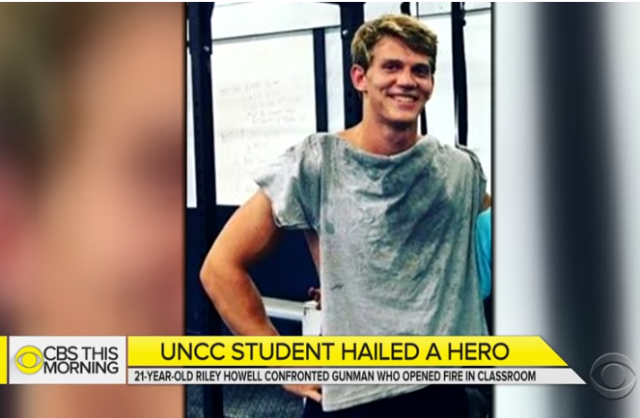 Riley Howell, the 21-year-old University of North Carolina-Charlotte student who died trying to stop a gunman on campus, will be buried with full military honors.
Wells Funeral Homes in Waynesville told FOX 46 in Charlotte that Riley Howell would receive the military burial. Howell died in a classroom after tackling and charring [sic] Trystan [sic] 22-year-old Andrew Terrell.

"Absolutely, Mr. Howell saved lives," Charlotte-Mecklenburg Police Chief Kerr Putney said at a news conference this week, adding that Howell "did exactly what we train people to do."

. . . . A petition posted to WhiteHouse.gov requested that Howell, an environmental studies major, receive a burial with full military honors. As of Saturday morning, it had more than 28,000 of the 100,000 signatures needed by May 31 to get a response.

"Riley was an ROTC cadet and would have served his country. Instead, he died saving the lives of his classmates. For his heroism, we ask that Riley be given a burial with full military honors," the petition states.
Dave Poletti attributes Howell's actions for his son surviving the attack that also claimed the life of 19-year-old Ellis Parlier.
Brandon hid under his desk when the shooting began — only running out with other students into the nearby closet when there was a sudden pause in the gunfire.

"That could have been when Riley did what he did," Dave said.

Dave said he had read about Howell's actions — the muscly kid who loved the outdoors and snowboarding had charged at the shooter after he began firing, helping to take him down — and felt compelled to contact BuzzFeed News to say publicly how grateful he was for Howell's response.

"Riley Howell, I believe, is a big reason my son is alive," Dave said.
The local Police Chief credits Howell's actions in saving lives.
"But for his work, the assailant may not have been disarmed," Charlotte-Mecklenberg Police Department Chief Kerr Putney told the New York Times of Howell. "Unfortunately, he gave his life in the process. But his sacrifice saved lives."

Lt. Col. Chunka Smith, head of UNC Charlotte's ROTC program, praised Howell's decisive action.

"I would tell you, he stood out," she told CBS News "As a soldier, we understand what it means to make the ultimate sacrifice."