Posted by
Mary Chastain
Friday, March 15, 2019 at 1:00pm
| 3/15/2019 - 1:00pm
"The lack of transparency and the family ties have drawn criticism from good-government advocates."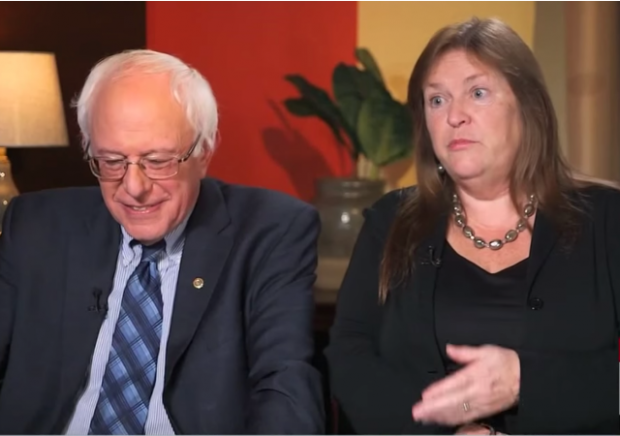 Jane Sanders, the wife of Democratic presidential candidate Sen. Bernie Sanders (I-VT), announced the temporary shutdown of The Sanders Institute.
The nonprofit think tank, founded by Jane and her son David Driscoll, has come under fire "amid criticism that the nonprofit has blurred the lines between family, fundraising and campaigning."
From The Associated Press:
The Vermont-based institute has stopped accepting donations and plans to suspend all operations by the end of May "so there could not even be an appearance of impropriety," Jane Sanders told The Associated Press.

The unexpected move by the institute's board of directors comes as Bernie Sanders, a leading candidate for the 2020 Democratic nomination, prepares for a wave of intense scrutiny into his political network and his family's role in its operation.

As a candidate in 2016, Sanders criticized Hillary Clinton over her family's nonprofit, saying the foundation run by Clinton's husband and daughter amounted to a back door for foreign leaders and others seeking to buy access and influence. The Sanders Institute could open the Vermont senator to charges of hypocrisy.
The Sanders Institute formed two years ago by the candidate's family. It received backing from celebrities and advocates who support Bernie, but he did not have a "formal role."
It is not the size of the Clinton Foundation, but "it has accepted hundreds of thousands of dollars during its brief existence and has declined to disclose its donors." More from AP:
Jane Sanders, who also serves as a chief adviser to her husband's presidential campaign, is not compensated for her role at the institute. Her son, David Driscoll, is paid $100,000 a year as co-founder and executive director. Driscoll previously was an executive for Nike and the Vermont snowboarding firm Burton, but had no previous nonprofit experience, according to his LinkedIn profile.

The lack of transparency and the family ties have drawn criticism from good-government advocates.

"For a politician who runs on fairness and socialist principles, this looks like the old political games," said Lawrence R. Jacobs, director of the Center for the Study of Politics and Governance at the University of Minnesota's Humphrey School of Public Affairs. "It's a product of running a political operation in which family rules the roost."
The think tank raised $459,000 in 2017 and $730,000 in 2018. Jane insisted the money from 2018 came from "small donations from about 10,000 donors." While some may raise their eyebrows at this, I blogged in the past about how Bernie became a star when it came to small dollar donations during his 2016 presidential run. I mean, it sounds fishy, but I'm not shocked.
But like I mentioned before, The Sanders Institute lacks transparency.
As long as Bernie is in the race, Jane decided the nonprofit will not accept money:
Driscoll and the organization's two other employees would be laid off with no severance by the end of May, and its Burlington, Vermont, office would be closed, she said. Sanders said questions of nepotism have no merit because the senator himself played no role in the organization, which was led by an independent board of directors.

"I think that was the most important thing to do — to not accept donations, because nobody should think that they're giving money to an organization and that gains them access or favor to anybody else and anybody running for office," she said in an interview this week. She added: "It just seemed the responsible thing to do."
It's not the first time the Sanders family has embroiled itself in controversy. Back in 2017, the FBI investigated Jane for fraud over the now-closed Burlington College. She "allegedly falsified loan documents while serving as President" of the school.
The FBI expanded its investigation to include Bernie.
The investigation wrapped up in November 2018. The Sanders family did not face any charges.
[Featured image via YouTube]