Posted by
Mary Chastain
Tuesday, March 26, 2019 at 11:22am
| 3/26/2019 - 11:22am
He will surrender his $10,000 bond.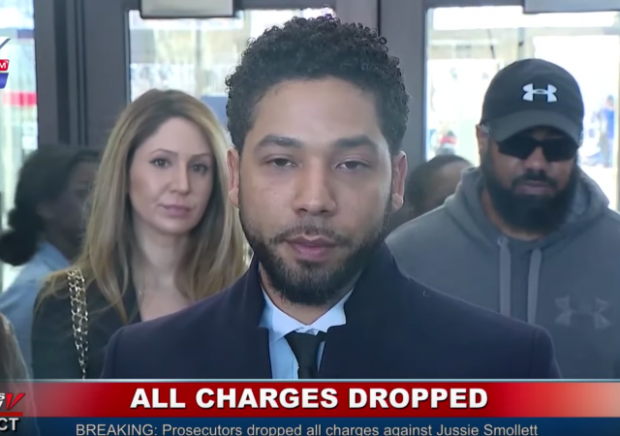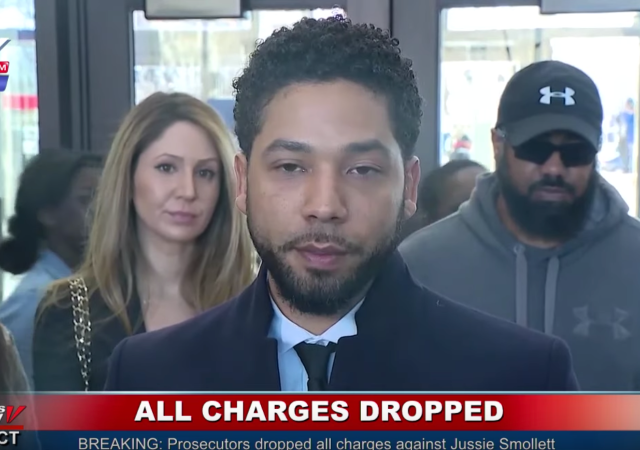 Cook County prosecutors have decided to drop disorderly charges against Empire actor Jussie Smollett "for allegedly staging a phony attack and claiming he was the victim of a hate crime." More from TMZ:
Jussie and his lawyers ran to court Tuesday morning in Chicago, where he was facing 16 felony counts of lying to police in the alleged racial and homophobic attack.

Jussie will surrender his $10,000 bond. We're told he has agreed to perform community service. But that's it. The case is over.

A source close to Jussie says the prosecution's case "disintegrated." As we reported, there were issues with the $3,500 check the 2 brothers received from Jussie. The Police Superintendent had said the money was payment for the fake attack, but it appears it was actually for physical training.
Smollett outside of court after judge granted state's motion to drop charges pic.twitter.com/vhADCYNOHl

— Madeline Buckley (@Mabuckley88) March 26, 2019
Police, Rahm Emanuel Reaction
The Chicago Police Department and Mayor Rahm Emanuel held a press conference to discuss the Smollett situation. They did not mince words.
From Fox News:
"Where is the accountability in the system? You cannot have because of a person's position one set of rules applies to them and another set of rules apply to everyone else," Emanuel fumed, relating the ruling to the nationwide college admissions cheating scandal that broke earlier this month.

"Our officers did hard work day in and day out, countless hours workign to unwind what actually happened that night. The city saw its reputation dragged through the mud … It's not just the officers' work, but the work of the grand jury that made a decision based on only a sliver of the evidence [presented]," he continued. "Because of the judge's decision, none of that evidence will ever be made public."

"[This case] sends a clear message that if you're in a position of influence and power youll be treated one way and if youre not youll be treated another way," he said.
Chicago Police Superintendent Eddie Johnson: "At the end of the day, it is Mr. Smollett who committed this hoax, period. If he wanted to clear his name, the way to do that is in a court of law so everyone can see the evidence…I stand by the facts of what we produced" pic.twitter.com/Pxvc2PNyIj

— CBS News (@CBSNews) March 26, 2019
JUST IN: Chicago Mayor Rahm Emanuel: "Mr. Smollett is still saying that he is innocent, still running down the Chicago Police Department. How dare him?"

"Is there no decency in this man?" https://t.co/B2ahaJSxt3 pic.twitter.com/WPISJ30YRl

— ABC News (@ABC) March 26, 2019
Smollett Press Conference
Here is the press conference:
His attorney Patricia Brown Holmes told the press that Illinois "the state made a motion to drop the charges against Jussie Smollett and to seal the record in this case." She explained the decision is "not part of a deferred prosecution" and "no deal" exists.
Here's an interesting tidbit. Holmes also said that "state's attorney's office dropped the charges on their own." So, if I connect the dots, the office decided to do this without talking to the Chicago Police Department and Smollett's attorneys?
Here is Smollett's statement via CBS Chicago:
"I would not be my mothers son if I was capable of doing what I was accused of," Smollett said after prosecutors dropped all the charges. "I'd like nothing more than to just get back to work and move on with my life, but make no mistakes I will always continue to fight for the justice, equality, and betterment of marginalized people everywhere."

"I want you to know that not for a moment was it in vain, I have been truthful and consistent on every single level since day one. I would not be my mother's son if I was capable of one drop of what I've been accused of. This has been an incredibly difficult time, honestly one of the worst of my entire life, but I am a man of a faith and I am a man that has knowledge of my history and I would not bring my family, our lives, or the movement through a fire like this. I just wouldn't," he said.
Previous Reporting
Smollett faced 16 counts of disorderly conduct for allegedly filing a false police report. The judge granted a motion to seal the case.
Judge granted a motion to seal the case. @cbschicago

— Charlie De Mar (@CharlieDeMar) March 26, 2019
State Attorney Kim Foxx released this statement:
"After reviewing all of the facts and circumstances of the case, including Mr. Smollet's volunteer service in the community and agreement to forfeit his bond to the City of Chicago, we believe this outcome is a just disposition and appropriate resolution to this case."
TMZ reported that Foxx, told Chicago police she was dropping the case because Jussie would have only gotten community service if convicted and she said he has already performed community service so there is no point in prosecuting him.
However, no one knows when he performed community service. Chicago's FOX 32 anchor Rafer Weigel even seems confused over the community service portion.
My #CPD tip says SA Kim Foxx's office is dropping the charges against #JussieSmollett because "he already did community service". It's unclear when he actually did that community service.

— Rafer Weigel (@RaferWeigel) March 26, 2019
The community service according to #Smollett defense team was done prior for something not related to this case. It just gets more confusing.

— Rafer Weigel (@RaferWeigel) March 26, 2019
Sources told TMZ this move has left the Chicago Police Department "'furious' and feel something untoward is going on with Kim Foxx."
I can tell you that @Chicago_Police are furious over SA Kim Foxx's decision to drop all charges against #JussieSmollett

— Rafer Weigel (@RaferWeigel) March 26, 2019
Sources tell CBS2 Chicago Police Supt. Johnson is "furious."

He had no heads up this was going to happen.@cbschicago

— Charlie De Mar (@CharlieDeMar) March 26, 2019
ABC 7 Chicago also printed statements from Smollett's attorneys:
"Today, all criminal charges against Jussie Smollett were dropped and his record has been wiped clean of the filing of this tragic complaint against him. Jussie was attacked by two people he was unable to identify on January 29th. He was a victim who was vilified and made to appear as a perpetrator as a result of false and inappropriate remarks made to the public causing an inappropriate rush to judgement.

Jussie and many others were hurt by these unfair and unwarranted actions. This entire situation is a reminder that there should never be an attempt to prove a case in the court of public opinion. That is wrong. It is a reminder that a victim, in this case Jussie, deserves dignity and respect. Dismissal of charges against the victim in this case was the only just result.

Jussie is relieved to have this situation behind him and is very much looking forward to getting back to focusing on his family, friends and career."
Here is the statement from Smollett's family:
STATEMENT FROM SMOLLETT FAMILY: "Our son and brother is an innocent man whose name and character has been unjustly smeared. ".. "He was the victim of an assault and then falsely blamed for his own attack. This morning truth has prevailed and he has been vindicated." @ABC7Chicago

— Mark Rivera ABC7 (@MarkRiveraABC7) March 26, 2019