Posted by
Mary Chastain
Tuesday, January 22, 2019 at 7:00pm
| 1/22/2019 - 7:00pm
"Facing a crisis level of Republican women in Congress"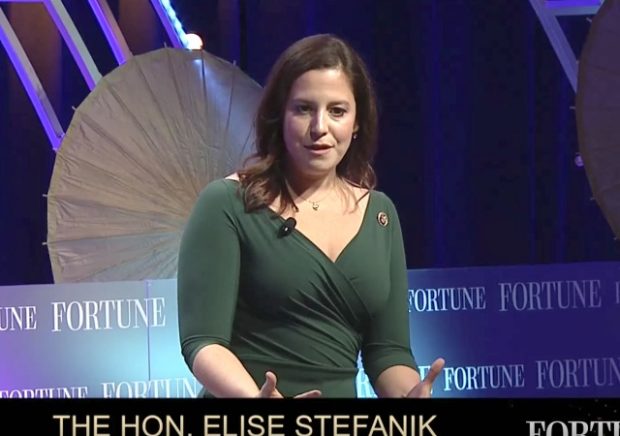 Rep. Elise Stefanik (R-NY) witnessed the GOP take a hit in the 2018 midterms in the House where the number of GOP women was reduced from 23 to 13.
Stefanik wants to change that through her leadership political action committee called E-PAC.
From The Hill:
To get there, Stefanik's group, E-PAC, is making strides to reach the high-dollar fundraising and massive network of Democratic women's groups like EMILY's List. That is an area where Republicans have traditionally come up short, but one they are seeking to emulate this cycle.

The three-term congresswoman has attracted the support of top House Republican leaders, after the GOP lost dozens of seats last November.

The relaunch event for her PAC last week was attended by House Minority Leader Kevin McCarthy (Calif.), House Minority Whip Steve Scalise (La.), and House Republican Conference Chairwoman Liz Cheney (Wyo.) in what was a display of strength for her efforts.

Rep. Tom Emmer (R-Minn.), the chairman of the National Republican Congressional Committee (NRCC) who initially appeared to butt heads with Stefanik on her efforts to attract women candidates to Republican primaries, heaped praise on her and offered to help "to the extent we can."
Her EPAC has already raised $250,000:
Lawmaker checks have come in from McCarthy, Emmer, House Minority Whip Steve Scalise of Louisiana, Chief Deputy Whip Drew Ferguson of Georgia, and Reps. Cathy McMorris Rodgers of Washington, Fred Upton of Michigan, Ann Wagner of Missouri, Greg Walden of Oregon, Susan W. Brooks and Jackie Walorski of Indiana, Martha Roby of Alabama, and Markwayne Mullin of Oklahoma.

Women have already approached the NRCC about running, new executive director Parker Poling said, and the committee has referred those women to Stefanik. Emmer name-dropped Iowa state Rep. Ashley Hinson, who's interested in challenging freshman Democrat Abby Finkenauer in the 1st District next year.
At the kickoff event, Stefanik stressed that the GOP is "facing a crisis level of Republican women in Congress." When asked if President Donald Trump will affect the recruitment, Stefanik reminded reporters "that women – particularly single and young women – have long tended to vote far more Democratic than men" and this has been a problem for the GOP before Trump came into office.
Stefanik has success when it comes to recruitment:
During her NRCC tenure, the number of Republican women congressional candidates spiked. However, many of those women didn't make it past the primaries, helping fuel Stefanik's conviction that promoting women in primaries would boost the party's numbers.

She publicly feuded with Chairman Emmer over whether or not to fund primary candidates. Emmer stressed on Thursday that the NRCC typically stays out of primary races, and that he sees Stefanik's PAC as "an enhancement" of the party's existing recruitment activities.

At her event, Stefanik emphasized the importance of this effort.

"I believe that one way we can attempt to change this trend is by supporting strong women candidates pre-primary," Stefanik added. "As any candidate will tell you, this investment is critical."
Today, I am excited to launch #EPAC to support #GOPWomen. Thank you to House Leadership for your participation @GOPLeader @SteveScalise @Liz_Cheney @tomemmer this afternoon https://t.co/Q7x9M6m2L5

— Elise Stefanik (@EliseStefanik) January 17, 2019