Posted by
Fuzzy Slippers
Saturday, January 26, 2019 at 8:00pm
| 1/26/2019 - 8:00pm
"#learntocode is hilarious because just last year #journalists were hitting unemployed coal miners with the same energy, and now that the tables have turned they can't take the banter"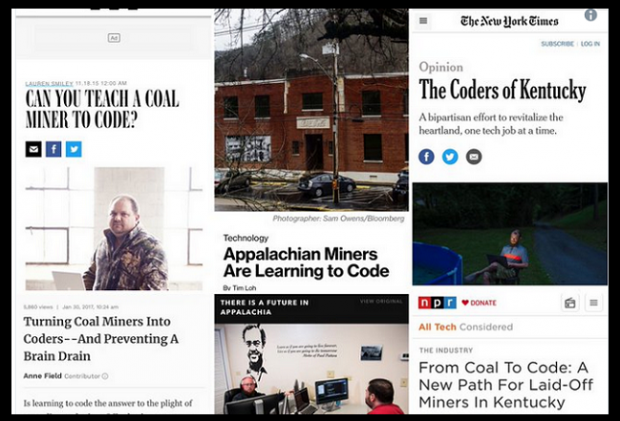 There were more than a thousand left-stream media layoffs earlier this week.  The cuts took place across the spectrum of left-stream media and included cuts at HuffPo, BuzzFeed, Yahoo News, among others.
The finger-pointing has thus far been aimed at Facebook and Twitter, but wounded leftstream media warriors are irked by a reminder of their own callous response to massive Obama-era coal industry job losses.
The DC Caller reported earlier this week:
BuzzFeed, Yahoo and other major outlets cut loose more than 1,000 jobs Wednesday in what analysts think is a broadside against journalists. There is also concern Facebook is indirectly responsible for the massacre.

Verizon Media, which owns Yahoo and the Huffington Post, is slashing roughly 800 jobs, or 7 percent, of its global workforce across the organization. BuzzFeed also announced a move to cut 15 percent of its workforce, including jobs in journalism. Other media outlets followed suit.

Digital outlets on the local, national and global level are struggling to keep up in an environment where information is shared for free across a slew of social media platforms, according to Eric Schiffer, the CEO of Patriarch Equity, which focuses on pre-IPO startups in Silicon Valley.

"Facebook and some of the other big tech agitators have acted like rat poison for journalist jobs. When you can get your news for free from a platform, it decimates the firms that are putting out high quality reporting," Schiffer told The Daily Caller News Foundation. This wave of layoffs could be the beginning of something big, he said.
Personally, I don't like to celebrate anyone losing a job . . . unless it's Hillary Clinton and the job is one she expected was hers:  President of these United States.  But I am only human and do enjoy a dash of well-earned schadenfreude.
Is there a "Sorry you got fired from your job of smearing conservatives and ruining lives for clicks" hallmark card?

— Will (@Oil_Guns_Merica) January 24, 2019
Thoughts on the BuzzFeed and HuffPo layoffs:

Imagine if someone was paid to egg your car every week.

Now imagine those people got laid off.

— Lee Doren (@LDoren) January 25, 2019
— Legitimist LARPer (@Benevolentrwds) January 25, 2019
When our nation's coal miners found themselves out of work, the left-media gleefully told them that they need to "learn to code."  After all, they were dinosaurs working, literally, with dinosaur fuels and needed to be reeducated for the global, technological economy.  The condescending chant that rained down from the privileged ivory towers of the leftist elite:  Learn. To. Code.
#learntocode is hilarious because just last year #journalists were hitting unemployed coal miners with the same energy, and now that the tables have turned they can't take the banter ???? pic.twitter.com/J8lUTW2r1N

— Interchopper (@Interchopper) January 25, 2019
Having found themselves out of work, the leftstream media is less than happy to have their advice repeated to them and are blaming the "alt right" white supremacists for . . . trolling them on Twitter.
Have you thought about #LearnToCode

— TheDeplorableOneYourMomWarnedYouAbout (@yourmomwarnedyu) January 25, 2019
I feel bad for all these journalists who have been laid off. As a token of gratitude for all your hard work, I will be giving out free board games to all these wrongfully fired journalists.#LearnToCode pic.twitter.com/OcMmtLp2D7

— S'ven (@UZI4Y0U) January 25, 2019
Ever humorless and unable to turn their ever-vigilant eye for human imperfections upon themselves, the self-satisfied left-media is content to play victim.
Um, no. This is what you assholes told coal miners when Obama put them out of work, and now it's being lobbed back at you. https://t.co/JOsylKa9gP

— John Ekdahl (@JohnEkdahl) January 25, 2019
They're really getting triggered by the #LearnToCode meme. ????

Learn. To. Code. pic.twitter.com/TnyjyHWnXt

— Annrhefn (@Annrhefn) January 25, 2019
Honestly, I don't know how you can sleep knowing that you're reveling in other people's job losses. No matter how much you may dislike a news org, these are PEOPLE. With children, and homes, and pets, and lives. Grow a heart.

— Hillary Kelly (@HillaryKelly) January 24, 2019
And the winners of the interwebs:  Ace of Spades and Iowa Hawk.  Ace has some great thoughts about all this, and David Burge aka Iowa Hawk @iowahawkblog, set to music by @SixStringTweets (h/t Powerline blog):
Another @iowahawkblog work of art pic.twitter.com/BDhiXxUKRo

— SixStringTweets (@SixStringTweets) January 25, 2019