Posted by
Mike LaChance
Sunday, December 9, 2018 at 12:00pm
| 12/9/2018 - 12:00pm
The attacker, a student, "took out a steak knife and plunged it into the Irishman's throat, and then into his chest."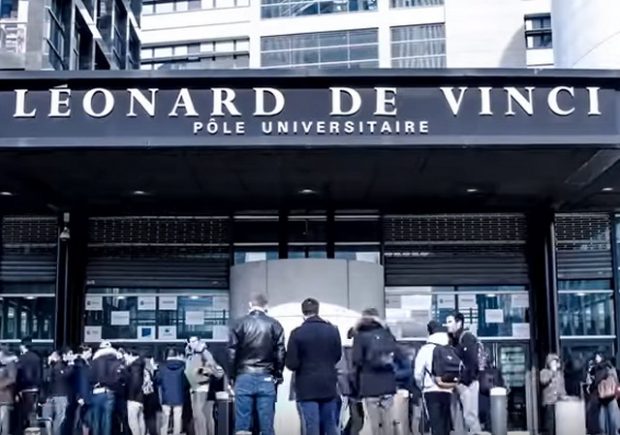 A 66 year-old Irish lecturer was stabbed to death in Paris this week, outside the Leonardo de Vinci private university by a Pakistani student who believed he had insulted Mohammed. The suspect was arrested at the scene.
Jack Crowe reported at National Review:
Academic Stabbed to Death for 'Insulting Mohammed' During Lecture

An Irish lecturer was stabbed to death by a student outside the Paris university where he taught on Wednesday for allegedly insulting the prophet Mohammed by displaying a drawing of him during class.

John Dowling, 66, was speaking with a student, identified by authorities only as Ali R., following a lecture when the 37-year old student fatally stabbed him 13 times in the throat and chest.

The suspect, who is set to be indicted for murder on Friday, told the authorities that, while he killed Dowling to defend his faith against a perceived slight, he has also long maintained a personal grudge against the lecturer, the Daily Mail reported Friday.
Peter Allen of the Daily Mail has more on what may have motivated the attack:
Irish lecturer stabbed to death in Paris had 'insulted the Prophet Mohammed', says his Pakistani killer

Ali R., a 37-year-old Pakistani national, has confessed to the killing and told police he held a personal grudge against the teacher after failing his exams last year.

Ali – whose surname has not been disclosed by the French authorities – is due to be indicted for murder in Paris today for the attack outside the Leonardo de Vinci private university in La Defense business district.

'He came to France two years ago to join the management school, but did not pass his first year,' she said.

'Since then he had been returning to the college, and had become unwanted to the point that he was not allowed in any more.'

CCTV footage shows Mr Dowling chatting calmly with Ali at around midday, before the attacker took out a steak knife and plunged it into the Irishman's throat, and then into his chest.
Some people are disputing the student's version of the events:
Ali has told police that the teacher had made fun of his Muslim religion during English classes at the university.

'He produced a drawing, which he showed off in class, insulting the Prophet Mohammed,' Ali said, according to Ms Denis.

Despite this claim, Ms Denis said 'nobody remembers such an incident. 'We don't have proof of radicalization, but rather a feeling that we're dealing with someone who is very religious, very pious, very practicing.'
Lara Marlowe of the Irish Times reports that the victim was a kind man who was admired by many:
John Dowling, Irish teacher killed in Paris, was 'profoundly kind'

Students from the university who witnessed the killing were taken immediately to a "psychological cell" where Mr Dowling's fellow professors were also treated for shock. All classes were cancelled for the day.

"Our hearts are broken," a 28-year-old Ghanian student told Le Parisien. "He was a passionate professor who always made you want to learn more. I cannot understand that anyone could attack him."

"He was a profoundly kind person. No one understands why he was attacked, though some people are talking about revenge," a former student told Paris Match.

Another student said she was "deeply shocked and terrified … You could never imagine this could happen in our school, to one of our teachers."
Here's a photo of Mr. Dowling:
Tributes pour in for 'gentleman' Dublin teacher John Dowling after Paris university stabbinghttps://t.co/bnESZAsIjM

— DublinLive (@DublinLive) December 5, 2018
And here's a brief video report from RTE News in Ireland:
Tributes for Irish teacher John Dowling who was stabbed in Paris | https://t.co/g9RveHtrD5 pic.twitter.com/u6wLB1Fb08

— RTÉ News (@rtenews) December 6, 2018
Featured image via YouTube.