Posted by
Kemberlee Kaye
Monday, December 3, 2018 at 1:05pm
| 12/3/2018 - 1:05pm
"Tens of millions of Americans have had it with the biased, ideologically-driven mainstream media outlets that sanctimoniously advance their own agendas under the guise of 'news' and 'journalism,'" — Mark Levin, in a statement to The Hill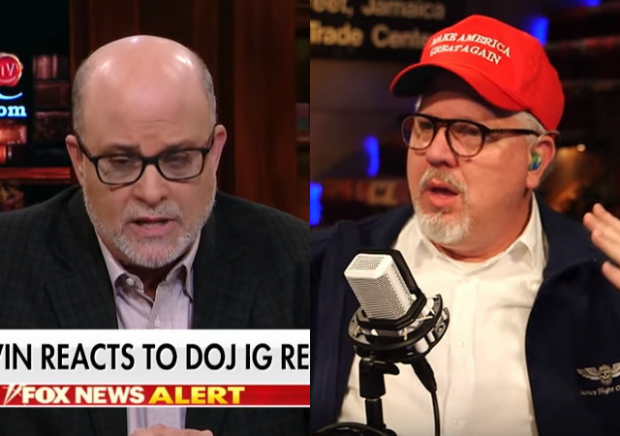 Sunday, right-leaning media sites Conservative Review and The Blaze announced a merger.
The Hollywood Reporter was the first to break the story.

Glenn Beck and Mark Levin are teaming up by merging TheBlaze and CRTV to create a conservative-media entity dubbed Blaze Media, which they say will reach 165 million people via television, digital platforms and social media.

Beck and Levin are set to officially announce what they are calling a merger of equals Monday, but Beck tells The Hollywood Reporter that the move could be just a next step in building a powerhouse, independent media company.

"This is the beginning of scale," he says. "Anyone who loves the Bill of Rights and pursues honesty, I want them all in. We're an open book. Let's talk," he says.

Beck founded TheBlaze in 2011 after leaving Fox News, where his show drew a large audience though was constantly attacked by progressive groups that discouraged advertisers. TheBlaze grew quickly, but in recent years has scaled back in order to preserve money.

TheBlaze is seen on Dish Network, Verizon Fios, Roku, SlingTV and several regional cable outlets, and it is heard on Sirius XM Radio, iHeartRadio and elsewhere. Next year, it will launch a live tour with the working title, Blaze Live.

Levin, a former attorney in Ronald Reagan's presidential administration, is a nationally syndicated radio host, and he hosts Life, Liberty & Levin on Fox News. He founded LevinTV and the digital outlet morphed into CRTV, the "CR" standing for "Conservative Review."

Beyond Levin, some of the talent at CRTV includes Michelle Malkin, Steven Crowder, Matt Kibbe, Deneen Borelli, Phil Robertson of Duck Dynasty fame and Gavin McInnes, the co-founder of Vice Media who hosts the show Get Off My Lawn at CRTV.
Levin objected to THR's version of the story, which made it appear as though Levin and Beck had merged.
CRTV issued the following correction to the Hollywood Reporter story:
Mark Levin and Glenn Beck did not merge.  CRTV and TheBlaze merged.  Mr. Levin does not hold management authority in CRTV…

— Mark R. Levin (@marklevinshow) December 3, 2018
… The decision for the merger was made by the principals of CRTV and TheBlaze.  Also, the headquarters will not be in Dallas, TX

— Mark R. Levin (@marklevinshow) December 3, 2018
Levin and Beck appear to be excited about the recent creation of Blaze Media. From The Hill:
"Tens of millions of Americans have had it with the biased, ideologically-driven mainstream media outlets that sanctimoniously advance their own agendas under the guise of 'news' and 'journalism,'" said Levin, founder of LevinTV, the flagship program of CRTV, in a statement provided to The Hill.

"Conservatives actually believe in a free press and the rest of the Constitution. This is why I started LevinTV, which grew into the CRTV digital network. In order to further expand and offer the public an alternative to liberal media group-think, I'm very excited about the merger of TheBlaze and CRTV. The timing is perfect."

"The combination of the exceptional roster of TheBlaze and CRTV talent means Blaze Media will now be as broad and ideologically diverse as the audiences we serve," said Beck. "Conservatives, libertarians, constitutionalists, and more have a home at Blaze Media. Our hosts will have differences, but we share a common belief in free expression, honest discourse and a society founded in the principles of the Bill of Rights. I'm beyond thrilled about this merger."
As The Hill notes, The Blaze was in talks with Ben Shapiro about a potential partnership or acquisition earlier this year. No word yet on how Blaze Media affects the potential there or if there is potential there, but Shapiro applauded the merger:
Shapiro, 34, had been in acquisition talks with Beck that first surfaced publicly in February. Beck told The Hollywood Reporter he'd still like to pursue talks with Shapiro, whose podcast is downloaded more than 10 million times per month.

Shapiro congratulated the companies on the merger on Twitter late Sunday night.
The conservative media sphere has changed so much in the 7, almost 8 years I've been part of it. Back in the day, our world consisted of a bevy of independent blogs, some bigger than others, most friendly with one another, making for a lovely digital community of people.
Those days are long gone. Media conglomerates have gobbled up some independent sites and most of the blogs I used to frequent have long since ceased to publish.
A Levin/Beck coupling seems a bit odd, but it may end up being complimentary. I suppose we'll find out soon enough.