Posted by
Mary Chastain
Friday, October 12, 2018 at 11:00am
| 10/12/2018 - 11:00am
The lead detective did not give exculpatory evidence to the prosecution.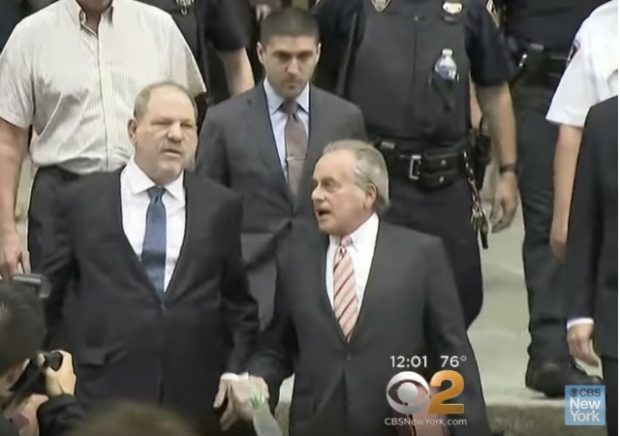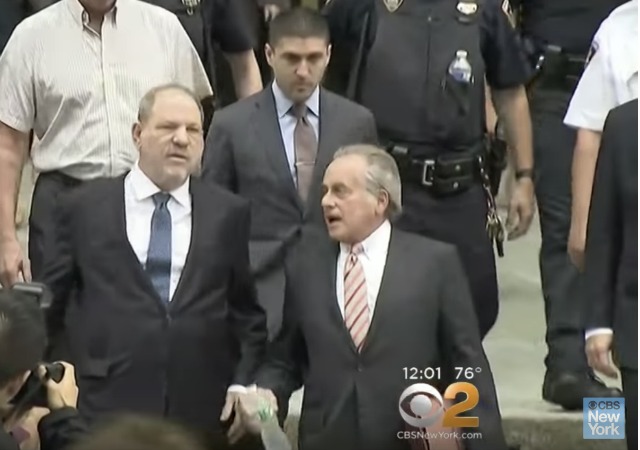 A judge dismissed one out of six sexual assault charges against movie producer Harvey Weinstein after the prosecutors admitted that the lead detective on the case did not tell them that one witness doubted one of the accusers. From The New York Times:
Mr. Weinstein, 66, was charged in May with raping one woman and forcing another, Lucia Evans, to perform oral sex on him. Ms. Evans, a marketing executive, had testified to a state grand jury that the forced sex act had occurred in 2004, during a casting meeting at the offices of Mr. Weinstein's film company, Miramax, in Manhattan's TriBeCa neighborhood.

But in a letter unsealed after Thursday's hearing, prosecutors from the Manhattan district attorney's office revealed that a friend of Ms. Evans had informed them in August that Ms. Evans had given her a different account of the incident. The friend, who was not identified, told prosecutors that Ms. Evans had said she willingly performed oral sex on Mr. Weinstein in exchange for the promise of an "acting job."

The friend said that she had provided this information to the lead detective in February, more than three months before Mr. Weinstein was indicted. According to the prosecutors' letter, the detective, Nicholas DiGaudio, "failed to inform" the district attorney's office of "important details" of the interview. In addition, he explained to the friend that she had no obligation to cooperate with prosecutors, telling her "less is more."
The prosecutors also have an email written by Evans to her fiance in 2015 that has "a version of the encounter that is at odds with the version she told law enforcement."
Since October 2017, over 80 females have accused Weinstein of rape, sexual assault, or sexual harassment. The bombshell produced that month birthed the #MeToo movement.
Weinstein's lawyer Benjamin Brafman claimed that Evans committed "perjury when she testified to the grand jury." He said that while sexual assault is a serious crime, "accusing someone of sexual assault is also a serious crime."
Evans' lawyer criticized the move. From ABC News:
"Let me be clear: the decision to throw away my client's sexual assault charges says nothing about Weinstein's guilt or innocence. Nor does it reflect on Lucia's consistent allegation that she was sexually assaulted with force by Harvey Weinstein," said attorney Carrie Goldberg. "It only speaks volumes about the Manhattan DA's office and its mishandling of my client's case."
Goldberg also blamed the mess on the feud between the district attorney's office and the NYPD. From Variety:
"Instead of rising to the challenges of their mistakes, the DA jumped ship at the first opportunity," she said. "[District Attorney Cyrus] Vance has done this before, when powerful men have been accused of sex crimes, including Weinstein himself; throwing cooperative crime victims under the bus. It raises serious questions of bias."
Goldberg has a point. Vogue ran an article in October 2017 that claimed Vance has a history of not going after high-profile people. That same month, The New Yorker revealed that the NYPD began to gather evidence against Weinstein in 2015, but Vance did not charge him due to lack of evidence, even though the model "had caught Weinstein on tape apologizing for groping her the day before."
In March 2018, Governor Andrew Cuomo ordered an investigation into Cyrus and his decision not to prosecute Weinstein in 2018. But in August, he told the Attorney General's Office to pause the investigation because "it could potentially hamper Weinstein's criminal case that's currently playing out in Manhattan."