Posted by
Mary Chastain
Wednesday, October 31, 2018 at 9:38am
| 10/31/2018 - 9:38am
"Although he appreciates the sentiment, Justice Kavanaugh requests that you discontinue the use of his name for any fund-raising purpose."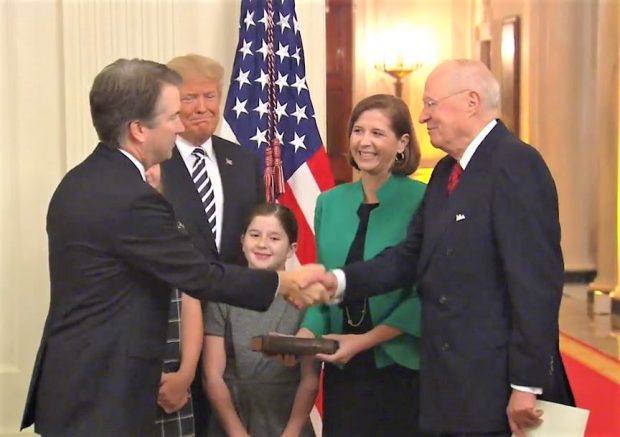 Supreme Court Justice Brett Kavanaugh has declined the more than $600K raised in a GoFundMe campaign during his confirmation circus. From Yahoo! News:
Citing judicial ethics concerns, Supreme Court Justice Brett Kavanaugh declined more than $600,000 that was donated to aid his family during the firestorm over sexual misconduct allegations that plagued his confirmation. The judge's decision was announced on Tuesday in a message posted on the online fundraising page that gathered the funds.

John Hawkins, a veteran conservative blogger who runs a Kavanaugh-inspired "men's website" called Brass Pills, organized the fundraising campaign. On Tuesday, Hawkins posted what he referred to as an "official statement" from Kavanaugh's representatives distancing the justice from the effort:

"Justice Kavanaugh did not authorize the use of his name to raise funds in connection with the GoFundMe campaign. He was not able to do so for judicial ethics reasons. Judicial ethics rules caution judges against permitting the use of the prestige of judicial office for fund-raising purposes. Justice Kavanaugh will not accept any proceeds from the campaign, nor will he direct that any proceeds from the campaign be provided to any third party. Although he appreciates the sentiment, Justice Kavanaugh requests that you discontinue the use of his name for any fund-raising purpose."

Hawkins had raised $611,645 in small donations from approximately 13,250 donors, many of them anonymous, for "Brett Kavanaugh's family to use for security or however they see fit." The GoFundMe appeared online on Sept. 24, the day after the New Yorker published Deborah Ramirez's allegations that Kavanaugh exposed himself and put his penis in her face at a college gathering. That story emerged a week after the Washington Post published Christine Blasey Ford's accusation that Kavanaugh had tried to force himself on her at a high school party.

According to Hawkins, the fundraiser was inspired by a conversation he had with a friend about GoFundMe pages that were set up for Ford during Kavanaugh's contentious confirmation hearings.

"This is a funny story which might be a bit too risqué for you to print … I was talking to a woman and … she was like, 'Christine Blasey Ford has these GoFundMes up; I wish someone would do a GoFundMe for Brett Kavanaugh so that when this is over, he could sue that bitch,'" Hawkins recounted in a phone conversation on Tuesday.

Hawkins said he assumed Kavanaugh would not sue, but he figured the judge might need money for a lawyer or security.

"So I figured, hey, let's do a GoFundMe — and that's actually how it got started, as crazy as that sounds," said Hawkins.