Posted by
David Gerstman
Wednesday, October 31, 2018 at 9:00am
| 10/31/2018 - 9:00am
Atlantic columnist Franklin Foer: "Any strategy for enhancing the security of American Jewry should involve shunning Trump's Jewish enablers. Their money should be refused, their presence in synagogues not welcome."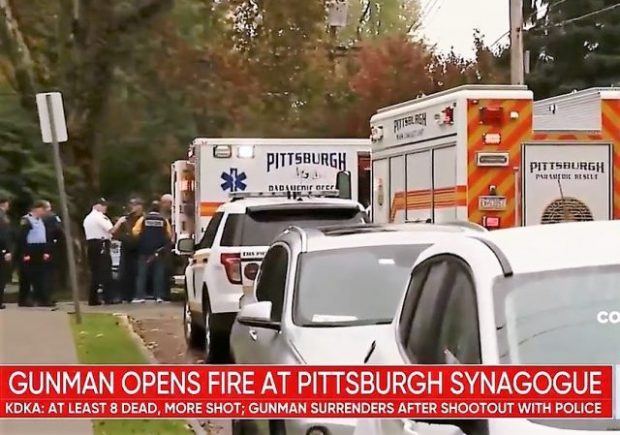 Following the horrific massacre of eleven Jews at a Pittsburgh synagogue on Saturday, liberal commentators have not only blamed President Donald Trump for the climate in which the massacre took place, but also Trump's Jewish supporters.
One of those commentators was Aaron David Miller, famous for being a Middle East peace processor in the 1980s and 90s.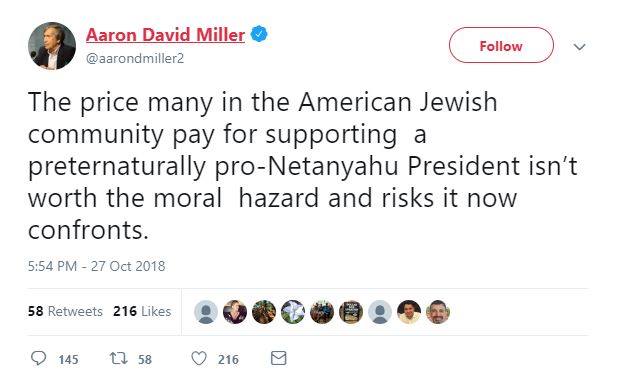 On Facebook, Amb. Alberto Fernandez characterized Miller's argument as "certifiably insane." He added, "excusing the targeting of Jews because of Israel is a staple of anti-semitic Islamic and Far-Left/Neo-Nazi propaganda."
Miller at least possessed the self-awareness to take the tweet down. Other liberals believe they're onto something.
Julia Ioffe charged that supporting Trump's move of the United States embassy to Jerusalem was responsible for the shooting.
And a word to my fellow American Jews: This president makes this possible. Here. Where you live. I hope the embassy move over there, where you don't live was worth it.

— Julia Ioffe (@juliaioffe) October 27, 2018
Franklin Foer followed in this theme.
Also, the organized shunning of Adelson, Kushner, and other Jewish enablers is a matter of protecting the security of the community.

— Franklin Foer (@FranklinFoer) October 27, 2018
(Ioffe and Foer were referencing arguments they made in longer form articles that were published in The Washington Post and The Atlantic, respectively)
However, Rabbi David Wolpe reacted harshly to Ioffe and Foer in an article published in Tablet Magazine.
First Wolpe responded to Foer, who wrote, "Any strategy for enhancing the security of American Jewry should involve shunning Trump's Jewish enablers. Their money should be refused, their presence in synagogues not welcome."
Wolpe pushed back:
In other words, more than half of my Shabbat morning congregants, and in some more traditional synagogues, almost all of them, should have the doors barred against their entry. Jews who make minyans, pay shiva calls, underwrite nursing homes and kindergartens—people who make Judaism possible, with their flawed but real human presence, for other people—should be cast out of our midst because of the levers they pull in the privacy of a voting booth. And what, after all, would a Jew who fled from Iran know about anti-Semitism—or protecting the Jewish community?
In response to Ioffe's assertion, "And a word to my fellow American Jews: This President makes this possible. Here.  Where you live. I hope the embassy move over there, where you don't live was worth it," Wolpe wrote:
The calculation here, I suppose, is that people voted for Trump to get an embassy move and their vote proxy murdered other Jews. How careful should one be, should a distinguished reporter be, when accusing others of such enormities, even indirectly? How do people think this message will fall on the ears of those who fled from Iran, to be told that they are in fact guilty in the death of Pittsburgh's Jews?
Wolpe's also provided a concrete response to the offensive suggestions of Ioffe and Foer. He presented the case of  Judah Samet, a Holocaust survivor who also survived Saturday morning because he arrived at synagogue late:
He is also a strong supporter of Trump. Frank, Julia: Would you stand before this 80-year-old man, not in a tweet or online piece, but face to face, and tell him he is responsible for the death of his friends, the people with whom he prays each Shabbat? Would you bar him from the shul where he almost died, again, at the hands of Jew haters? Really? And that would make us the righteous ones?
Wolpe did an excellent job at undermining the dishonest arguments of Foer and Ioffe, but there's also a faulty premise behind their vicious smears: that President Trump is responsible for the mainstreaming of anti-Semitism that led to Saturday's massacre.
News organizations have, of course, recklessly fed this narrative by quoting statistics from the ADL showing that there's been a huge spike in anti-Semitic crimes since Trump's election.
However, the ADL hasn't exactly been honest in its survey. David Bernstein debunked the ADL's numbers in Tablet Magazine.
After explaining why some of the ADL's count was misleading or incorrect, Bernstein pointed out:
Finally, it's worth noting, that despite showing a 57% increase in incidents overall, from 1,267 to 1,986, the ADL study shows a 47% decrease in physical assaults, from 37 to 19. This is obviously inconsistent with the meme that 2017 saw a surge in violent anti-Semitism. Physical assaults are also the most objective sort of incident to document, which adds to concerns about the robustness of the rest of the data.
Worse this wasn't just the result of some bad editing, but rather appears to be the intent of the organization's leader:
ADL president Jonathan Greenblatt distorted the report's findings as recently as two days ago in the New York Times, asserting that the ADL report found a 57 percent increase in anti-Semitic incidents in 2017. He added rather misleadingly that this figure includes "physical assaults," though one assumes he understands that the report actually showed a large decrease in physical assaults.
It's bad enough when left-wing journalists show that they have no moral bearings. It's worse when an organization distorts data to justify the vicious smears of those journalists.