Posted by
Mary Chastain
Wednesday, August 1, 2018 at 1:00pm
| 8/1/2018 - 1:00pm
"Bob Mueller is totally conflicted, and his 17 Angry Democrats that are doing his dirty work are a disgrace to USA!"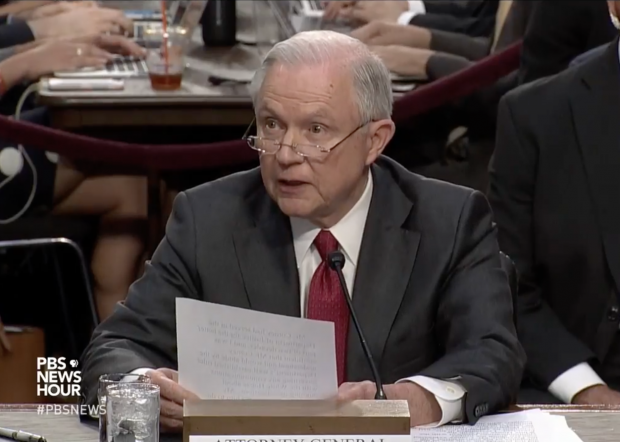 President Donald Trump took to Twitter to demand Attorney General Jeff Sessions shut down Special Counsel Robert Mueller's Russia probe immediately.
..This is a terrible situation and Attorney General Jeff Sessions should stop this Rigged Witch Hunt right now, before it continues to stain our country any further. Bob Mueller is totally conflicted, and his 17 Angry Democrats that are doing his dirty work are a disgrace to USA!

— Donald J. Trump (@realDonaldTrump) August 1, 2018
Trump did not explain why he feels that Mueller "is totally conflicted." He tweeted over the weekend that Mueller should "release his 'conflicts of interest' in regards to the 'very nasty' and 'contentious' business relationship Trump claimed the two had."
From Fox News:
Sessions, however, already recused himself last year – handing off oversight to Deputy Attorney General Rod Rosenstein. So he is unlikely to act.

A Justice Department spokesperson had no comment on the tweet when reached by Fox News. Another source familiar with the investigation downplayed the implications of the tweet – as Trump previously has vented his frustration with both the Russia probe and Sessions' recusal from it.

Trump lawyer Rudy Giuliani said in a statement: "We have been saying for months that it is time to bring this inquiry to an end. The President has expressed the same opinion."
Since Sessions recused himself, Trump would have to order Rosenstein to fire Mueller.
"FBI Agent Peter Strzok (on the Mueller team) should have recused himself on day one. He was out to STOP THE ELECTION OF DONALD TRUMP. He needed an insurance policy. Those are illegal, improper goals, trying to influence the Election. He should never, ever been allowed to……..

— Donald J. Trump (@realDonaldTrump) August 1, 2018
…..remain in the FBI while he himself was being investigated. This is a real issue. It won't go into a Mueller Report because Mueller is going to protect these guys. Mueller has an interest in creating the illusion of objectivity around his investigation." ALAN DERSHOWITZ….

— Donald J. Trump (@realDonaldTrump) August 1, 2018
Russian Collusion with the Trump Campaign, one of the most successful in history, is a TOTAL HOAX. The Democrats paid for the phony and discredited Dossier which was, along with Comey, McCabe, Strzok and his lover, the lovely Lisa Page, used to begin the Witch Hunt. Disgraceful!

— Donald J. Trump (@realDonaldTrump) August 1, 2018