Posted by
Kemberlee Kaye
Friday, August 31, 2018 at 1:00pm
| 8/31/2018 - 1:00pm
Has yet to comment on the allegations he fled the scene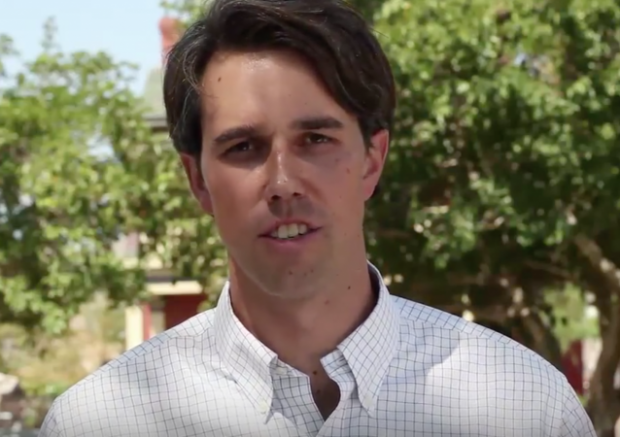 In 1998, Rep. Beto O'Rourke was involved in a drunk driving accident and arrested. The drunk driving along with and a separate arrest for jumping a fence onto the University of Texas El Paso grounds are common knowledge, both to watchers of O'Rourke's Senate campaign and his Congressional races before.
O'Rourke has spoken openly about both infractions, saying the drunk driving incident was a "serious mistake for which there is no excuse."
Buuuuut, the police report of the 1998 drunk driving incident revealed a detail not previously disclosed. According to witness accounts, O'Rourke attempted to flee the scene of the accident.
From the Houston Chronicle:
State and local police reports obtained by the Chronicle and Express-News show that O'Rourke was driving drunk at what a witness called "a high rate of speed" in a 75 mph zone on Interstate 10 about a mile from the New Mexico border. He lost control and hit a truck, sending his car careening across the center median into oncoming lanes. The witness, who stopped at the scene, later told police that O'Rourke had tried to drive away from the scene.

O'Rourke recorded a 0.136 and 0.134 on police breathalyzers, above a blood-alcohol level of 0.10, the state legal limit at the time. He was arrested at the scene and charged with DWI, but completed a court-approved diversion program and had the charges dismissed.
In a statement issued Thursday, O'Rourke glossed over the allegation that he attempted to drive off (Chronicle ctd):
In a statement Thursday, O'Rourke did not address the witness account of his alleged attempt to flee.

"I drove drunk and was arrested for a DWI in 1998," O'Rourke said. "As I've publicly discussed over the last 20 years, I made a serious mistake for which there is no excuse."
Cruz's campaign has declined to comment.
As National Review details, O'Rourke has used his past as a reason to pursue criminal justice reform:
The Texas congressman and Senate hopeful has cited his past wrongdoings in justifying his support for criminal-justice reform.

"Those mistakes did not ultimately define me or stop me from what I wanted to do in my life or how I wanted to contribute to the success of my family and my community," O'Rourke wrote in an op-ed for the Chronicle published on Monday.
As these things go, the revelation is more likely to concern older voters than the younger crowd, who've largely embraced criminal justice reform for various reasons. Several polls show O'Rourke's favorability lies mostly in the younger voting block, so the allegations are not likely to do as much damage as they might to another candidate.
Should the sins of youth forever prevent someone from achieving their dreams, particularly if those dreams are in public service? I don't know. There's certainly plenty of gray area there and room for discussion. The idea that one infraction disqualifies someone from a higher career goal is accepted everywhere but politics these days. That said, this is a question worth asking:
I hesitate to bring up youthful DUIs (see: Greatest Living President). But the question does have to be asked whether you or I– not the son of influential local judges– could drunk drive, hit a truck, spin into incoming traffic, try to run, and end up with charges dismissed.

— Alex Griswold (@HashtagGriswold) August 31, 2018