Posted by
Mary Chastain
Tuesday, August 28, 2018 at 9:26am
| 8/28/2018 - 9:26am
Marc Caputo: "But CNN now needs to explain how it did NOT mislead its audience in suggesting Davis didn't speak to them when, in fact, he apparently did."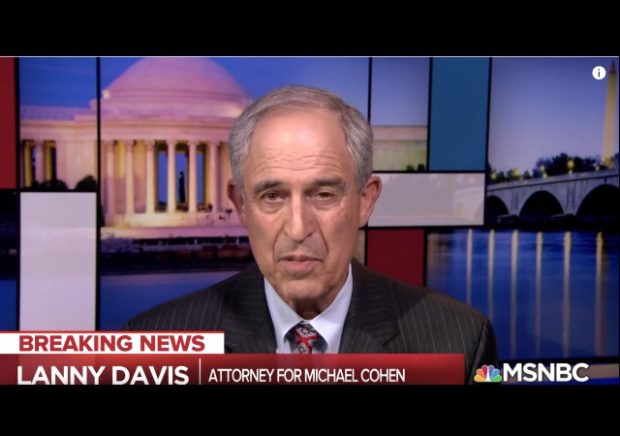 Just when I thought it couldn't get worse for Lanny Davis, the lawyer for President Donald Trump's former lawyer Michael Cohen, it has and yes it includes CNN.
It all goes back to that explosive CNN report in July when "sources" told the network that Cohen claimed Trump knew about the "dirt" meeting at Trump Tower with Russians. BuzzFeed reported on Monday night that source was Davis himself.
Here's the buried lede: Davis came out as the source of the story, but CNN's report stated that Davis declined to comment on the story.
Marc Caputo at Politico tweeted last night:
Lanny Davis said he was a source who lied to CNN. That's on him.

But CNN in the story in question wrote "one of Cohen's attorneys, Lanny Davis, declined to comment."

That means CNN might have misled readers about talking to Davis. Thats a bigger problem than a source-burn https://t.co/l7BXtzHU6m

— Marc Caputo (@MarcACaputo) August 28, 2018
There are possible (though perhaps flimsy) explanations about what happened. Davis obviously has an honesty problem. But CNN now needs to explain how it did NOT mislead its audience in suggesting Davis didn't speak to them when, in fact, he apparently did.

— Marc Caputo (@MarcACaputo) August 28, 2018
One of these things does t appear to be true and I'm inclined to believe BuzzFeed pic.twitter.com/zZ3foVZr2Y

— Marc Caputo (@MarcACaputo) August 28, 2018
I do not do this. My best guess (in a light most favorable to them) is that, with a multiple source byline, one hand did not know what the other was doing, that the info was in different silos and that this fell through the cracks as Davis played double agent

— Marc Caputo (@MarcACaputo) August 28, 2018
And of course Davis might be lying now …

"Truth isn't truth" after all

— Marc Caputo (@MarcACaputo) August 28, 2018
I blogged about how Davis told CNN's Wolf Blitzer that Cohen was present at a meeting where Trump and Donald Trump, Jr. discussed the Trump Tower meeting. A few hours later, Davis contradicted himself while talking to Anderson Cooper and insisted that Cohen doesn't have information that Trump knew about the meeting before or after it happened.
Davis also told many reporters that Cohen had knowledge that Trump knew and cheered on the Russian hacking. Yeah, that was wrong, too.
From BuzzFeed:
CNN's July 26 story has come under fresh scrutiny in recent days after Davis acknowledged he had served as an anonymous source for multiple news outlets who were seeking to confirm the CNN article in the hours after it published. Davis has backed away from the story in recent days, telling the Washington Post that he is not certain if the claim is accurate, and that he could not independently corroborate it.

Last week, Davis told Anderson Cooper, "I think the reporting of the story got mixed up in the course of a criminal investigation. We were not the source of the story."

On Monday evening, Davis told BuzzFeed News that he regrets both his role as an anonymous source and his subsequent denial of his own involvement.

Davis told BuzzFeed News that he did, in fact, speak anonymously to CNN for its story, which cited "sources with knowledge" — meaning more than one person.

"I made a mistake," Davis said. Regarding his comments about a month later to Cooper, he added, "I did not mean to be cute."
Due to these changes, BuzzFeed reported that "the New York Post and the Washington Post outed him as their confirming source and published apologies from Davis, a lawyer and communications expert who became well known for his work for Bill Clinton."
How about CNN? Nope! The network is sticking to its story: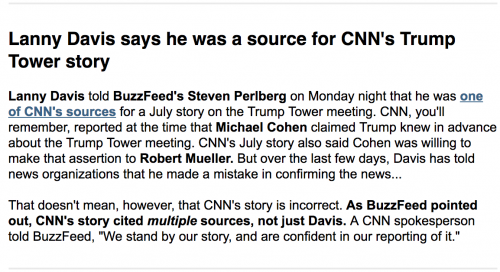 A spokesperson told BuzzFeed that the network stands "by our story, and are confident in our reporting of it."
Multiple sources is why the network is sticking to the story. Well, one source just blew up in your face so who were your other sources?
Maybe CNN believes Davis told the truth in the July report and is lying now? Like Caputo said, Davis has an honesty problem. He has flip flopped too many times this past week for me to believe anything he says.
The fact remains CNN needs to be more careful. Once again, if you don't want people and the president to call you fake news then don't push out fake news or mislead us because apparently Davis did speak to the network about the July report.
Will this finally be the last straw for the entire MSM when it comes to this administration? You know, maybe calm down, take a deep breath, and double check everything.