Posted by
Mike LaChance
Thursday, July 12, 2018 at 9:00am
| 7/12/2018 - 9:00am
"Judge Kavanaugh's nomination presents an emergency — for democratic life"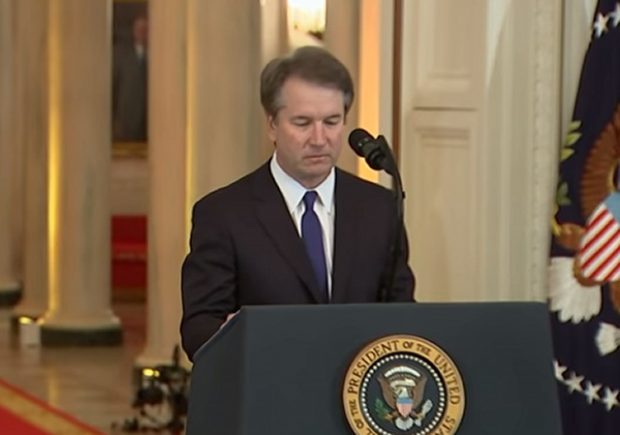 Yale Law students and alumni are taking a tired page from the progressive playbook to protest the appointment of Brett Kavanaugh, himself a Yale Law School grad, to the United States Supreme Court.
Remember when repealing Net Neutrality meant everyone would die? Do you recall the same thing being said about repealing Obamacare, and pulling out of the Paris climate agreement? That same argument is being employed here.
Natasha Bach reports at Fortune:
'People Will Die if He Is Confirmed.' Students and Alumni Press Yale to Condemn Supreme Court Nominee Brett Kavanaugh

Yale Law School may be proud to add another Supreme Court Justice to its long list of alumni, but many others do not share the sentiment.

After the school shared a press release lauding Brett Kavanaugh's nomination, over 200 students, staff members, and alumni of Yale Law School signed an open letter condemning the press release and calling on the school to rescind its support.

"We write today as Yale Law students, alumni, and educators ashamed of our alma mater," the letter begins.

Pointing to Yale Law School's quick publication of the press release, the letter continues that focusing on "the nominee's professionalism, pedigree, and service" to the school "obscures the true stakes of his nomination."
Here's an excerpt from the open letter:
Open Letter from Yale Law Students, Alumni, and Educators Regarding Brett Kavanaugh

July 10, 2018

To Dean Gerken and the Yale Law School leadership,

We write today as Yale Law students, alumni, and educators ashamed of our alma mater. Within an hour of Donald Trump's announcement that he would nominate Brett Kavanaugh, YLS '90, to the Supreme Court, the law school published a press release boasting of its alumnus's accomplishment. The school's post included quotes from Yale Law School professors about Judge Kavanaugh's intellect, influence and mentorship of their students.

Yet the press release's focus on the nominee's professionalism, pedigree, and service to Yale Law School obscures the true stakes of his nomination and raises a disturbing question:
Is there nothing more important to Yale Law School than its proximity to power and prestige?

Judge Kavanaugh's nomination presents an emergency — for democratic life, for our safety and freedom, for the future of our country. His nomination is not an interesting intellectual exercise to be debated amongst classmates and scholars in seminar. Support for Judge Kavanaugh is not apolitical. It is a political choice about the meaning of the constitution and our vision of democracy, a choice with real consequences for real people. Without a doubt, Judge Kavanaugh is a threat to the most vulnerable. He is a threat to many of us, despite the privilege bestowed by our education, simply because of who we are.
It goes on and on like this at some length before we get to the money line (emphasis is mine):
Now is the time for moral courage — which for Yale Law School comes at so little cost. Perhaps you, as an institution and as individuals, will benefit less from Judge Kavanaugh's ascendent power if you withhold your support. Perhaps Judge Kavanaugh will be less likely to hire your favorite students. But people will die if he is confirmed. We hope you agree your sacrifice would be worth it. Please use your authority and platform to expose the stakes of this moment and the threat that Judge Kavanaugh poses.
Here are some choice reactions on Twitter:
For sheer intellectual emptiness, it would be hard to top this propaganda. What drivel. https://t.co/nndm3byrZ4

— Brit Hume (@brithume) July 12, 2018
The increasingly common inability to process divergent opinions in a grown-up psychologically normal way really doesn't help on those occasions when we run into truly extreme opinions. When everything is outrageous, nothing is outrageous.https://t.co/6XjBsNiZLb

— LayerHat (@Popehat) July 11, 2018
Actual language from an anti-Kavanaugh statement organized by Yale alumni, whom we're told are our nation's sensible elites:

"But people will die if he is confirmed."

This is unhinged and out of control. How embarrassing. https://t.co/ZgUitEH5bH

— Andrew T. Walker (@andrewtwalk) July 11, 2018
The open letter from Yale law students and alumni condemning the YLS administration for highlighting the fact that Brett Kavanaugh, an alumnus, had been nominated for the SCOTUS is embarrassing. I have an open letter of my own. Dear Yale Law School admissions office: Try harder.

— Robert P. George (@McCormickProf) July 11, 2018
Gotta be satire. Cannot be a serious letter. Maybe it's a prank by Harvard alumni to embarrass Yale? https://t.co/nRP96BMcda

— Seth Mandel (@SethAMandel) July 11, 2018
"People will die if he is confirmed" say . . . Yale Law School students, alumni, and staff. Really? Really? Brett Kavanaugh is so scary that Elena Kagan hired him at Harvard Law School. Some of our best legal minds are lost to partisan rage: https://t.co/xSIV4s5lYm

— David French (@DavidAFrench) July 11, 2018
I'll say it again. Give me someone who's spent 6 years working at Market Basket over an Ivy League college student any day. https://t.co/El6hnQic2x

— Tom Shattuck (@tomshattuck) July 11, 2018
I laughed. https://t.co/sMkAitlsfU

— Jonah Goldberg (@JonahNRO) July 11, 2018
So did we, Jonah.
Featured image via YouTube.