Posted by
Kemberlee Kaye
Wednesday, May 30, 2018 at 9:10pm
| 5/30/2018 - 9:10pm
"The police officers, they couldn't have been nicer, but someone complained about us," she said. "It makes me sad that someone would do that."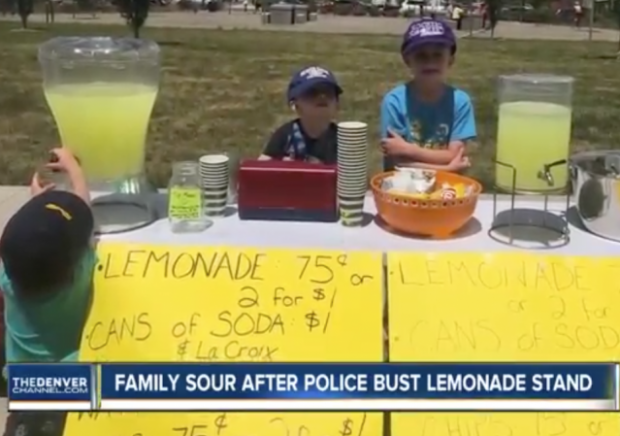 In Denver this past weekend, some soulless busybody called the cops on three little boys working their own lemonade stand.
Aged 6, 5, and 4, the Knowles boys set up a lemonade stand to raise money for Compassion International. All proceeds made from their entrepreneurial endeavor would have been sent to "a little 5-year-old boy from Indonesia with siblings, two siblings, kind of like them," said their mother.

But in the age of big government, no good deed goes unpunished. 30 minutes into their lemonade stand fun, the cops showed up and shut them down for failure to have the correct permits. Their arrival was precipitated by a complaint.
Denver's ABC affiliate reports:
Like many, Knowles made and sold lemonade during her summers as a kid. She appreciates all of the life lessons that come along with the idea.

"I want to teach my kids about being an entrepreneur and having your own business. My 6-year-old got his little toy cash register out that he got when he was about two or three and he was learning how to interact with customers and about customer service," Knowles said.

He was also learning about the value of money and practicing his addition and subtraction skills.

All of the money from the stand was going to charity. The boys were planning on donating all of their proceeds to Compassion International.

"We here are very fortunate and we forget that many kids in the world are not as fortunate as we are in Colorado or in the country, and so I wanted to teach them how to donate money to a charity," Knowles said.

Together, her sons picked a child in Indonesia to help provide basic necessities for, including clean water.

"They picked a little 5-year-old boy from Indonesia with siblings, two siblings, kind of like them," she said.

For a while, things were going well with their lemonade stand, which they set up in a park right across the street from their house near an outdoor art show.

"They got a lot of people coming and praising the boys and telling them that they were doing a great job," Knowles said. "That was so good for my boys to hear and for them to interact with people they've never met before in a business way."

But just a half-hour into their business venture, police arrived.

"The police officers came over and they said that because my boys and I did not have permits for a lemonade stand they shut us down and we had to stop immediately," she said. "My boys were crushed. They were devastated. And I can't believe that happened. I remember as a child I always had lemonade stands and never had to worry about being shut down by the police officers. I mean that's unheard of."

It was a scary experience for the kids and something that Knowles says shouldn't have happened.

"My 6-year-old he saw the police officers coming over and he ran and he hid," she said. "My 4-year-old came over and was looking at the police officer and heard what he was saying. He started to frown and then he started to cry. And it made me want to cry because they were so upset."

Knowles says someone from the nearby art show called police on her sons and complained.

"The police officers, they couldn't have been nicer, but someone complained about us," she said. "It makes me sad that someone would do that."
The news station contacted the permitting the department, who explained "there are no rules explicitly prohibiting a lemonade stand, but there are also no rules protecting it."
Since they were unable to raise money for Compassion International by selling lemonade, Knowles set up a GoFundMePage. As of the time of this post's publication, the boys had surpassed their goal of $920, raising $1096.