Posted by
Mary Chastain
Saturday, April 21, 2018 at 12:00pm
| 4/21/2018 - 12:00pm
The documents "demonstrate the FBI officials conducting the investigation realized the appearance of impropriety created by the public's perception of coordination with DOJ."
Rep. Mark Meadows (R-NC), head of the House Freedom Caucus, has sent a letter to Oversight Committee Chairman Trey Gowdy (R-SC) to persuade him to look closer at documents recently uncovered about the texts between FBI officials Peter Strzok and Lisa Page.
To Meadows, the documents appear to "suggest a concerning level of coordination between the Department of Justice and the FBI throughout crucial moments" during the investigation into Hillary Clinton's email server.
For example, Meadows reminded Gowdy of former FBI Director James Comey's testimony when he received the a question about improper coordination between the two departments after Attorney General Loretta Lynch said she'd accept the FBI's recommendation not to prosecute Hillary.
Comey told Congress to "[L]ook me in the eye and listen to what I'm about to say" and claimed he never coordinated charges with anyone.
Meadows shared this conversation between Page and Strzok: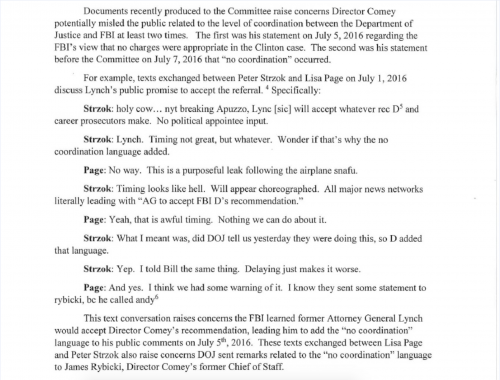 Meadows also found a lot of communication between the FBI and DOJ than previously believed. He wrote that "documents produced to the Committee confirm DOJ reviewed the FBI's redactions in the HRC documents before they were produced to Congress."
He also noted an email from July 20, 2016, from the DOJ's National Security Division to Strzok and Jonathan Moffa. The email had suggestions for language for "Comey's letterhead memo articulating the findings of the" investigation:
Not only did the the email note the language "could be used for summarizing investigative activity," DOJ suggested "a bit more in your memo regarding classification review, so we have some language that could be used to at least generally describe the process."
Other documents show that former Deputy Director Andrew McCabe "reached out to ask" about setting up "another DOJ/FBI meeting to discuss developments" in the investigation.
Meadows summarized that the documents at hand "demonstrate the FBI officials conducting the investigation realized the appearance of impropriety created by the public's perception of coordination with DOJ." McCabe told a DOJ official on the day of Comey's statement that Comey gave him his statement "but warned 'it is important that he not coordinate his statement in any way.'" While it's possible Comey and McCabe did not work together on that statement, "the documents suggest that at the staff-level, coordination on the Clinton" investigation happened quite a bit.
Meadows concluded that the documents show that "Comey misled the American people in presenting the FBI's referral not to prosecute Hillary Clinton to the DOJ appear as a far more independent exercise than it was."
The tone of Comey's testimony and his book review has prompted Meadows to encourage Congress to look deeper into these documents.
Gowdy spoke with Fox News on Tuesday night and confirmed he received the letter from Meadows:
Gowdy told Fox News' "The Story" Tuesday night that he had read Meadows' letter and planned to forward it to Justice Department Inspector General Michael Horowitz.

"I think it fits most neatly within what Horowitz is doing now, which is looking at just how unprecedented this investigation was in 2016," Gowdy said.

The FBI and Justice Department did not immediately respond to Fox News' requests for comment.
MM to TG by Fox News on Scribd