Posted by
Mary Chastain
Wednesday, March 14, 2018 at 1:00pm
| 3/14/2018 - 1:00pm
2016 Hillary surrogate: "She's annoying me. She's annoying everyone, as far as I can tell."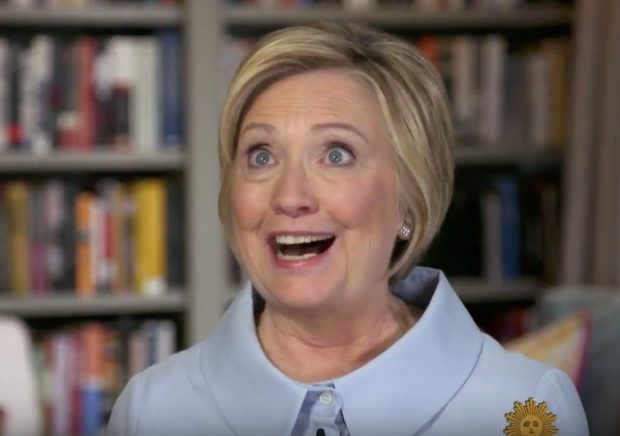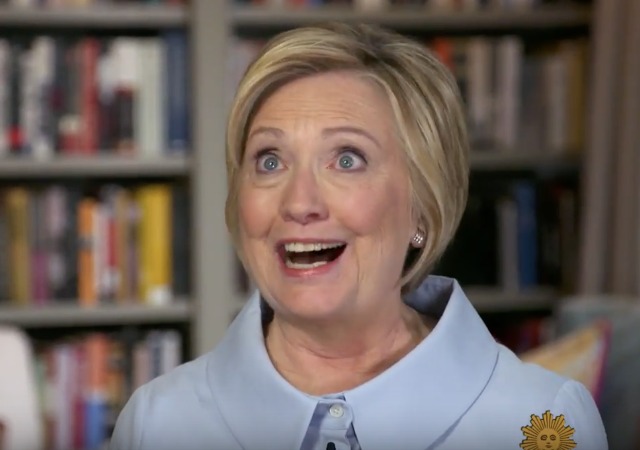 During a forum in India, failed Democrat presidential candidate Hillary Clinton lashed out at those in flyover country, implying we hate black people, and stated that women who did not vote for her did so because their husbands told them to.
No, Hillary. I didn't vote for you because you're a horrible person and candidate.
She received backlash from the right, but now Democrats and even her former aides have come out against her comments.
Hillary said:
There's all that red in the middle, where Trump won. Now, I win the coasts, I win Illinois, Minnesota, places like that. But what the map doesn't show you is that I won the places that represent two-thirds of America's gross domestic product. So I won the places that are optimistic, diverse, dynamic, moving forward, and his whole campaign, Make America Great Again, was looking backwards. "You don't like black people getting rights, you don't like women getting jobs, you don't want to see that Indian-American succeeding more than you are, whatever your problem is, I'm going to solve it."
She also said:
"Democrats, going back to my husband and even before, but just in recent times going back to Bill and our candidates and then President Obama, have been losing the vote, including white women. We do not do well with white men and we don't do well with married white women," Clinton said.

She went on to say that white women face an "ongoing pressure to vote the way that your husband, your boss, your son, whoever, believes you should."
Her failure in November 2016 left the Democrat Party in shambles and it's still trying to find a way back. The more she talks, the more Democrats and her former allies have moved away from her because they fear her words will only destroy the party.
From The Hill:
"She's annoying me. She's annoying everyone, as far as I can tell," said one 2016 Clinton surrogate. "Who lets her say these things?"

One former senior Obama White House aide added, "If these statements are a form of catharsis, it would be in the Democratic Party's best interest for her to get these out of her system soon."

"We need leaders like her to look forward to 2020 and how to unify the party, not continue to re-litigate the past."
Another former aide told the publication that it seems "the party has moved on from Hillary Clinton."
Former campaign manager Patti Solis Doyle said, "Look, this was bad. I can't sugarcoat it."
Her words have put vulnerable Democrats in a tight position like Missouri Senator Claire McCaskill. She faces re-election in November in a state that chose Trump over Hillary by 19 points. She told The Washington Post:
"Those are kind of fighting words for me, because I'm partial to Missouri voters," said Sen. Claire McCaskill (D-Mo.), who is running in a state Trump won by 19 points. "I think they were expressing their frustration with the status quo. I may not have agreed with their choice, but I certainly respect them. And I don't think that's the way you should talk about any voter, especially ones in my state."
Meow.
Ohio Sen. Sherrod Brown, who is also up for re-election said that he doesn't "really care what she said" and that her words are "not helpful."
To no one's surprise the Republican Party jumped on Hillary's words and will attempt to use them against opponents in the midterm. WaPo wrote that one senior Democratic Senate strategist said that if the Republicans believe these comments will help them win "they're more desperate than I thought" and her words "will have precisely zero effect."
However, Hillary's longtime communications advisor Philippe Reines said "he understands 'why that man won in 2016′" and also understand "why he may win again in 2020."
In other words, Reines knows that Trump's messages resonated deeply in the heartland of America.
RNC Deputy Communications Director Mike Reed insisted that the party tries not "to focus on Hillary Clinton," but her latest comments are "impossible to ignore." From The Hill:
Reed criticized Clinton for saying that she won all the areas in the country with high gross domestic product, but also zeroed in on her comments that Trump won areas inhabited by voters who don't "like black people getting rights" and "don't like women getting jobs."

"Putting aside how absurd and wrong she is, rhetoric like this is the reason Sen. [Jon] Tester (D-Mont.) was forced to release an ad today, 8 months before Election Day, attempting to highlight areas of agreement with President Trump," the RNC spokesman said. "The Democrat brand is isolated, elitist, and as out-of-touch as it ever has been."