Posted by
Fuzzy Slippers
Thursday, March 15, 2018 at 9:00pm
| 3/15/2018 - 9:00pm
Suit "dismissed with prejudice" and "all relief requested by plaintiff is denied."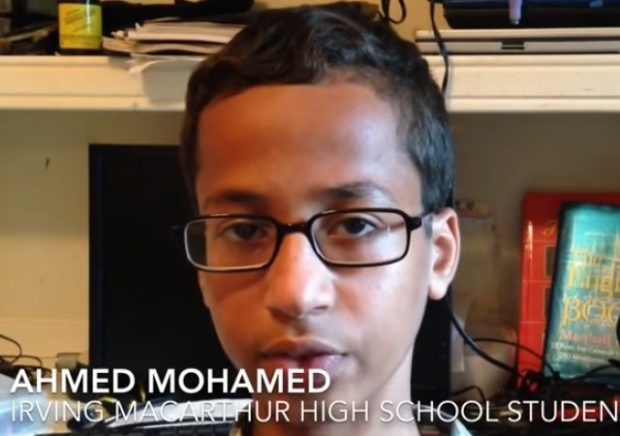 In 2015, then-14-year-old Ahmed Mohamed was caught up in leftist "zero tolerance" policies when he brought a homemade clock to school.  The clock, school officials said, looked like a bomb.
The teen was sent to the principal's office when his clock started beeping in English class.  He was subsequently suspended from school for three days and arrested for making a "hoax bomb."  The charges were later dropped.
Here's the device he took to school: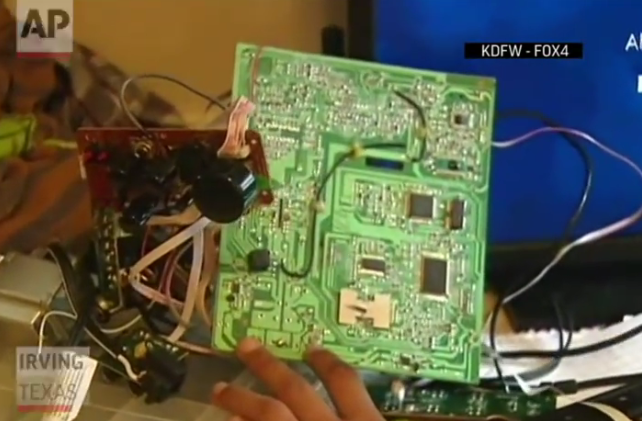 [image via YouTube]
Since then, he and his family have moved to Qatar but have been back in the States to sue everyone from Fox News, Glenn Beck, and Ben Shapiro to his former school's principal.
Each suit has been dismissed, including, this week, his suit against the city of Irving and the Irving Independent School District (Irving ISD).   A separate lawsuit against Irving had been dismissed in May of last year.
The Dallas Morning News reports:
A federal judge has dismissed a lawsuit filed against Irving ISD, the city of Irving and several individuals by the father of a teen who was arrested after bringing to school a homemade clock that was mistaken for a bomb.

The federal lawsuit had alleged that Ahmed Mohamed's civil rights were violated in September 2015 when Irving police officers took him into custody at MacArthur High School and charged him with making a "hoax bomb." The then-14-year-old was also suspended from school for three days.

The charge against Ahmed was later dropped. The boy and his family have since moved to Qatar.

The suit, filed by Mohamed Elhassan Mohamed on behalf of his son, had asked for unspecified damages. It had been amended twice since it was initially filed in August 2016.

U.S. District Judge Sam Lindsay on Tuesday ordered that the suit be "dismissed with prejudice" and that "all relief requested by plaintiff is denied."
The city of Irving and the Irving ISD released statements about the dismissal.
The Dallas Morning News continues:
In a statement released Wednesday, the city of Irving said that it is "extremely pleased by the court's ruling, which supports the justifiable actions taken by the officers in the matter. We remain committed to ensuring the safety of all Irving residents and schoolchildren."

Katie Long, the attorney for Irving ISD, said in an emailed statement that the district was "pleased the court had dismissed the case in its entirety" and that it had recognized that there was no basis to the claim that "Irving Independent School District or any employee discriminated against this student on the basis of race or religion."

"The Court's Order confirms that there is no plausible claim that Irving ISD or its employees violated anyone's constitutional rights. Irving ISD is committed to the safety, well-being, and equality of all students," the statement said.