Posted by
Mike LaChance
Saturday, February 3, 2018 at 12:00pm
| 2/3/2018 - 12:00pm
"He said Salcido then made him explain in front of the whole class why he wanted to join the military"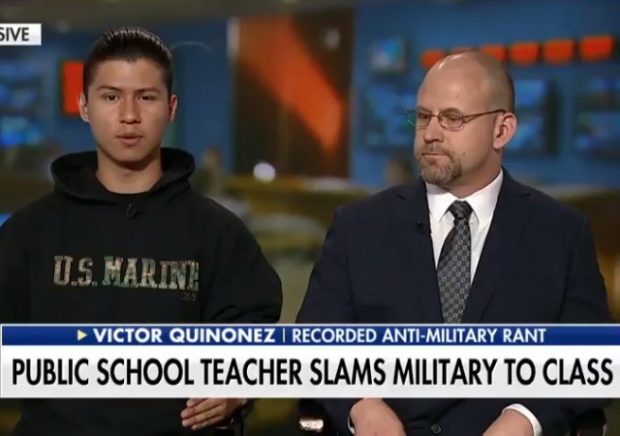 We recently ran a post about California history teacher Gregory Salcido, who has been placed on leave for saying incredibly offensive things about members of the military.
Victor Quinonez, the student who recorded Salcido's rant, recently appeared on FOX and Friends with his lawyer who said Victor and his family are now getting death threats.
From the FOX News Insider:
Student Getting Death Threats After Recording CA Teacher's Anti-Military Rant

Victor Quinonez, who aspires to join the U.S. Marine Corps, used his cell phone to capture his teacher, Gregory Salcido, slamming service members as the "the lowest of our low."

Salcido, who also serves as a city councilman, ranted to students about why they should not join the military.

"Think about the people who you know who are over there. Your freaking stupid Uncle Louie or whatever. They're dumbs‑‑‑s. They're not like high-level thinkers, they're not academic people, they're not intellectual people. They're the lowest of our low," he said.

Quinonez, a high school senior, recounted how the events unfolded, explaining that Salcido took offense to him and one of his classmates wearing Marines shirts.

'He was like, 'really? You too?'" Quinonez said.

He said Salcido then made him explain in front of the whole class why he wanted to join the military. Quinonez told him it was a proud family tradition that he intends to carry on.

"He told me, 'if it was a family tradition to beat women would you continue it?'" Quinonez recalled…

Trevor McCardle, an attorney who volunteered to represent the Quinonez family, said there have been death threats directed at the family since Quinonez spoke out.
Watch the segment below:
White House Chief of Staff John Kelly, a retired general, was recently asked for his thoughts on Salcido's comments and gave a rather frank answer. CBS News reports:
White House Chief of Staff John Kelly: Teacher "ought to go to hell" for bashing military

President Trump's Chief of Staff John Kelly had some tough words for a teacher caught on video bashing military service members in a high school classroom. "Well, I think the guy ought to go to hell," Kelly told Fox News Radio on Wednesday after hearing audio from a video posted online last week of a California teacher calling members of the military "the lowest of our low."…

The former Marine Corps general is a staunch advocate for the military, notably coming to the president's defense when a member of Congress said she had listened in on a phone conversation between Mr. Trump and a widow of a service member killed overseas where the president allegedly made insensitive remarks.
Featured image via YouTube.