Posted by
Kemberlee Kaye
Friday, January 5, 2018 at 1:00pm
| 1/5/2018 - 1:00pm
Parody tweet about Trump demanding Gorilla Channel TV in the White House goes viral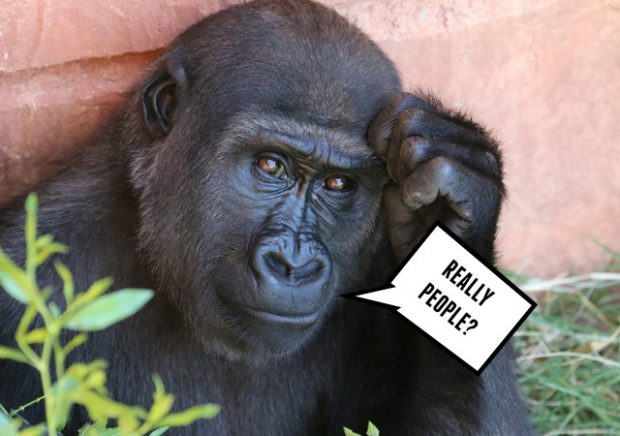 Friday, the internet granted us a fabulous piece of "fooled ya" lore: a fake excerpt from Michael Wolff's "Fire and Fury", the book that sparked the flame war between now ostracized former White House aide Steve Bannon and President Trump.
A clever fellow created a fake excerpt from "Fire and Furry" explaining how Trump demanded his own personal gorilla channel, which he watched for 17 hours on end.
Wow, this extract from Wolff's book is a shocking insight into Trump's mind: pic.twitter.com/1ZecclggSa

— the gorilla channel thing is a joke (@pixelatedboat) January 5, 2018
Regardless of your thoughts about Trump, the parody is hilarious and is obviously a joke…buuuuut, not everyone got the joke.
I'd say at least half of the people responding to that hilarious Wolff "gorilla channel" parody can't see that it's parody.

— Charles C. W. Cooke (@charlescwcooke) January 5, 2018
Far too many willingly believe the president watches gorillas all day long.
Scott Dworkin actually believes that the hilarious "The Gorilla Channel" excerpt from Wolff's latest piece of fiction is real.

This is how desperate liberals have become.

He deleted this tweet, but the internet is forever. pic.twitter.com/6PyY46UmKv

— Jones McFly (❤️) (@ScienceHoffman) January 5, 2018
This is my favorite part of Wolff's book so far. Amazing for what it says about this administration! (It's worse than you think!!). So amazing, I can barely even believe it. It's *literally* incredible@Pixelatedboat caught it first (he's a quicker reader than I). Reproducing: pic.twitter.com/qtOaNDxnx2

— Shadi Hamid (@shadihamid) January 5, 2018
Deleted, but the internet is forever: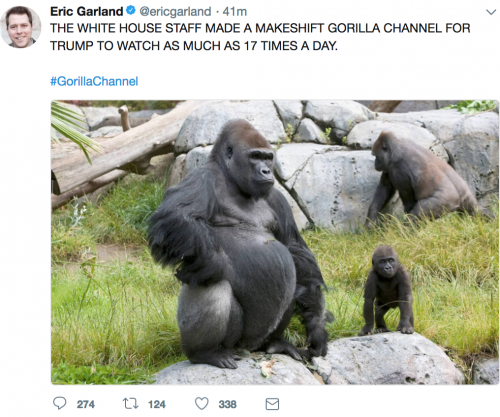 This is scarier than shit knowing this human being has the capability to use nuclear weapons. I shuddered and got chills. OMG OMG OMG

— Cheri DelBrocco (@cdelbrocco) January 5, 2018
He fucking has this on tape?? Like, literally someone on the White House staff told him this while being recorded? There are pictures of the rig? He has the engineers or programmers on record corroborating this? That would be absolutely amazing!

— Vote or GTFO (@SteveMazzie) January 5, 2018
i can't believe this is not a parody

— Kaan Yigit (@kyigit) January 5, 2018
One of the funniest things I have ever read – he is Homer J Simpson

— Icarus (@theGoat33) January 5, 2018
Somehow this didn't seem so far fetched… ????

— StraightFromTheCurls (@simonecastello) January 5, 2018
— BlueVotr (@BlueVotr) January 5, 2018
TRUMP has put @TheOnion out of business.

— Archivist1000 (@Archivist1000) January 5, 2018