Posted by
Mary Chastain
Wednesday, October 4, 2017 at 8:00pm
| 10/4/2017 - 8:00pm
It's time for Congress to do its part and get this done."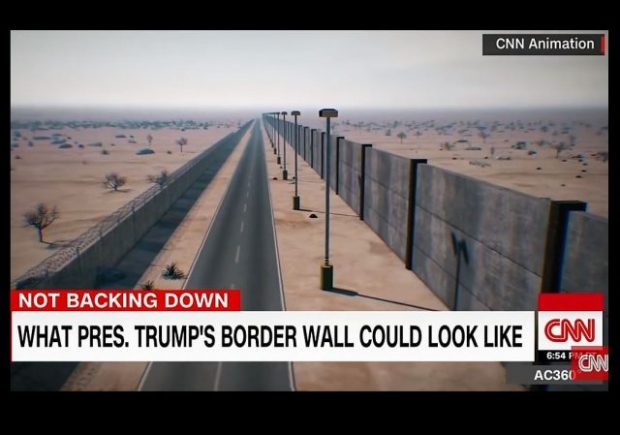 The border wall just conquered its first obstacle after the House Homeland Security Committee approved $10 billion in funds for it. From The Washington Examiner:
The committee passed Wednesday afternoon in a party-line vote, after dismissing all Democratic amendments.

The committee vote is a significant step toward implementing President Trump's goal of building a border wall, which otherwise has been stalled. Trump himself agreed to delay money for the wall last month in order to quickly resolve a fight over raising the debt ceiling and extending federal spending for the first few months of the new fiscal year.
It also includes $5 billion to improve entry points into America, 5,000 additional border patrol agents, and allows the government "to reimburse states up to $35 million for use of National Guard assets to reinforce border security."
Chairman Michael McCaul (R-TX) introduced the bill in July and gathered 70 GOP co-sponsors. No Democrats support it and the committee "rejected every Democratic amendment" to the bill:
"We have been talking about border security for so many years and now we finally have a chance to get this done. We finally have a partner in the White House who has prioritized this issue. It's time for Congress to do its part and get this done," McCaul said during the committee markup.
The next step is the House floor. We do not know if the House GOP leadership will bring it to floor, but it's possible they could tie it into a bill to protect Dreamers. House Majority Leader Kevin McCarthy (R-CA) said last week "that Republicans won't set up a vote to help immigrants brought to the U.S. illegally as children without language that significantly boosts border security."
Committee member Rep. Nannette Barragán (D-CA) believes this bill "is a setup for that conversation."
A few Democrats decided to act like children with their amendments, proposing to name the bill "Taking Americans' Land to Build Trump's Wall Act of 2017" while "Rep. Filemon Vela (D-Texas) proposed a definition of 'border wall' that would include the terms 'big and beautiful,' 'real,' 'inclusive of a door' and 'paid for by the Mexican Government.'"
McCaul praised their creativity, but opposed the amendments. The committee accepted the amendment from Rep. Martha McSally (R-AZ), which forces "a substantial part of investments in border security, such as control centers, to be installed in the border, rather than remotely."