Posted by
Fuzzy Slippers
Saturday, October 7, 2017 at 3:30pm
| 10/7/2017 - 3:30pm
"Look, behavior like this is not tolerated in this country"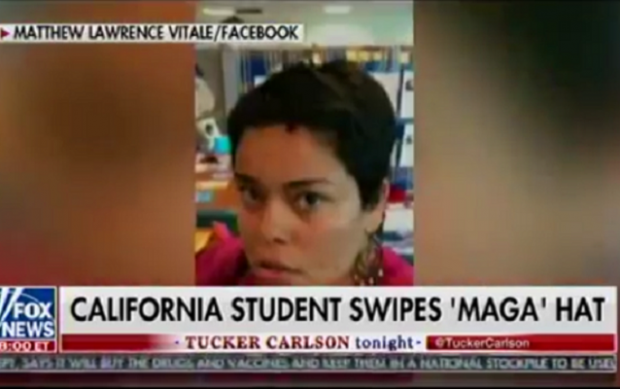 Last weekend, I wrote about a California student who swiped another student's MAGA hat and went off on a mind-boggling fact-free tirade.  It seems she may now be facing felony robbery charges for taking the hat off his person.
A college student in California who says he was assaulted by a classmate for wearing a 'MAGA' hat on campus said he plans to file criminal charges against his attacker.

Matthew Vitale, a member of the University of California, Riverside Republicans, said he was "stunned" when classmate Edith Macias snatched his "Make America Great Again" hat from his head during a campus meeting.

Vitale alerted authorities after the incident but declined to press charges because campus police told him it would only be a misdemeanor. But then Macias posted a bizarre, profanity-laced "SnatchAHat" video online, which eventually went viral, that showed her physically removing the hat from his head – and then verbally attacking him for promoting "genocide." By showing that she took it off his person, the crime rose to the level of felony, Vitale said campus police told him.
CHAPTER 4. Robbery [211 – 215]

( Chapter 4 enacted 1872. )

211.  Robbery is the felonious taking of personal property in the possession of another, from his person or immediate presence, and against his will, accomplished by means of force or fear.

(Enacted 1872.)

212.   The fear mentioned in Section 211 may be either:

The fear of an unlawful injury to the person or property of the person robbed, or of any relative of his or member of his family; or,
The fear of an immediate and unlawful injury to the person or property of anyone in the company of the person robbed at the time of the robbery.

(Amended by Stats. 1963, Ch. 372.)

. . . .

213.  (a) Robbery is punishable as follows:

(1) Robbery of the first degree is punishable as follows:

(A) If the defendant, voluntarily acting in concert with two or more other persons, commits the robbery within an inhabited dwelling house, a vessel as defined in Section 21 of the Harbors and Navigation Code, which is inhabited and designed for habitation, an inhabited floating home as defined in subdivision (d) of Section 18075.55 of the Health and Safety Code, a trailer coach as defined in the Vehicle Code, which is inhabited, or the inhabited portion of any other building, by imprisonment in the state prison for three, six, or nine years.

(B) In all cases other than that specified in subparagraph (A), by imprisonment in the state prison for three, four, or six years.

(2) Robbery of the second degree is punishable by imprisonment in the state prison for two, three, or five years.

(b) Notwithstanding Section 664, attempted robbery in violation of paragraph (2) of subdivision (a) is punishable by imprisonment in the state prison.

(Amended by Stats. 1994, Ch. 789, Sec. 1. Effective January 1, 1995.)
The student whose hat was snatched off his head wants her charged.
Fox News continues:
And now, [Matthew Vitale] says, he wants her arrested.

"Honestly, this isn't me trying to get revenge on her," he told Todd Starnes during a Fox News Radio interview, "this is me just trying to say: 'Look, behavior like this is not tolerated in this country. There are individual rights and individual freedoms that we are granted as per the constitution, that everybody's granted. It doesn't matter what your beliefs are.'"
Of course, there's pretty much zero chance she will be charged.