Posted by
Mary Chastain
Thursday, October 5, 2017 at 4:32pm
| 10/5/2017 - 4:32pm
Texts from his mistress allege he tried to convince her to have an abortion.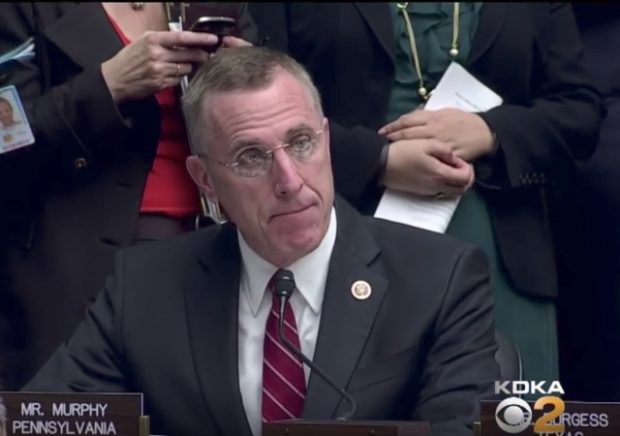 I blogged this morning that Rep. Tim Murphy decided to retire at the end of his term after details about his affair came to light, including texts from his mistress in which she accused him of trying to convince her to have an abortion.
House Speaker Paul Ryan (R-WI) announced that he received a resignation letter from Murphy. From Politico:
"This afternoon I received a letter of resignation from Congressman Tim Murphy, effective October 21," Speaker Paul Ryan said in a statement. "It was Dr. Murphy's decision to move on to the next chapter of his life, and I support it."
His decision comes after some colleagues pressured him to step down:
The Pennsylvania Republican's about-face came after House GOP leaders and senior Republicans upped the pressure on Murphy to step down. GOP sources familiar with Murphy's thinking said the married man initially believed he could weather the Pittsburgh Post-Gazette story revealing he had encouraged an abortion in texts he sent to his girlfriend, a psychologist half his age.

But many senior Republicans did not believe he could — or should — survive until the end of his term. Several top Republicans said Ryan, who met with Murphy Wednesday evening to discuss his future, also wanted him to step down.
The affair leaked out last month during the divorce proceedings of forensic psychologist Shannon Edwards, Murphy's mistress, and her husband Jesse Sally, who "sought to have Murphy testify in a deposition earlier this year." Murphy admitted the affair:
"Last year I became involved in an affair with a personal friend," the Republican lawmaker said in a statement released through his lawyer, after a court hearing in Allegheny County on Wednesday. "This is nobody's fault but my own, and I offer no excuses. To the extent that there should be any blame in this matter, it falls solely upon me."

The congressman added, "I ask the media to respect the privacy of my family. They have done nothing wrong and deserve to be left alone."
On Tuesday, The Pittsburgh Post-Gazette published leaked text messages between Edwards and Murphy from January over a pro-life Facebook post on his work page:
"And you have zero issue posting your pro-life stance all over the place when you had no issue asking me to abort our unborn child just last week when we thought that was one of the options," Shannon Edwards, a forensic psychologist in Pittsburgh with whom the congressman admitted last month to having a relationship, wrote to Mr. Murphy on Jan. 25, in the midst of an unfounded pregnancy scare.

—

A text from Mr. Murphy's cell phone number that same day in response says, "I get what you say about my March for life messages. I've never written them. Staff does them. I read them and winced. I told staff don't write any more. I will."
The article from the Post-Gazette also revealed turmoil within his office from his chief of staff Susan Mosychuk:
The memo criticized his "inability to hire and retain competent staff, abysmal office morale," as well as "hostile, erratic, unstable, angry, aggressive and abusive behavior."

According to the memo, the office has had nearly 100 percent staff turnover in one year and that the office has lost more than 100 staffers since Ms. Mosychuk started working with Mr. Murphy. Ms. Mosychuk began working with him in 2003.

The memo says that its purpose was to detail the problems as they related to the office manual as well as the Congressional Accountability Act and seek corrective action.

The memo recounted events from June 2 and June 5 involving a visit Mr. Murphy made to his home district.

"You were storming around as we walked in, and as we sat down for prep — having just arrived literally moments ago — you started in on the [legislative director] and verbally abused him, harassed him, chastised him and criticized all his work products. You called many of the work products that he literally gave up his weekend to produce as 'useless.' You pushed other documents off the table onto the floor because they weren't what you wanted. Then you got angry and demanded we find the documents that you had just thrown on the ground."