Posted by
Kemberlee Kaye
Saturday, September 16, 2017 at 8:00pm
| 9/16/2017 - 8:00pm
"The Department of Justice will continue to fully enforce existing law and to defend lawful and reasonable grant conditions"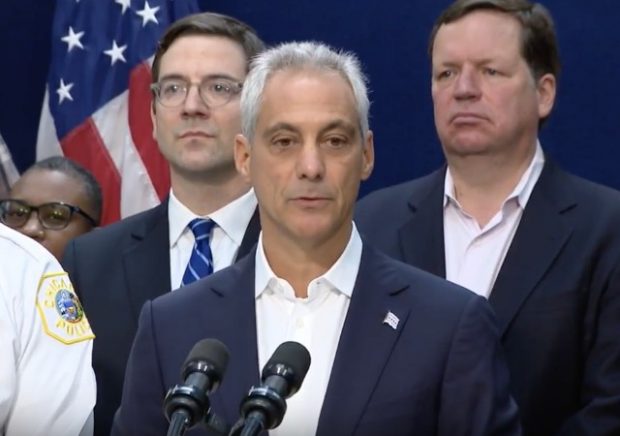 Friday, a federal judge granted Chicago Mayor Rahm Emanuel his request for an injunction on a Justice Department advisory. In March, Attorney General Jeff Sessions held a press conference where he reiterated current federal regulations requiring local law enforcement officials to communicate with federal officials on certain immigration matters. Failure to do so, he explained, could result in loss of federal funding.
Last month, Emanuel requested an injunction on DOJ policy.
U.S. District Judge Harry D. Leinenweber issued the opinion which could impact DOJ policy nationwide.
From the WaPo:
A federal judge on Friday blocked the Justice Department from withholding grant funds from places that do not provide immigration authorities access to local jails or give advance notice when suspected illegal immigrants are to be released — dealing a major blow to the Trump administration's vowed crackdown on sanctuary cities.

U.S. District Judge Harry D. Leinenweber in Illinois wrote in a 41-page opinion that Attorney General Jeff Sessions had probably exceeded his lawful authority when he imposed new conditions on particular law enforcement grants, requiring recipients to give immigration authorities access to jails and notice when suspected illegal immigrants are to be released.

The judge blocked Sessions from implementing the conditions not just on the city of Chicago — which had sued over the matter — but also across the nation, writing that there was "no reason to think that the legal issues present in this case are restricted to Chicago or that the statutory authority given to the Attorney General would differ in another jurisdiction."

His ruling follows an order from another federal judge in California blocking President Trump's executive order on sanctuary cities.
The DOJ is unmoved. Their statement (from Bloomberg):
"The Department of Justice will continue to fully enforce existing law and to defend lawful and reasonable grant conditions that seek to protect communities and law enforcement," according to the statement from Devin O'Malley, a spokesman.
Mary blogged about the complaint last month:
Attorney General Jeff Sessions has threatened to withhold federal funding from the Edward Byrne Justice Assistance Grant towards cities that consider them sanctuary cities for illegal immigrants. The program "is the leading source of federal funding to state and local jurisdictions." The website states:

The JAG Program provides states, tribes, and local governments with critical funding necessary to support a range of program areas including law enforcement, prosecution, indigent defense, courts, crime prevention and education, corrections and community corrections, drug treatment and enforcement, planning, evaluation, technology improvement, and crime victim and witness initiatives and mental health programs and related law enforcement and corrections programs, including behavioral programs and crisis intervention teams.

Sessions wants the cities to comply "with a federal law that bars restrictions on local police sharing immigration status information, providing unlimited police station access to federal officials searching for people in the country illegally and giving federal officials 48 hours' notice of an arrested person's release in cases of potential immigration violations."

He stated in July that the sanctuary city policies "make all of us less safe because they intentionally undermine our laws and protect illegal aliens who have committed crimes."
Opinion:
Chicago v Sessions Opinion on Sanctuary City Funding by Legal Insurrection on Scribd
Emanuel's request for injunction:
Read Emanuel Requests Injunction Over Threat To Defund Sanctuary Cities by Legal Insurrection on Scribd
Follow Kemberlee on Twitter @kemberleekaye