Posted by
Mary Chastain
Tuesday, August 22, 2017 at 7:05pm
| 8/22/2017 - 7:05pm
New DNA technology may show that convicted killer Marcellus Williams's DNA is not on the murder weapon.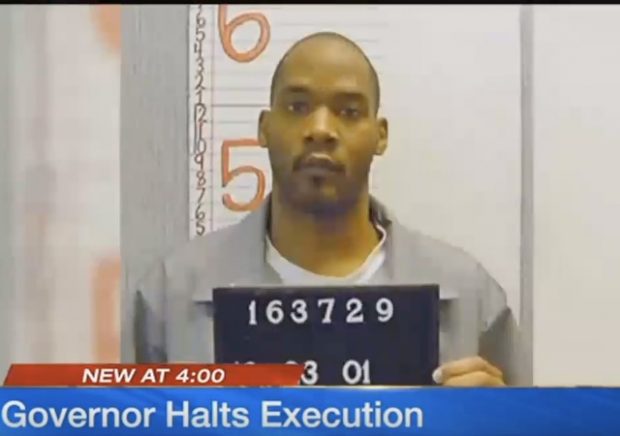 Only hours before the execution, Missouri Governor Eric Greitans granted a stay of execution for Marcellus Williams due to new DNA evidence that may exonerate him. From CNN:
"A sentence of death is the ultimate, permanent punishment," Greitens said in a statement. "To carry out the death penalty, the people of Missouri must have confidence in the judgment of guilt. In light of new information, I am appointing a Board of Inquiry in this case."

The execution of Marcellus Williams, 48, had been scheduled for 7 p.m. ET.

His attorneys said that DNA evidence unavailable during his 2001 trial proved his innocence.
The board Greitans ordered will examine the DNA and any "other factors before issuing a report about whether or not Williams should be granted clemency."
Williams is on death row after being convicted of a crime in 1998:
Williams, 48, was convicted in 2001 of brutally killing Felicia "Lisha" Gayle, who had been a reporter with the St. Louis Post-Dispatch. Gayle was in her home when she was stabbed 43 times with a butcher knife, according to court records.
The state planned to execute Williams in 2015, but Missouri's Supreme Court stayed that execution:
A laboratory tested evidence from the scene of Gayle's killing and a DNA expert determined that Williams "could not have contributed" to the DNA found on the knife that killed the former reporter, Williams's attorneys said. Last week, the Missouri Supreme Court rejected a request to stay Williams's execution without explanation.
Kent Gipson, one of Williams's attorneys, has insisted that the case against his client is weak since the major evidence against him is "primarily of statements of two jailhouse informants who claimed Williams had confessed to the crimes." He also pointed out that the "bloody footprints at the scene did not match Williams's shoe size and added that bloody fingerprints were never tested or compared to Williams's fingerprints because they were lost by police."
He hopes new technology will show that his client's DNA is not on the murder weapon:
The DNA testing, which Williams's attorneys said was enabled by advances in technology, formed the main argument they made in appealing to the U.S. Supreme Court.

"A DNA profile was developed from the handle of the knife that was found in the victim's body and that does not match the DNA of Marcellus," Gipson said Tuesday, adding that three separate experts have concluded that the DNA left on the knife and at the scene was a match for another man and not Williams. "It's clear that the DNA on the knife is the DNA of the killer. … Each expert has concluded that you can scientifically exclude Marcellus as the contributor of the DNA on the knife."
A forensic DNA expert and biologist explained the transfer of DNA to CNN:
Forensic DNA expert and biologist Greg Hampikian, who was hired by defense lawyers, told CNN on Monday that "when you're stabbing, DNA transfers because of restriction and force. If you're stabbing anyone, you have a good chance of transferring your DNA because of that force."

The analysis of DNA on the knife "isn't enough to incriminate someone, but it is enough to exclude somebody," he said. "It's like finding a Social Security card with some blurred numbers. There's still enough there to at least exclude someone."