Posted by
Mary Chastain
Wednesday, July 19, 2017 at 1:00pm
| 7/19/2017 - 1:00pm
Includes Illinois, California, and New York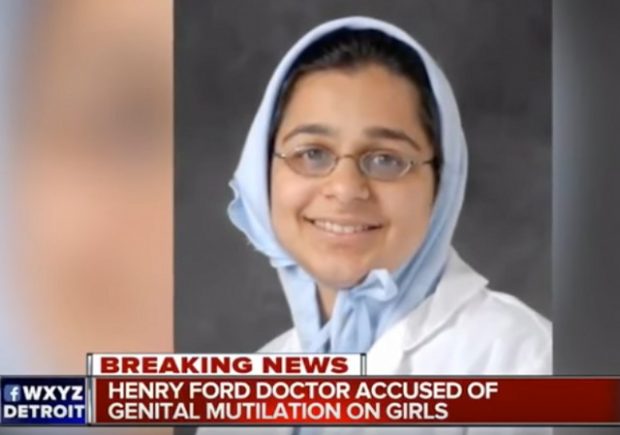 The investigation into female genital mutilation (FGM) in Michigan has now spread to five other states after authorities identified possible new defendants.
The lawyer for Dr. Jumana Nagarwala, the woman charged with performing FGM on numerous girls, disclosed this information in new court documents "to show the complexity of the case and explain why" the court should release her client "from jail to prepare for trial.
The Detroit News reported:
Nagarwala, 44, will fight to be released on bond during an 11 a.m. hearing Wednesday in front of U.S. District Judge Bernard Friedman. She is the only person charged in the case being held without bond; clinic owner Dr. Fakhruddin Attar and his wife, Dr. Farida Attar, were released last month.

Federal officials have identified new targets in Los Angeles, Chicago and Minnesota, Nagarwala's lawyer Shannon Smith wrote in a court filing Tuesday. She believes more people will be charged in federal court.

The Detroit News has learned federal agents are investigating at least one other person in New York. One criminal defense lawyer based in New York City declined to comment about the investigation during an interview Monday.

Smith, meanwhile, attacked the government's case in a court filing Tuesday while arguing Nagarwala should be released on bond pending an Oct. 10 trial. Nagarwala has been held without bond since April.
Nagarwala insists she did not mutilate any child and "only removed membranes from the girls' genitals as part of a custom tied to a sect of Muslims from India to which she belongs, the Dawoodi Bohra."
An indictment last month "alleges six people participated in the conspiracy that started in 2005 and included Dr. Jumana Nagarwala of Northville."
Assistant U.S. Attorney Sara Woodward also announced last month that as many as 100 girls underwent FGM. Nagarwala's lawyer disagrees:
"There is also absolutely no evidence to support the government's statement that Dr. Nagarwala cut the genitals of dozens of victims," Smith wrote. "When the government makes claims like it 'estimates' that Dr. Nagarwala performed (female genital mutilation) on at least 100 minor girls, the government is unable to support the assertion and certainly has provided no discovery to support the claim."

—

Smith attacked portions of the sealed filing, including the government's argument that female genital mutilation can lead to short-term complications, including pain, risk of bleeding and hemorrhage, shock, infection, sepsis and even death.

"Not one (girl) in this case has suffered any such complication, contrary to the government's generalization," Smith wrote. "Assumedly, the government is putting forth such information in an effort to show the harm (female genital mutilation) may cause; however, such assertions are not relevant to the matter before the court when not one person has any documented complications outlined by the government."