Posted by
Kemberlee Kaye
Thursday, June 1, 2017 at 4:00pm
| 6/1/2017 - 4:00pm
"A Rose Garden celebration of a step that denies science and hurts children."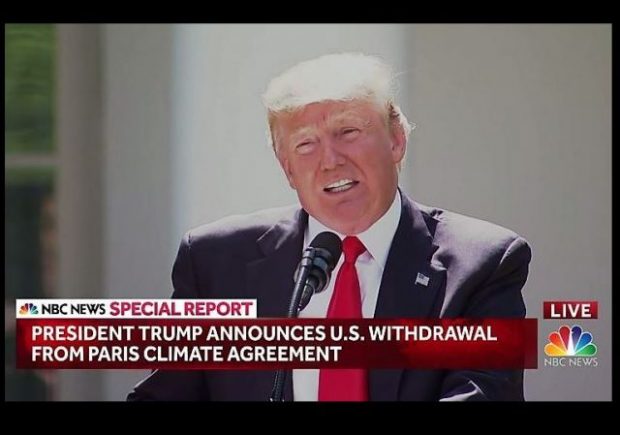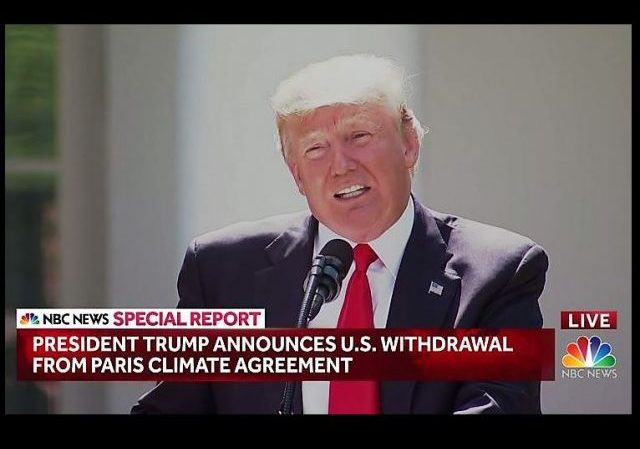 Thursday afternoon, the White House formally announced the United States' withdrawal from the Paris Climate Agreement orchestrated by President Obama.
Climate alarmists internet-wide defaulted to doomsday predictions and declared America "lost".
I can't help but chuckle when reading the micro freakouts. My favorite parts are the sincere beliefs that 1) people control the weather and 2) a treaty will stop global climates from climating.
But, without further ado, some of the best Paris Agreement flip-outs:
A Rose Garden celebration of a step that denies science and hurts children. History will note those who participated in this moral wreckage

— Ben Rhodes (@brhodes) June 1, 2017
INBOX: @SenWhitehouse on Trump's Paris Agreement decision: pic.twitter.com/XMDblPHvtg

— Ed O'Keefe (@edatpost) June 1, 2017
.@FareedZakaria "This is the day the US resigned as leader of the free world." #parisclimateagreement

— Paul Begala (@PaulBegala) June 1, 2017
Everyone take a minute of silence to mourn for the loss of the US at the hands of a lunatic

— SaveOurCountry (@BershodM) June 1, 2017
Dear planet, we're sorry. Please just hang on for three and a half more years and we'll fix this. We promise.

— Chris Murphy (@ChrisMurphyCT) June 1, 2017
BUT WHAT DOES DENMARK THINK?
Sanders: Trump's withdrawal from Paris deal an 'international disgrace' https://t.co/d0dRp9CJlp pic.twitter.com/WJPo69uTvC

— The Hill (@thehill) June 1, 2017
Obama ain't happy:
Statement from Barack Obama on the Paris Climate Agreement pic.twitter.com/SQc6kQV0Ah

— Bradd Jaffy (@BraddJaffy) June 1, 2017
RACISM:
Pulling out of the Paris Agreement would be a massive step back for racial justice, and an assault on communities of color across the U.S.

— ACLU National (@ACLU) June 1, 2017
Yeah, good luck with that:
Regardless of the reckless policies of @realDonaldTrump, CA will continue to be a world wide leader & combat #climatechange. #ActOnClimate pic.twitter.com/Rnmt81p7jB

— Mike McGuire (@ilike_mike) June 1, 2017
Conveniently timed:
As global emissions rise, so does the average global temperature. https://t.co/fDhkzTqhaD pic.twitter.com/PspFEfT6E5

— AP Interactive (@AP_Interactive) June 1, 2017
The Washingtonian should ask the polar bears that were supposed to be extinct how this theory is working:
This Is What Washington Will Look Like if the Worst Climate Change Projections Come Truehttps://t.co/igeBWFlSif pic.twitter.com/JDDVlz8w70

— Washingtonian (@washingtonian) June 1, 2017
MOAR WATER:
Trump will withdraw from the Paris climate deal. We mapped what his climate legacy could look like in 4 cities:https://t.co/H0GeycBxLG pic.twitter.com/lURgIwhKU7

— NYT Graphics (@nytgraphics) June 1, 2017
Well, bye:
Am departing presidential councils. Climate change is real. Leaving Paris is not good for America or the world.

— Elon Musk (@elonmusk) June 1, 2017
Well, nice knowing ya:
Can't wait to die, friends. pic.twitter.com/eh7OlpX1z6

— Anjelica Oswald (@thisisjelli) June 1, 2017
Follow Kemberlee on Twitter @kemberleekaye