Posted by
Fuzzy Slippers
Saturday, June 24, 2017 at 7:30pm
| 6/24/2017 - 7:30pm
Bernie allegedly "used his influence" to secure the questioned loan for Burlington College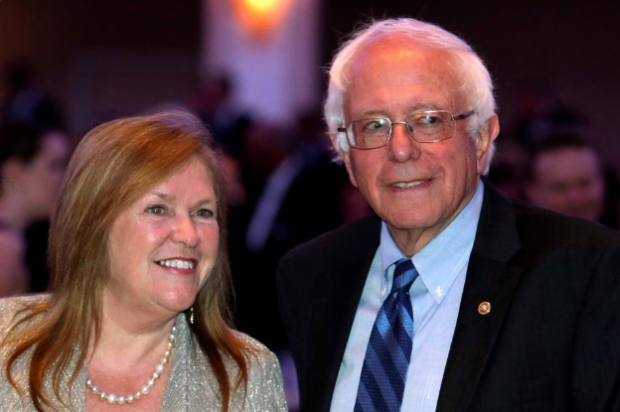 Last month, Kemberlee blogged about Bernie Sanders' wife, Jane, being investigated by the FBI for alleged fraud related to a $10 million loan obtained for the now-defunct Burlington College.
The investigation has now expanded to include Bernie himself.  It has been alleged that Bernie used his considerable influence as a United States Senator and former Burlington mayor to encourage the bank to provide the loan.
When the issue was raised last month by a local journalist, Sanders dismissed the question and blamed President Trump for the investigation.  The problem, however, is that the investigation began in January, 2016 when Obama was still in office and Loretta Lynch was still at Justice.
Bernie Sanders was in the midst of an interview with a local TV reporter early last month when the senator fielded an unexpected question about an uncomfortable matter.

"There's an implication, and from at least one individual, an explicit argument that when they called for an investigation into Burlington College that you used your influence to secure a loan from People's United—"

 The senator cut him off.

Sanders is used to fielding softball questions from an adoring local press, but his inquisitor, Kyle Midura of Burlington TV station WCAX, had a rare opportunity to put him on the spot. Investigative reporters had been breaking stories about a federal investigation into allegations that the senator's wife, Jane Sanders, had committed fraud in obtaining bank loans for the now defunct Burlington College, and that Sanders's Senate office had weighed in.

Sanders had never responded to questions about the case, but he took the bait this time. Briefly.

"Well, as you know," he said, "it would be improp— this implication came from Donald Trump's campaign manager in Vermont. Let me leave it at that, because it would be improper at this point for me to say anything more."
Sanders' attempt to brush away the investigation as baseless because Brady Toensing, then-candidate Trump's campaign manager in Vermont, initiated the request appears to be untrue.  Former Burlington College president Carol Moore reports that she was contacted by the FBI in the Spring of 2016.
Politico continues:
On January 10, 2016, in the midst of Sanders' sudden stardom—just weeks before the votes in Iowa and New Hampshire—the U.S. attorney for Vermont was sent a "Request for an Investigation into Apparent Federal Bank Fraud."

Backed by six exhibits and a dozen documents, the four-page letter described how Jane Sanders had "orchestrated" the purchase of 33 acres along Lake Champlain in Burlington, Vermont's largest city, where her husband had minted his populist political brand as mayor. The deal closed in 2010, when the senator's wife was president of Burlington College, a tiny, obscure, nontraditional school that always seemed to be struggling for students and funds. The letter alleged that to secure a $10 million loan and execute her grand plan to expand the college, Jane Sanders had falsified and inflated nearly $2 million that she'd claimed donors had pledged to repay the loans.

Sanders had "successfully and intentionally engaged in a fraudulent scheme to actively conceal and misrepresent material facts from a federal financial institution," the letter alleged. It pressed for a federal investigation into potential bank fraud.

. . . . Beyond the glare, federal investigators and FBI agents started to pull apart the $10 million financial arrangement. They showed up at Burlington College to sift through hard drives, audit reports and spreadsheets. They began to interview donors, board members and past president Carol Moore. "I was contacted and spoke with an FBI agent numerous times last spring, again last summer," Moore told Vermont Public Radio in May 2017, "and recently, maybe a month ago."
The Sanders have, wisely, lawyered-up.
Bernie and Jane Sanders are under FBI investigation for bank fraud and have hired prominent defense attorneys: https://t.co/ci9oDWJjll pic.twitter.com/epJBl1C5Hr

— CBS News (@CBSNews) June 24, 2017
Sen. Bernie Sanders, I-Vt., and his wife, Jane Sanders have hired prominent defense attorneys amid an FBI investigation into a loan Jane Sanders obtained to expand Burlington College while she was its president, CBS News confirms.

. . . . Burlington attorney and Sanders supporter Rich Cassidy has reportedly been hired to represent Sen. Sanders. And high-profile Washington defense attorney Larry Robbins, who counseled Libby "Scooter" Robbins, former Chief of Staff for the Vice President, is protecting Jane Sanders.

. . . . Brady Toensing of Burlington, the man responsible for the claims filed to the U.S. attorney for Vermont, was a chairman for the Trump campaign in his state.

"I filed a request for an investigation in January 2016 and an investigation appears to have been started right away," he said in an email to CBS News. "It was started under President Obama, his Attorney General, and his U.S. Attorney, all of whom are Democrats."

"My only hope is for a fair, impartial, and thorough investigation," Toensing added.

Weaver told CBS News that Toensing's claim that Sen. Sanders used his influence to lobby for the loan is a "political charge" that is "baseless" and "false."

And as for the claim that Ms. Sanders manipulated the loan application, Weaver  said, "The loan was approved by the financial board at the college."
[Featured Image via CBS News Twitter]