Posted by
Fuzzy Slippers
Sunday, April 23, 2017 at 6:30pm
| 4/23/2017 - 6:30pm
Politico's Vogel: "It is a pretty epic troll, I'll give him that"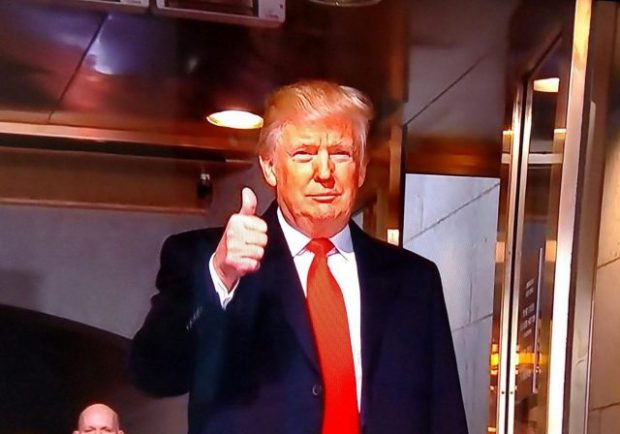 One of the things that I most enjoy about President Trump is his canny trolling of the media; he holds up hoops, they jump.  He whispers, "look! Squirrel!," they scurry off chasing squirrels.  It's highly entertaining.
In perhaps the best example of his expert trolling yet, the president has announced that he will be holding an event in Pennsylvania at the exact same time as the White House Correspondents Dinner.
Next Saturday night I will be holding a BIG rally in Pennsylvania. Look forward to it!

— Donald J. Trump (@realDonaldTrump) April 22, 2017
You may recall that in February Trump decided against attending this year's "nerd prom."
Many who would otherwise attend are going to be forced to instead cover the president's competing event, a fact not lost on Politico's Kenneth Vogel.
Wasn't enough for Trump to skip WH Correspondents Dinner—now holding rally at same time, which many would-be dinner goers will have to cover https://t.co/J7mabsE8xv

— Kenneth P. Vogel (@kenvogel) April 22, 2017
Twitter, of course, lit up over this move.
@kenvogel #Trump Rally…Correspondence Dinner…???????? pic.twitter.com/EODP67UyiA

— Grace Vasquez (@itsYourGrace) April 23, 2017
#President D. #Trump is quite rightly SNUBBING #Washington #Correspondents #Dinner. Another of his promises kept. (@potus @AMike4761 #MAGA) https://t.co/KKiZa0dwzw

— PeterThompsonLondon (@BrexitLondon) April 23, 2017
Hmm. Wonder if cable news nets will cover the rally, the dinner or show a split screen.#TrumpRally #WHCD #NerdProm https://t.co/sRphwlBAIW

— Kimberly A. Woodard (@BeingKimmieToo) April 23, 2017
The press just got stood up for #NerdProm. Then makes them go to work. Amazing ???????????????????????? https://t.co/3zom8AvsWq

— Bryan Jacoutot (@BryanJacoutot) April 22, 2017
Petty level: 1,000 x infinity… https://t.co/Kd4j6HDTgT

— Charles M. Blow (@CharlesMBlow) April 22, 2017
I love this! It's the Fox debate all over again! Guess which one will get better coverage? Invite a date & Make it #FlyOverProm vs #NerdProm https://t.co/RB9WKuA92t

— ????⚖️Chick N Charge???? (@6ftmommy) April 22, 2017
At least Vogel hasn't lost his sense of humor.
It IS a pretty epic troll, I will give him that. https://t.co/NCKGCQrTh6

— Kenneth P. Vogel (@kenvogel) April 22, 2017