Posted by
Mary Chastain
Saturday, April 22, 2017 at 6:30pm
| 4/22/2017 - 6:30pm
The doctor and his wife own the clinic where another doctor allegedly performed FGM on minors.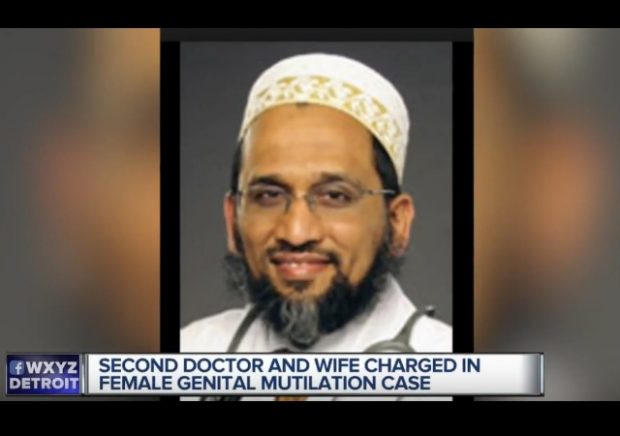 Last week, authorities charged Dr. Jumana Nagarwala for female genital mutilation on a 7-year-old-girl. Now authorities have arrested and charged the doctor and his wife, the owners of the Burhani Medical Clinic.
Officials arrested Dr. Fakhruddin Attar, 53, and his wife Farida Attar, 50. They face charges for "conspiring to perform genital mutilation on minor girls by letting a doctor use their clinic to perform the procedure."
From Detroit Free Press:
According to the complaint, Attar has admitted to authorities that Nagarwala has used his clinic after hours to treat children ages 6-9 for problems with their genitals, including genital rashes, but that she only saw the patients "when the clinic is closed on Friday evenings or Saturdays." She never billed for the procedures nor documented them, the complaint said, noting multiple other young girls have told authorities that Nagarwala also performed gender mutilation on them.

Nagarwala has claimed through her lawyer that she did not engage in any actual cutting, but rather that she removed a membrane from the genital area using a "scraper" and gave it to the parents to bury in the ground as part of a religious custom within her Indian-Muslim community, known as the Dawoodi Bohra. The parents have not been charged. One of the girls in Minnesota was temporarily removed from the home but is now back with her parents.
The complaint alleges that Farida "held the girls' hands 'in order to comfort them.'"
Here is timeline within the complaint:
Here, according to the unsealed complaint, is what investigators saw happen outside the clinic at 6 p.m. on Feb. 3:

At 6:09 p.m., Nagarwala arrived at the clinic.

Four minutes later, Attar handed her a white bag in the parking lot. The two went inside the clinic.

At 6:22 p.m., Attar's wife arrives and enters the clinic.

At 6:25 p.m., a mother and 7-year-old girl enter the clinic. They leave almost 20 minutes later. Then, a second mom and her daughter enter. They leave about 20 minutes later.

At 7:03 p.m., Nagarwala left the clinic.
Authorities discovered that Attar communicated with the Indian Muslim community in Minnesota on a regular basis. He made "50 phone calls in [a] three-month period starting last fall."
In one of Farida's phone calls, the authorities heard her "telling one Michigan member of the religious community not to cooperate if investigators inquire about the procedures."
Attar's defense lawyer spoke to the media:
"Dr. Attar is not aware of any crimes committed at his clinic," defense lawyer Mary Chartier told reporters outside court. "This is frightening for them and terrifying."

She criticized the government for waiting until Friday to arrest the doctor.

"It's classic gamesmanship by the government, knowing they would spend the weekend in custody," she said. "I'm not surprised the government would pull that stunt."